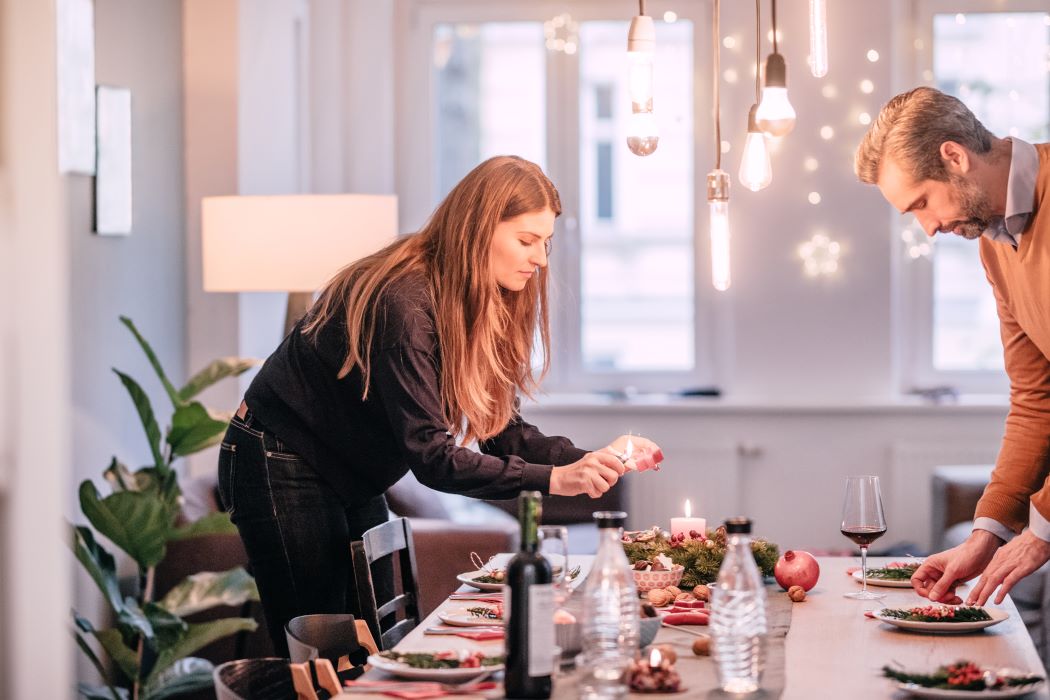 You're getting ready for a formal dinner and just realized you don't know how to set the table? No worries! We've got you covered with the top seven necessary steps to a perfect dinner table. Join us for a look at what should be included and why.
Dinnerware
First things first: You'll need some plates. If you don't already have a set of go-to dinnerware for formal dinners, it's time to start shopping. Before you start browsing the stores or the websites, give some thought to these ideas:
When determining your best dinnerware, consider what it will be used for. If you're only going to use it once, feel free to go for the bargain bin, but do spend wisely. Porcelain and bone china are said to be the strongest and most damage-resistant dinnerware, recommended for everyday use.
Other, more fragile dinnerware may be selected for rare and uniquely special occasions, such as ironstone, majolica, or cream ware, among others — but you'll need to handle with extra care. Overall, plain white plates are highly recommended for numerous reasons, mostly due to their ease at blending in with other colors and their ability to show off foods.
Which types of plates should be included in a table setting?
Depending upon the size of the dinnerware set you've selected, you may end up with different types of plates. According to the Etiquette Scholar, these sets usually include:
Dinner plates
Bread-and-butter plates
Salad plates (or dessert plates)
Serving plates
Cups with saucers
Soup/cereal bowls with underliner plates
For those who opt for a larger dinnerware set (8 – 12 place settings or larger), some additional pieces of serveware may come with it. These include:
Vegetable bowl
Sugar bowl with dover
Creamer
Gravy boat
Covered casserole dish
Salt and pepper shakers
Butter dish
While these satisfy the basics, there are varying shapes of plates and three basic designs (romantic, classic, and modern) to consider if you stray from the plain white dinner plate for your dinner table setting. These can be determined based on personal preference, according to your personal or family tastes.
Learn where each dish and fork should go depending upon the type of meal you're having (informal, formal, five-course, buffet, etc.) by checking this guide. To set a more formal and fancy table setting with plenty of pics to guide you, consider Martha Stewart's advice on which plates should go where.
Where can someone buy dinnerware sets?
Mikasa has the most extensive selection of dinnerware with four settings, eight settings, 12 settings, and even more.
Browse through its 4-setting dinnerware sets, or visit our favorite 36-piece set of white bone china for $180. It has full-service settings for six guests, each of which includes a dinner plate, salad plate, appetizer plate, cereal/soup bowl, fruit bowl, and mug. All pieces are dishwasher safe. Free shipping is offered on orders over $75.
Glassware
Glassware covers an assortment of pitchers, beverage glasses, goblets, and more. They should always be kept free of spots and sparkling clean for the best presentation. For a proper table setting, a water goblet and wine glass (sometimes two wine glasses; one for white wine and one for red wine) are placed above the dinner knife on the right of the plate.
Bed Bath & Beyond has numerous sets of glassware featuring, but not limited to:
A 4-piece Set of Mikasa Balloon Goblets for $40
A 6-piece Set of Libbey Craft Glass Spirits Glassware for $28
A set of 6 Waterford goblets for $316
Flatware
When planning for an occasion, the flatware is usually set up to go with what's on the menu. This way, guests will have the cutlery they need for the meal, but not a lot of extra items. While dining, guests should be advised to start with the flatware farthest away from the plate and work their way in.
Get a 36-piece set of Provisions flatware from Williams-Sonoma for $90. It includes 12 3-piece stainless-steel settings with a dinner fork, dinner knife, and teaspoon for each. Polishing won't be needed, and these are dishwasher safe.
Or go for a 90-piece set at Neiman-Marcus at $390, which is modeled after the mix-and-match English table settings of the early 1900s. This set provides 12 complete 5-piece settings with extra salad forks, teaspoons, serving spoons, pie servers, a sugar spoon and a butter knife. This set is also dishwasher safe.
Linens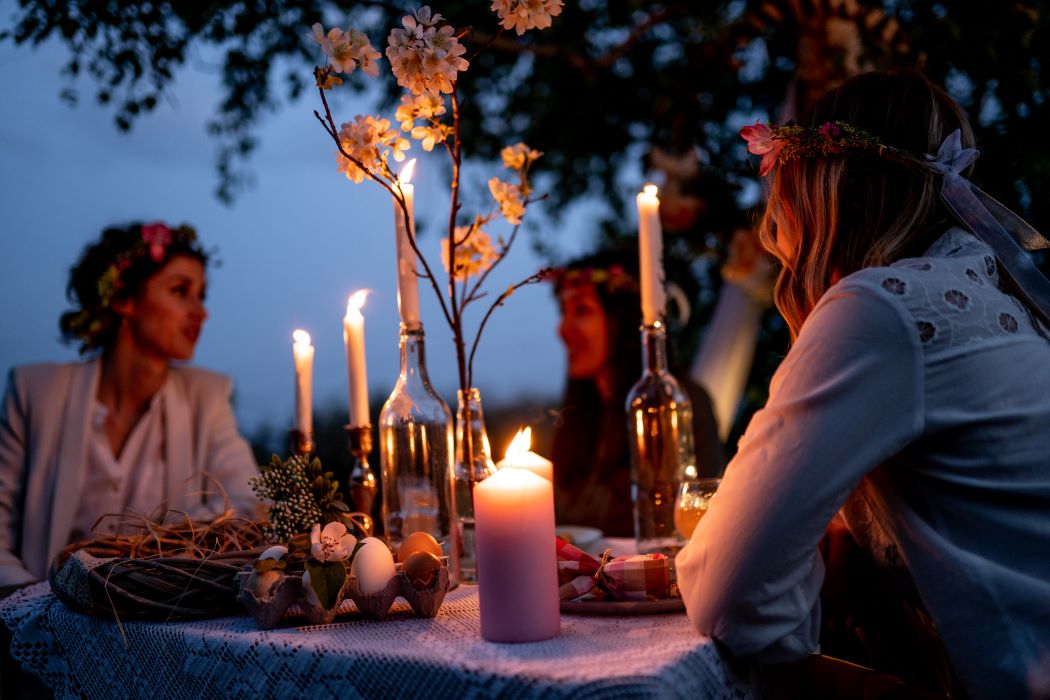 Be sure to have quality linens in your closet for guests no matter how sophisticated the meal is supposed to be. A soft or smooth feel to the linens is essential for putting guests at ease, and don't be afraid to go for embroidered pieces or tablecloths that match your place mats, etc.
Note: Experts say that tablecloths should not have longer than an 18-inch overhang.
Get a casual Ophelia and Co. Blue Indurial Chambray tablecloth from Wayfair for $27. It's made of wrinkle-resistant cotton, iron safe, and machine washable, and comes in three sizes.
Grab a set of four sustainably sourced Puebla Embroidered Napkins from Pottery Barn for $10.
Flowers
Use seasonal flowers or other natural arrangements whenever possible, like Julie Blanner's examples on her blog. Incorporate the flowers in bloom outside with other items that work together, like daffodils with greenery and a few sprigs of baby's breath, or lilacs drawn together with a velvet ribbon. Let them show off their beauty in clear glass containers as a centerpiece.
Keep it pollen-free with a faux arrangement. Pottery Barn has realistic-looking Faux White Calla Lilies in a Glass Vase for $250, a stunning centerpiece for almost any occasion. You'll get 16 faux lilies, a hand-crafted vase, and a few inches of "acrylic water" in the vase. The vase is 13 inches high.
If you prefer something a little less pricey, check out this 6.5-inch hand-painted lilac and white posies vase for $15 on Etsy. It's heat-set and dishwasher safe for the top rack.
Candles/Lighting
Use your preference of real or LED candles to set the mood for a pleasant dining experience. Hang sparkly lights, lanterns, light taper candles, turn on a chandelier or a string of ceiling lights to complete the look and ambiance.
Crate & Barrel has a lovely Branch Brass Pillar Candle Holder for $80. Made of realistic-looking wrought iron, this makes the ideal centerpiece almost any time of year.
Get a pack of floating candles from T-shin for $9 on Amazon and light them afloat in your prettiest glass bowl.
Place Holders/Menu Cards
For a really nice touch, set out place holders directing where your guests are to sit — just make sure you don't make one for yourself, though.
Get out your best calligraphy pens, or hire out for this job to make sure each letter is formed impeccably as you wish.
Order a set of 30 sophisticated Elegant Grey menu cards from Etsy for $40. There are so many more options you can choose, all the way up to 200 menu cards. Personalize the card color, text color, and what the menu will say for each part of the meal.
Choose from nine colors of paper like burgundy, navy, marble, blush and more, for as many as 630+ beautifully hand-written name cards from FawkesQuill on Etsy at $1 each. You'll get free shipping for orders over $35.
This should provide a basic overview of each part of a proper table setting for your next dinner. What event are you planning, and which ideas will you be using? Please send us a picture of your finished table setting if you have a chance, and most importantly — enjoy your event.
Editors' Recommendations