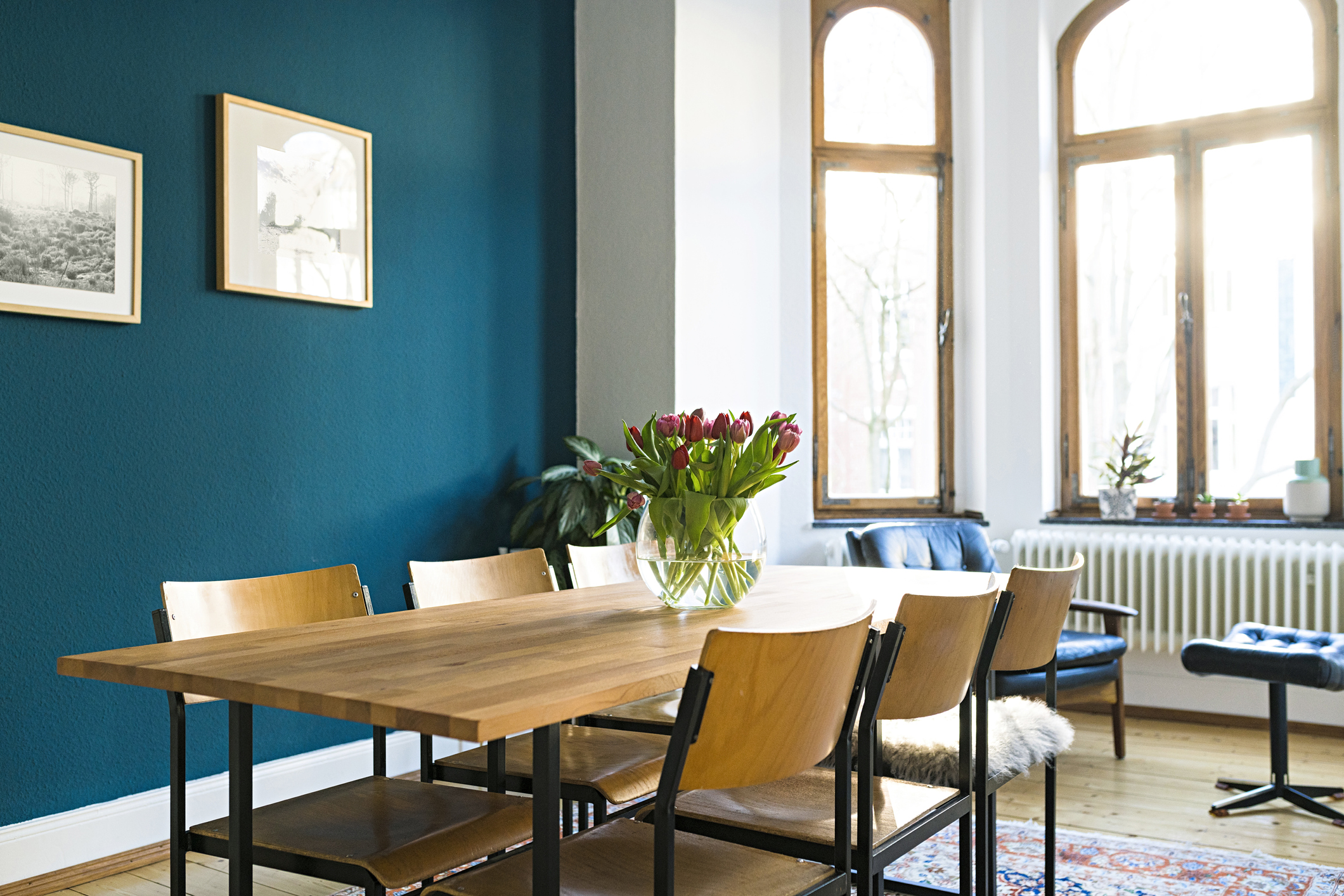 Loving design doesn't have to mean substantial price tags. In fact, a lot of the best design is a product of creativity and a vision. You can have the dining room of your dreams with just a bit of finagling and a clear idea of your style.
So how do you figure out your style and bring everything together? Follow these steps to discover the style base that you love, find the right accent pieces, and bring everything together to create your perfect dining room, no stylist required.
What's your style?
Finding your style is the most important piece of this puzzle. Unless you're a professional designer, winging it doesn't always produce the feeling you crave. Here's what to do.
Places like Instagram and Pinterest can provide visual inspiration while online marketplaces like Wayfair give you links to products. Here are a few very common design styles that work well in a dining room.

Modern/Contemporary – Think clean, crisp lines and neutrals
Industrial – Inspired by factory aesthetic, unfinished, raw materials 
Mid-century Modern – Inspired by '50s and '60s designs blended with minimalism
Traditional – Classic details rooted in a European sensibility
French Country – Warm, earthy details with plenty of wood tones
Bohemian – A carefree lack of concern for rules, often maximalist
Rustic – Draws inspiration from nature, barns, and farm life
Glam – Think Old Hollywood, mirrors, shine, and glitz
Coastal/Hamptons – Inspired by beach houses, plenty of ocean vibes
Eclectic – Design elements from different styles blended with global design
These aren't the only examples of design styles, but they can get you started. Do some research and feel out what you love about different design to begin creating your palate.
Follow the flow
Look at your existing space. Do you have a separate dining room, or are you working with an open floor plan? The colors and styles of adjacent areas can give you the inspiration to begin your design.
Choose colors that delineate the space and help create a nice flow between rooms. It may be helpful to consult your color wheel for complementary colors or contrasting colors for effect. Having your color scheme ahead of time, along with your design style, can really help with design overwhelm.
When you walk into your favorite store, browse your favorite thrift shop, or look online, you'll be able to narrow down choices by the boundaries you've already set. You go into the design with a plan that naturally flows with the rest of your house.
Choose your table

The table and chairs will be the focal point for your entire dining space, so it's essential to start there. Consider a few different things about your proposed dining room:

How much space do you have? – Realistically, you may not be able to accommodate a 12-person table in your studio apartment. A small table can provide a place for you and your significant other to eat well, for example, and creative seating could help with those dinner parties later.
How many guests do you serve? – If your guest numbers vary a lot, an expandable table might provide a good balance between space for seating and space for walking. If you only have people over on holidays, an expanding table could save you.
What's your style? – Falling in love with a table could give you an idea of your style if you had trouble with the first section. Found a midcentury modern table you love? Fell hard for a farmhouse style? Design around it.
Bring it together
You've decided on your style and your color scheme. You've got your ideal table. Now, it's time to bring things all together.
Pick your chairs
Your table may already have chairs, but you don't have to stick with those. Looking at chairs that fit your space and your design can upgrade a simple table. Lucite chairs, for example, create the illusion of more space. Mix and match chairs take a mid-century table to boho chic, suggests Architectural Digest.
Choose your storage
If you're lucky enough to have a separate dining room, you might have enough space for storage. A bureau can hide a lot of your servingware and seasonal items while creating a space on top for you to style with accessories you love or create a buffet for dinner parties. 
China cabinets are also enjoying a resurgence with their classic charm. You can upgrade a vintage piece by adding a modern paint or strip it down to reveal the natural wood for a Scandinavian look.
If you don't have space for that, a simple side table or floating shelves can hold servingware and provide a little storage with useful design elements without taking up too much space.
Find accent pieces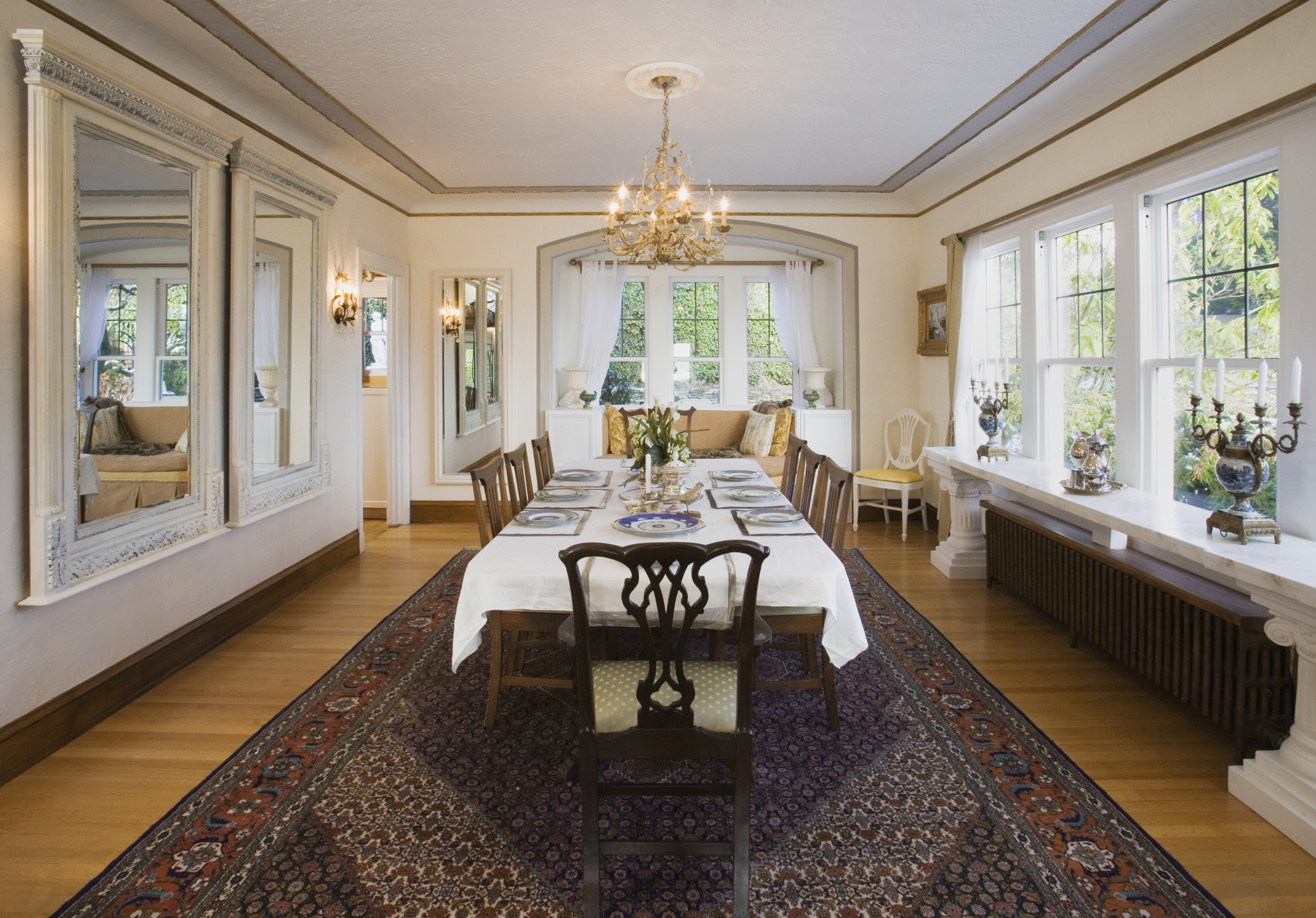 Window treatments are a great way to upgrade a space. House Beautiful offers several ideas to achieve a nice look. Add in curtains to bring the eye upward and fake taller ceilings. Simple blinds can provide a clean, minimalist look. If you don't have a window, use a mirror to increase the depth of the space.
Consider adding a rug underneath your table if you have an open-floor plan. It helps create a dedicated area for your dining space that separates from the living space. Another option would be an accent wall that highlights the dining space.
Adding in accessories to the table itself — think candles, a beautiful wooden bowl, or even plants — can bring it all together. And don't underestimate the power of good art in the dining room. It's the perfect place for a collection.
Enjoy your new dining space
You have plenty of chances to put things you love together to create a space for peaceful dining. Whether you have just a small shared area in your open-floor plan or you have a dedicated room, with the right touches and an understanding of your design preferences, you can create something amazing!
Start with the basics and add in elements as you go to bring a dining area to life. Never underestimate the use of color, accent pieces, and the power of a table you can't live without.
Editors' Recommendations