If you're looking to make your front door more secure, you're probably wondering what kind of door locks are best for your home's security. Choosing the right safety door locks for front doors depends on whether you want to go the traditional hard key route or if you'd rather go with keyless entry. The most important aspects of safety locks, though, are quality build and tamper-proof design. We've rounded up our top picks for a range of different types of safety door locks so that you can rest easy knowing your home and your family are safe and secure.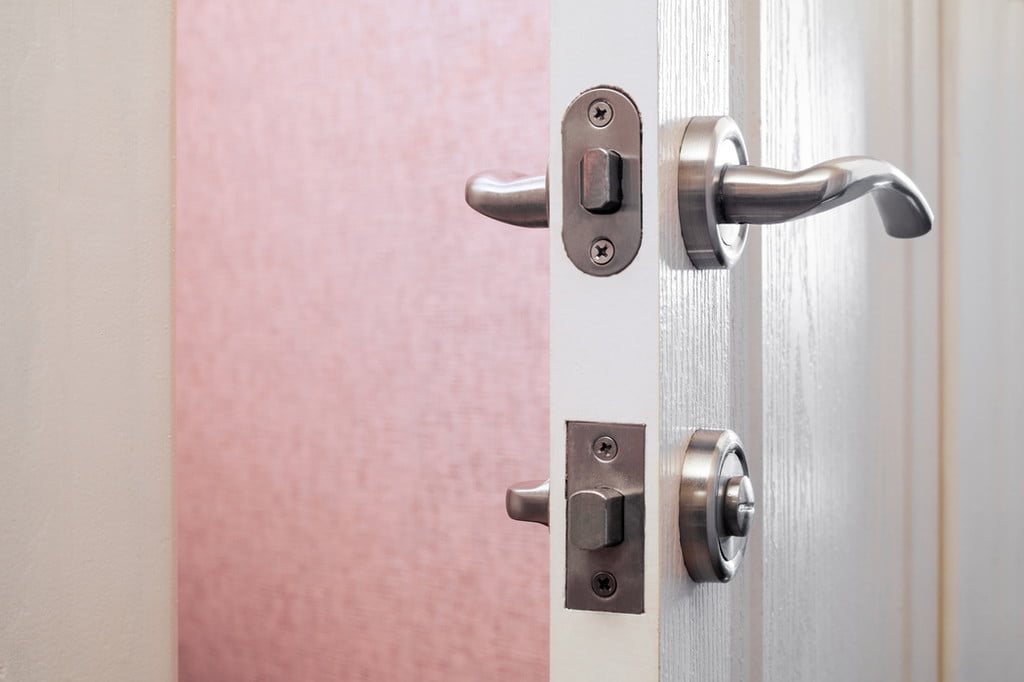 Best Deadbolt: Schlage B60N 619 Single Cylinder Deadbolt
Schlage is a long-trusted brand in front door locks, and the quality of their locks makes them durable and secure. Their B60N 619 Single Cylinder Deadbolt is ANSI certified as a Grade 1 deadbolt lock which means it is rated at the highest level of security against physical blows and general wear. It has an anti-pick shield and an overall design that can withstand both kick-ins and tampering. This lock is also easy to install and has a thumb-turn locking design that is ADA compliant.
Best Smart Lock: Schlage Encode Smart Wi-Fi Deadbolt
The Schlage brand makes it on our list again with their Encode Smart Wi-Fi Deadbolt. This smart lock has Wi-Fi built right in, so you don't need to purchase an additional hub to operate it. It works with Alexa, so you can check if the door is locked from your phone and be notified when the battery is low. To open the lock, you can use the touchscreen keypad, voice control with Alexa, or the smartphone app. This means you can unlock the door for maintenance specialists, friends, or family, even when you're not home.
Best Smart Lock for Apartments: August Wi-Fi Smart Lock
This Wi-Fi Smart Lock by August Home is a perfect smart lock for renters since it can work with your current door lock and keys. It has Wi-Fi built in, so you don't need an additional control hub for it to operate. This lock is compatible with Google Assistant, Siri, and Alexa so that you can open it with voice control, your phone, or your hard key. You can even set up the auto-lock and unlock feature, which automatically unlocks the door when you get home and then locks it when the door closes. This is a great feature for apartment dwellers who prefer to always keep their front door locked.
Best Keypad Lock: Kwikset Powerbolt 2 Electronic Keyless Entry Deadbolt
If you love the idea of keyless entry but aren't necessarily looking for all the bells and whistles of a smart lock, the Powerbolt 2 Electronic Keyless Entry Deadbolt by Kwikset is perfect for you. You can program up to six codes into this lock so the whole family can access it, and it comes with two hard keys as a backup. With its auto-lock feature, you can even set it up to lock on its own after 10 seconds.

Best Touchscreen Lock: Ultraloq Fingerprint and Touchscreen Keyless Door Lock
With Ultraloq's Keyless Door Lock, you can access your front door in one of three ways. You can use your key code, your fingerprint, or a hard key. The touchscreen uses a waterproof, dustproof, and scratchproof sensor to read the code or your fingerprint flawlessly the first time. With the added security of their "anti-peep" passcode technology, you can enter any series of codes and, as long as the series contains your key code, the door will unlock. This makes it impossible for someone looking over your shoulder to figure out your code. The entire mechanism is built with solid zinc alloy materials, so you'll have this door lock for a long time to come.
When it comes to your family's safety, you want the best quality and the highest security. Your front door needs to be wisely secured for your home to be kept safe, so you can't cut corners. With one of the safety door locks on our list, you'll be able to access your front door with ease the way you prefer while sleeping peacefully at night, knowing your home is safe and secure.
Editors' Recommendations