In a twist of irony, Brandless is quickly becoming its own powerhouse brand. The minimalist aesthetic and upfront labels resonate with purchasers looking to avoid cabinets full of flashy graphics, and the squircle-with-text-inside is reminiscent of iPhone apps from one of the most iconic brands around: Apple.
Apple isn't the only brand Brandless has borrowed from. A quick dip through its website shows – let's call it inspiration – from Vitamix, Wusthoff, Crate & Barrel, All-Clad, Anthropologie, Dollar Shave Club, and more. With its refillable cleaners, Brandless has jumped on the bandwagon made popular by Tide Pods (still not a snack, kids); rather than purchasing bottles of stuff over and over, why not buy dissolving cleaner pods as refills?
Brandless sent us two of its cleaners – the multi cleaner and its tub and tile cleaner – for a test drive. Sure, I care about how clean it got my home, but what else is there to consider?
Delivery and unboxing
When you first order your Brandless refillable cleaners , the company will ship you a plastic bottle and one refill packet for six dollars. Delivery comes via UPPS or FedEx. No issues here.
What users say
Brandless cleaners are well reviewed on its site. The multi surface cleaner has 42 reviews with a 4.5-star rating at the time of publication. Most poor reviews relate to the bottle Brandless delivers – more on that in a bit.
The tub and tile cleaner has 110 reviews and 4.5-star rating at the time of publication. Poor reviews touch on its ineffectiveness on fiberglass (the review calls it "plastic") tub inserts popular in many production homes, inability to clean stubborn stains, and of course the bottle itself.
The item is not sold on Amazon, so we can't compare and contrast on-site reviews. There's no reason to doubt the overall positive things Brandless reviewers say, though.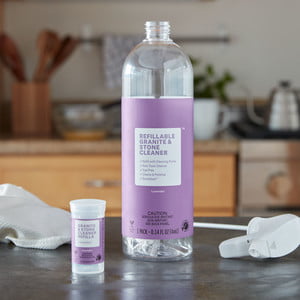 Initial impressions
A few things stand out immediately:
Plastic bottles are on-brand for Brandless but miss the mark. The bottles aren't quality. At least they're recyclable.
Packaging was overkill. Two plastic bottles came in a box 4x their size with tons of packaging materials.
Packet refills are clever – and work. I was dubious they'd dissolve fully, but a few minutes in the water and the cleaner was ready to use.
This is an ecosystem. Brandless wants you to buy into its ecosystem and order direct. That's nothing new for Brandless, and it knows cleaners are low-hanging fruit for that consumer-base.
After a week of use (and a few cleanings)
The cleaners did an equitable job to any other I've used. My go-to, store-bought cleaner are Method brand, and do just as good a job. All things being equal, what's Brandless' real pitch, here?
I'll say this much: it's clever to sell dissolving packets of concentrated cleaner people can just slip into a bottle and fill with water. Brandless wants you to believe you're saving the environment by buying less plastic and saving money by using its packets.
Brandless bottles only tell you how much fluid each packet has, obfuscating whether or not you're saving money. We found each bottle holds roughly 950 milliliters of water, or 32 ounces. The bottle-refill packet combo sell for six dollars. Two refill packs are also six dollars. This tells us Brandless is charging three dollars for each fill, and three dollars for the bottle.
The bottle is simply not worth three dollars. Like many reviewers on the Brandless site, I'd suggest buying your own 32 ounce bottle if you are dedicated to using Brandless refill pods.
Further, as a money-saving proposition, there's not much here. Method cleaners sell for around three dollars for similarly sized bottles and have refills you can buy. It's impossible to parse the environmental impacts of drop-shipped refill packets from Brandless or large bottles of refill cleaner from Method, but we're sure dissolving packets are more environmentally conscious than plastic bottles.
A better path forward may be to sell larger boxes of dissolving packets; say, a 50-pack for $100.
Conclusion
Compared to other popular cleaners, Brandless holds its own.
If reducing your use of plastic is why you're interested in these cleaners, just buy the refill packets and use a glass bottle. It's that simple. Brandless' bottle is serviceable, but not worth three bucks.
If you're looking to this scheme as a means of "going green," there are better options. We still advocate for making your own app-purpose cleaner with water and vinegar, which can be customized with essential oils (hey, Brandless sells those, too) to get the fragrance you want. Now that's going green.
Editors' Recommendations