Gardening is a relaxing with great health benefits for people of all ages. Connect with nature and grow your own organic crops with a greenhouse that allows you to grow strong and healthy fruits and vegetables.
Take your gardening to the next level and create the perfect environment for your fruits, tobacco plants, veggies, and flowers to thrive throughout the year. Mix up your crops every year or grow a variety of plants at the same time in these convenient, all-in-one gardening solutions. You will love the protection they provide, and they also save you money and allow you to spend more time outdoors. Let's take a look at our favorites.
Gosunny Deluxe Green House
Best greenhouse overall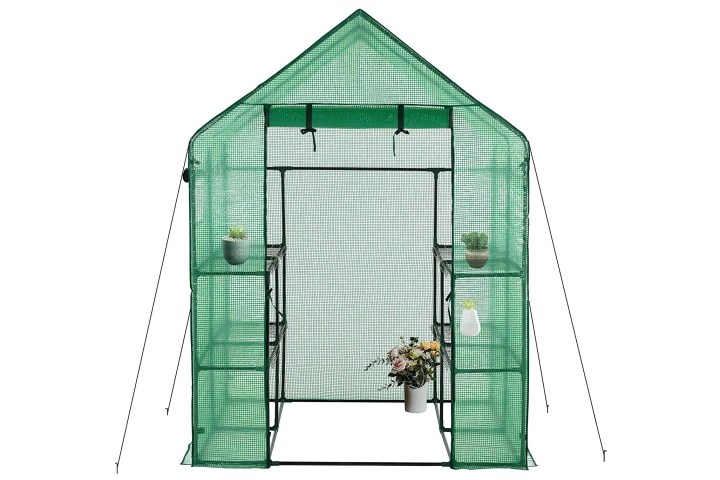 Take your gardening to the next level with the Gosunny Deluxe Green House, an amazing walk-in model constructed with 12 wired shelves, strong reinforced frame made of powder-coated steel, and designed with a zippered roll-up door for easy access. One of the best models out there and a favorite of gardeners and growers.
Gardman 4-Tier Mini Greenhouse
Best mini greenhouse
If you are growing your garden in limited space, the Gardman 4-Tier Mini Greenhouse is an adorable mini greenhouse that features a four-tier design and assembly without any tools. A perfect starter model that will be great in balconies, patios, or decks.
LINLUX Portable Walk-in Greenhouse
Best portable greenhouse
The LINLUX Portable Walk-in Greenhouse is the perfect solutions for those who need to relocate their greenhouse seasonally. The inner design is really versatile and allows for three tiers and 12 shelves for a variety of seedlings and growth stages. The walk-in design offers more growing space and better air circulation.
Keep your crops protected year-round and enjoy healthy, organic foods during all of the seasons with the convenience of a greenhouse. These gardening essentials are the perfect way to reconnect with nature and with the foods that nourish your body. With the items on our list, you will enjoy gardening all year to grow the best crops you've ever tasted.
Editors' Recommendations