Kitchens are the heart of any home. It's the space where you spend quality time with family and friends, cooking, eating, and just being together. If you're anything like us, your kitchen is filled with inventive tools and gadgets that keep your kitchen running smoothly. Unfortunately, it might also be filled with less-than-useful tools you wished you never wasted money on.
Take the guesswork out of shopping by checking out Reddit to see what's hot and what's not. It's a great source for unbiased reviews and feedback on just about any kitchen gadget on the market. The selection of kitchen tools can seem endless, so we poked through a few Reddit threads to find the trending tools that are favorites of home cooks and professional chefs alike.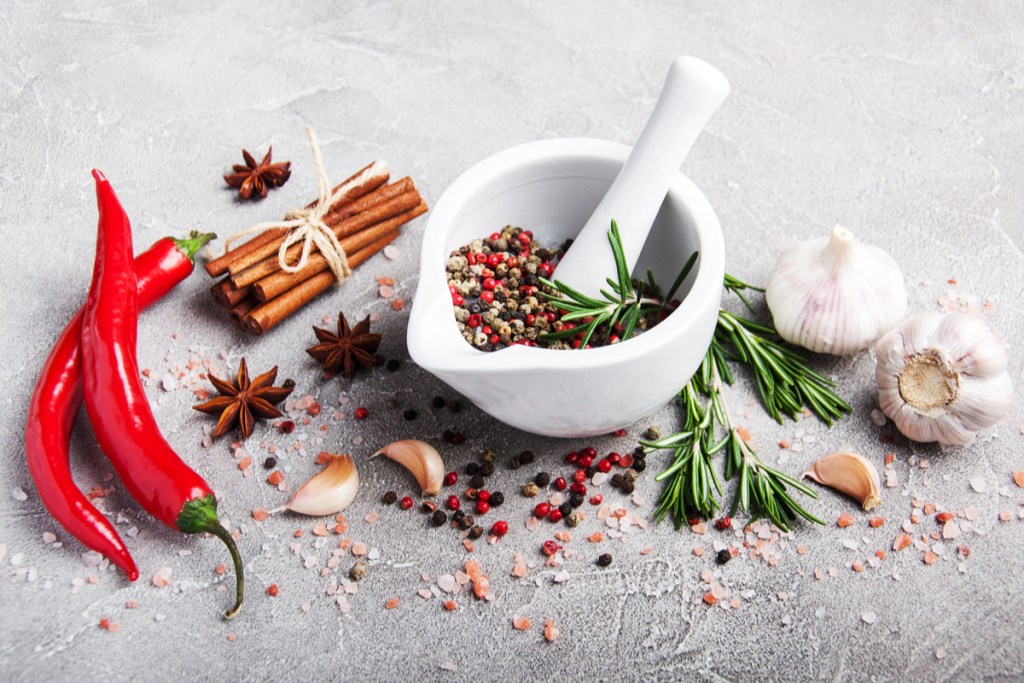 Reddit kitchen tools you just have to own
Mortar and pestle
It may seem a bit old-fashioned, but there are so many kitchen tasks that this little gem can handle like a champ. A go-to for mixing guacamole, grinding herbs, and mashing mint, lime, and sugar for the perfect mojito, you'll wonder how you ever got along without one. Sometimes, the best tools are the basics, so a mortar and pestle, in any size, material, or color, should be a staple in your kitchen. This set from ChefSofi is a fan-favorite with over 10,000 five-star reviews on Amazon.
Digital kitchen scale
For baking, meal prep, portion control, and more, Redditors can't live without digital kitchen scales. For a tried-and-true digital scale, opt for the Escali Primo Digital Kitchen Scale. It's compact, easy-to-use, and is precise enough to measure in 0.1 oz increments. This item is available at most kitchen supply stores including Bed, Bath & Beyond, Target, and Amazon.
Kitchen tongs
A good pair of tongs is good for more than just tossing salads. Reddit users share that they use this versatile kitchen utensil to gently place eggs in boiling water without cracking, flip steaks on the stovetop, take hotdogs off the grill, and even grab items from out-of-reach shelves. The stainless steel style, like this option from Crate & Barrel, is the most durable, but we recommend trying out other varieties such as those with touches of silicone or durable plastic.
Meat Thermometer
This Reddit contributor says it best:
"I used to overcook almost all of my meat because my parents instilled a strong fear of food-borne illness in me. Then I got a meat thermometer, and found out I can stop cooking them much sooner and still be safe, and everything is much better."
With nearly 14,000 five-star reviews on Amazon, this instant meat thermometer from Thermapro is sure to impress.
Fish spatula
Don't let the name fool you — this spatula does more than just flip fish. It does exceed at flipping your delicate filets, but it's also a generally well-designed spatula that you can use for all of your flipping needs. With its gently curved, widely spaced "tines," this spatula slides under foods to gently cradle them while you flip. As one of the biggest names in kitchenware, OXO always provides high-quality tools, and this Good Grips Fish Turner is no exception.
Bench scraper
Think you don't need one? Reddit users disagree. This Stainless Steel Pastry Scraper belongs on your list of must-haves as it's perfect for scraping dried-on dough, hardened chocolate, or caked-on crumbs off your countertops and into the trash. Additionally, when you're chopping veggies or other ingredients, this bench scraper can easily transfer them straight to a bowl or pan.
Garlic press
Forget chopping garlic by hand and paying for it with stinky fingers. This garlic press from Sur la Table hits every mark. Simply use downward pressure and a rocking motion to quickly crush cloves through the mesh holes to finely chop garlic in a fraction of the time.

Immersion blender
No need to lug out your blender every time you need to mix things up. With an immersion blender, you can make frothy milkshakes, homemade mayo, salad dressings, and soups right in the pot, bowl, or glass you whipped them up in. This hand blender from Mueller Austria is light and portable, but strong enough to rival even the best stand mixers.
Mise en place bowls
The French cooking term 'mise en place' loosely translates to "everything in its place." This refers to the method of having all necessary ingredients measured, cut, sliced, peeled, grated, and ready before you begin cooking. Mise en place bowls like these are small usually glass or ceramic bowls that can organize all your chopped and diced ingredients.
Manual can opener
Once again, simple tools, like can openers, often create the backbone of the kitchen. We're especially partial to the Oxo Good Grips Soft-Handled Can Opener which features big, cushioned handles for a nonslip grip, and it even has a built-in bottle opener.
With these Reddit-approved kitchen tools, you're sure to have the best stocked, most efficiently run kitchen in the neighborhood.
Editors' Recommendations