If you're considering taking advantage of this year's Black Friday sofa deals, you might be wondering what to expect or if it's worth the wait. The pandemic shook up many furniture suppliers and created a bit of delay when purchasing some new home goods. Today, we'll shed some light on the recent events and cover some of our favorite Black Friday couch deals that may encourage you to upgrade your sofa this year.
What to know before buying a new sofa this Black Friday
During the COVID-19 lockdowns, big names in furniture manufacturing like Stanley Furniture, Hancock & Moore, and Wesley Hall had to suspend production of their materials. This has led to a bit of a setback this holiday season. However, while slowed production has generated an issue for those looking to purchase new furniture, the supply chain as a whole is struggling to keep up with consumer demand.
News provider Slate released an article over the summer detailing the causes behind these supply chain shortages. They stated, "shortages of various raw materials, transportation issues, and labor shortfalls are leaving many manufacturers and retailers in a pinch," alluding to the presence of delayed shipments and long waits now accompanying purchases of large furniture items.
So, if you're planning on getting a new couch this Black Friday, we advise you to anticipate delays. While some deals can be worth the long wait, some homeowners needing a comfy place to sit may need to look for alternatives like purchasing secondhand or going to a brick-and-mortar store to see what they have in stock now.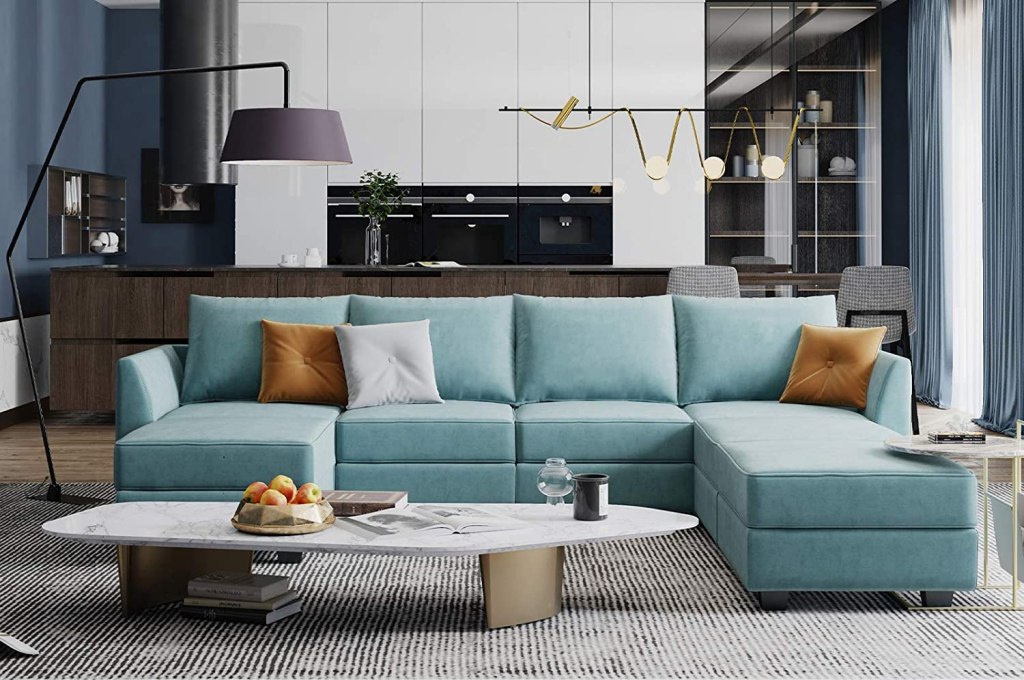 Find a sectional to maximize seating
If you don't mind a potential wait on your items, taking advantage of the holiday deals is a great idea! With a shortage of goods, furniture is much more costly than in years prior, so shopping during the Black Friday deals is a great way to save money.
HONBAY Modular Sectional Sofa
One of the best sofa purchases you can make this season is for a sectional that allows you to maximize seating in your home. We love HONBAY's Modular Sectional Sofa, which enables you to move every seat to create a custom sectional to suit your needs. Whether you want a U-shape or L-shape couch, this modular sectional gives you the freedom to create whatever you like. Additionally, this sofa comes with built-in storage functionality, making it one of the best multipurpose furniture items on our list.
Best features:
Modular sofa sectional allowing for customization
Includes storage space under each seat of the 6-piece modules
Sylvette Wide Reversible Sofa
Another sectional we're loving is the Sylvette Wide Reversible Sofa. This sectional comes with an ottoman that can sit independent of the couch or be connected to it, creating an L-shaped sofa. The sofa also includes storage space for your blankets, pillows, board games, or books. For small living rooms or apartments, this can be the perfect sectional for your space.
Best features:
Includes removable cushions
Has built-in storage space
Comes with an ottoman that can pair with the sofa or sit as an independent seat

Opt for a sleeper sofa to benefit from multipurpose furniture
If you're looking for a sofa that is guaranteed to have a multipurpose function, then you can't go wrong with a sleeper sofa. These versatile pieces are perfect for small spaces or tiny homes.
Imani Square Arm Sleeper
The Imani Square Arm Sleeper is a contemporary styled sofa perfect for both entertaining and accommodating overnight guests. This couch comes in nine different colors, so you can be sure to find the best match with your current decor. Additionally, it includes a split-back design for seating, meaning you and a partner can switch between sitting, lounging, or sleeping as desired.
Best features:
Comes in nine different colors to suit your style preference
Includes split-back seating, perfect for sitting, lounging, or sleeping
Designed to be both a couch and a twin bed
Prestige Collection Convertible Sleeper Sofabed
For pet owners or those living with children, the Prestige sleeper sofabed can offer additional storage and sleep accommodations while allowing for easy cleanup. The upholstered fabric is made of durable and easy-to-clean material, perfect for handling small messes. This sofa is also compact, making it an excellent option for apartments and small living spaces.
Best features:
Easy-to-clean upholstered fabric
Compact with built-in storage space
Converts seamlessly to a twin bed

Try out a smaller couch if you live in an apartment
If you want an affordable couch ideal for a small apartment, we recommend the Josephine Mid-Century Modern sofa.
Josephine Mid-Century Modern Sofa
This sofa is ideally suited for small spaces, measured at 67.25 inches in length. It comes in a bright burnt orange color but is often available in blue or dark grey. The design is contemporary and features the signature raised legs of 1950s furniture. As one of the most eclectic items on our list, those inspired by vintage home designs will fall in love with this loveseat.
Best features:
Comes in a bright-colored and mid-century modern design
Ideally suited for small spaces
If you plan to purchase a new sofa this Black Friday, keep in mind that delivery times will vary. With supply chain delays, it's hard to guarantee a quick arrival. However, taking advantage of the Black Friday deals will help offset this problem by saving you money long-term. So, if you're ready to revamp your space, try one of these fantastic options.
Editors' Recommendations