The feeling of finally hopping on a hotel bed after a long day of travel is incomparable, especially when falling asleep on luxe hotel sheets. While many of us may not be traveling anymore, you can still recreate that hotel luxury feeling with the right bedding. If you want to upgrade your bedroom setting, Standard Textile has sheets, duvets, and pillows to get you started.
Standard Textile Home is a family-owned business and has been in the hospitality sheeting game for over 80 years. It manufactures bed and bath linens for 5-star hotels, and since 2018 starting selling to the general public. Wondering what makes sheets feel like hotel sheets? It comes down to its feel and breathability. I got to test out these high-end sheets, duvet, and pillows and loved the cool breathable sateen. Read on to see if these premium bed sets are for you.
What we tested from Standard Textile Home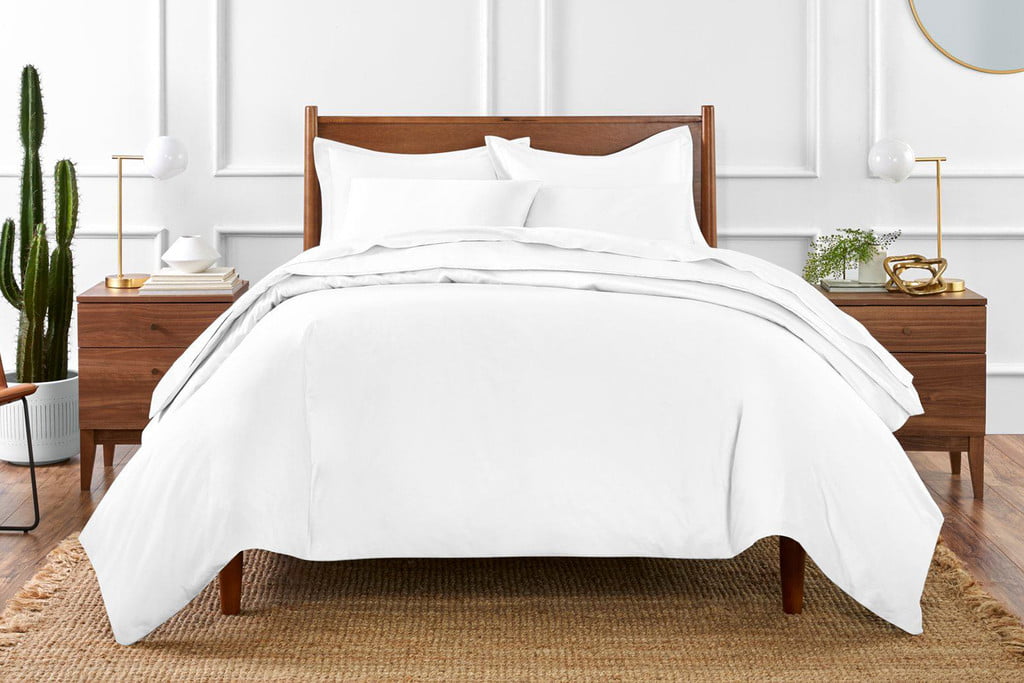 For the complete bedding experience, I slept on a total of three sets, consisting of sheets, duvet, and pillows. The Cincinnati-based company currently has three sets of sheets, The Centium Satin Sheet Set, The Classic Cotton Sheet Set, and The Luxe Bedding Collection. We tested out the Centium Satin Sheet Set in size Full.
In terms of duvets, there are two options, the Midweight Down Alternative Duvet Insert, made for people in cooler temperature areas, and the All Seasons Down Alternative Duvet Insert, also known as the Interloft Duvet Insert. The Interloft Duvet is supposed to be great for people who live in areas where the temperature shifts. We tested out the latter in size Full/Queen along with the Duvet and Sham Set (duvet cover) in size Full/Queen.
Lastly for pillow sets, Standard Textile Home has the option of Chambersoft, Chamberloft, and Chamberfirm. We tested out the Chamberloft Pillows Set in size Standard. All the pieces we reviewed came in white.
Centium Satin Sheet Set: This four-piece set comes with one fitted sheet for your mattress, one flat sheet to place on top, and two standard pillowcases. It's made of 65% ring-spun combed cotton and 35% Centium Core microfilament polyester material and the thread is sateen.
Interloft Duvet Insert: This includes just the duvet. It is made of hypoallergenic fill.
Duvet and Sham Set: This three-piece set consists of the duvet cover along with two pillow shams (aka fancy pillowcases). It is also made of 65% ring-spun combed cotton, 35% Centium Core microfilament polyester, and sateen.
Chamberloft Pillows: This set comes with two pillows made of 100% cotton as the cover. On the inside, the outer lining is made of hypoallergenic polyester and within that is an inner chamber of sterilized natural feathers. The natural feather fill pillows are duck feathers.
First impressions
My first impression of the Standard Textile sheets is how durable they looked and felt. They seemed to be thick and of high quality which is great whenever you're investing in your bedroom. The duvet seemed very flat when taking out of the bag but it expanded as I lay it across the bed and the pillows looked like the perfect size for me (I'm 5'2″) but way too small for my boyfriend (6'2″). As with any new sheets, we recommend washing the sheets before using them for the first time.
How long we tested
My boyfriend and I tested out all the sets together for a month. My bed hasn't known luxury hotel bedding and there's actually a lot of parts that go into it. To be completely honest I'm not an expert when it comes to duvet and duvet covers. I did have to look up the difference between duvet and comforter and how to put on a duvet when setting up. We slept very well on it during the one month with a few exceptions.
Pros and Cons
Pros: Overall we found that the sheets were super comfortable, they felt silky-smooth, and we agreed that the duvet was lightweight enough to not feel too heavy during hot summer nights while still keeping us cozy in the early morning. Maintenance-wise, everything was super easy to wash, though the duvet requires a bigger washer than the small one we have in our apartment.
Centium Satin Sheets: If you're looking for cool sheets, these are a great option because even when the AC wasn't blasting in our room, it kept us very cool. As mentioned they feel soft and are breathable through the night. Standard Textile Home says it doesn't fall into the thread count hype and focuses on the thread type itself. Despite satin being in the name, the sheets are made of sateen weave.
Interloft Duvet Insert: The duvet felt lightweight and was easy to place inside the cover.
Duvet and Sham Set: The style is great if you're looking for a minimalistic look and building up your bed and then adding other decorative pieces.
Chamberloft Pillows: The pillows were definitely high-quality and felt soft on our heads.
Cons: We were divided on how we felt about the pillows. I loved the Chamberloft because I'm a combination sleeper (I move around a lot) but for the most part I'm a stomach and side sleeper. It's a great pillow for a back sleeper and a stomach sleeper but it's not firm enough for a side sleeper. The plush exterior feels smooth and soft but I wouldn't recommend it for side sleepers who need a little extra neck and shoulder support.
Another con is the naming of the different styles and bedding pieces can be confusing, some of the pieces have two different names, making it difficult to navigate the site when looking for specific products.
Centium Satin Sheets: The fit of the sheets didn't fit perfectly with our mattress. Some of the sizings are a little tricky so I would suggest measuring the sheets before purchasing.
Interloft Duvet Insert: Most nights the duvet felt great, but some exceptions are when we felt overheated. The duvet feels light but can retain a lot of heat so temperature control was not great.
Duvet and Sham Set: While the cover and sham make a great minimalist look, we were unimpressed with the selection of styles. The colors and lack of designs make it fall on the more basic side.
Chamberloft Pillows: The pillows are not firm enough for someone with a bigger build.
What makes the Standard Textile Sheets stand out?
The right bed sheets in your bedroom can make staying at home a luxury. And investing in the comfort of your bedroom is more important now than ever. I've tried other sheets for a much higher price point ($200 range) and for the price of the Standard Textile Sheets ($100 range) you'll receive the hard-to-find feel of luxury hotel sheets. Compared to most online bedding retailers it falls under a great price range and really delivers that luxe-feel.
Washing and maintaining sheets is another important factor when buying new bedding. You want something that won't require more than your at-home washer and dryer and you don't want to lose the quality of your sheets when doing laundry. The double-needle stitching on the duvet will definitely help it stand up to frequent laundering and the easy to wash duvet cover and sheets is great if you're someone who likes to switch up the color and style in the bedroom frequently.
Who is Standard Textile for?
After sleeping in Standard Textile sheets and pillows, I would say it's for anyone who's looking to upgrade from their regular store-bought sheets. The minimalist style bedding is great for someone just starting to get into high-end bedding and want to spend their money on high-quality material. It's specially made for hot sleepers who like to sleep on their stomach or back. If you're a hot sleeper the sheets are practically made for you.
I would definitely buy these sheets if I was gifting them to someone because of the timeless linens, long-lasting quality, and ease of care. I also recommend these sheets if you're looking to switch up the bedding in your guest room. And if you were to only get one thing out of all the sets, I would act fast and get the Centium Satin sheets.
Pricing, warranty, shipping, and returns
Standard Textile Home is only offered online via its website, Amazon, Wayfair, and Zola. On its site, it offers a 90-day risk-free trial and you can always be sure that you'll receive no fee for shipping and returns.
Sateen Sheet Set (Centium Satin) – Full
All Seasons Down Alternative Duvet Insert – Full/Queen:
Sateen Sham Set (Centium Satin) – Standard:
Chamber Down Pillow (Chamberloft) Set of 2 – Standard:
Looking for more great stuff? Find more on our sleep hub.
Editors' Recommendations