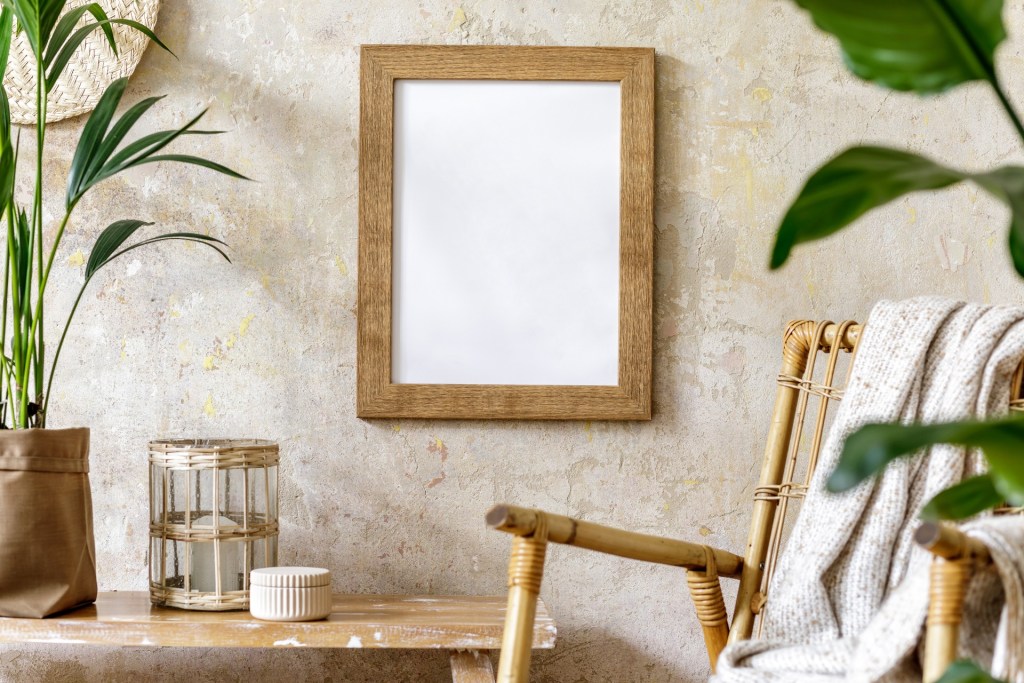 It happens—you fall in love with that bold graphic wallpaper, the color of the moment, or a show-stopping fabric that is right on par with the latest trend. At first, you love it. It is a big, eye-catching statement. But fast forward to a year later—the trend is over, and that same quality that made it stand out starts to be a bit too much. When you go with a loud design overall, it leaves little room for change later. The solution is embracing a neutral color scheme that offers flexibility and can be refreshed one piece at a time.
We know what you are thinking, won't neutral be boring? The answer is a resounding no. Neutral design offers an open airiness that lets a space breathe. The key is to bring in texture, various shades of relaxing hues, and layering pieces to give the design depth and interest. Here, we share our tips for how to create a neutral design that is anything but forgetful.
Start with the walls
The easiest way to freshen any space is with a coat of paint in a soothing neutral shade that will serve as the perfect backdrop for everything else you bring into the design. Often when thinking about painting, shades are selected to be a strong part of the design itself. In this case, try thinking about it in reverse. What does that mean? Instead of the color of the walls being the star, a neutral shade allows other elements to stand out.
Even though they may be softer shades, there is still a wide variety to choose from. There are many paint colors within the neutral territory—ivories, whites, warm beiges, soft grays, and blues all work well. One of the biggest bonuses about these hues is they reflect light and give the illusion of making a space feel larger. Who doesn't want that?
Add in larger pieces
Ground the space with solid furniture pieces that will stand the test of time. A neutral color scheme living room, for example, provides a solid base that can be updated with smaller accent pieces. For couches, love seats, and chairs, whites and beiges will go in any interior and can be dressed up with pillows and throws instead of strong colors and patterns. As always, when choosing large pieces, pay attention to scale and make sure the size will work in your space.
Look at your feet
No design is complete without a rug to ground it. Neutral floor coverings come in all kinds of materials and options. Rugs should be used to designate portions of the room—seating area, dining area, and so on. For a busy home, sisal and jute are popular for their durability. Wool and synthetic will have more options in patterns and hues. If you want to add in a bit more color, rugs are a good place because they are much less expensive and easier to replace than bigger furniture pieces.
Bring in the warmth of wood
One of the best ways to warm up any neutral design is to use wood elements. Look for pieces that reinforce what you want to say—a coffee table made of reclaimed wood, bamboo shades, chairs with a farmhouse vibe, or a live edge shelf are all good examples. Adding touches like these will bring in strong design elements without being overpowering. Vintage and rustic pieces with interesting texture and character work particularly well.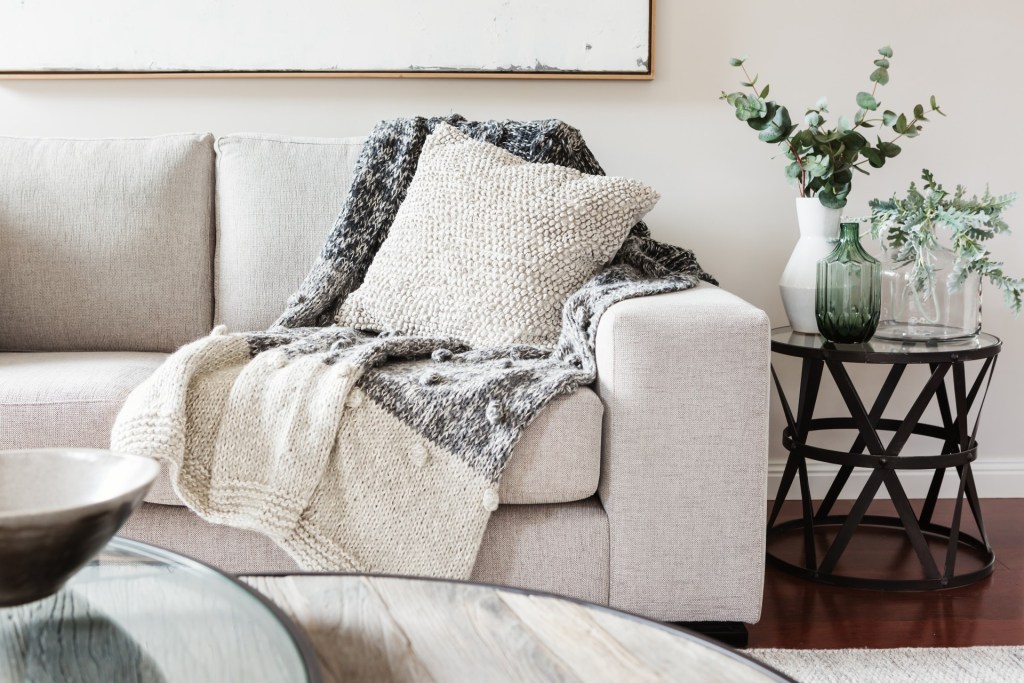 Infuse the space with personality
One of the best things about having a neutral backdrop is accessories, and accent pieces can be continually added and replaced to mix up the design. By bringing smaller pops of color, you can create vignettes that draw attention instead of getting lost. As with rugs, this is also far less costly than committing to larger bulk items in strong colors.
A great example of this is wall paintings for living rooms. In a busy space, they have a lot to compete with, but they can take center stage in a neutral design. Pillows also add color and subtle patterns. Layering them will create interest. Even pillows all in the same color family can be striking when sizes and fabrics are mixed.
Finally, don't underestimate the power of plants. Bringing in organic elements adds warmth and softens any design. Large scale plants are a great way to make a statement in a modern space. Smaller botanicals can be added to tables and changed to reflect different times of the year.
A neutral design may not have the flashiness of one filled with busy fabrics and pops of color, but it offers a lasting foundation that allows new and interesting elements to shine.
Editors' Recommendations