If you love the clean lines and simple design of the minimalist movement, you may be looking for rooms that would benefit from reducing clutter and keeping only on the essentials. The bathroom is one space where minimalism is ideal. Not only does it help create space in a smaller room, it concentrates the eye on one or two focal points and lets them shine. The bathroom is a place to get ready each morning and decompress before you go to bed at night. It should be calming and relaxing, not littered with a bunch of unnecessary stuff that can cause anxiety.
We found eight minimalist bathroom design ideas that are on trend, easy to pull off, and sure to leave you feeling even more refreshed every time you enter.
Play up neutral tones
You can have a minimalist design without being boring or stale. Choose a neutral color palette in ivory, light gray, or white, and incorporate it into the shower tile, flooring, and paint. Choosing a monochromatic wall and floor allows you to play up one primary color in a bathroom rug or shower curtain.
Use texture for character
Just because you choose white or ivory doesn't mean your bathroom will look dull. Play on the neutral palette by introducing a pattern on one wall with wallpaper that's textured in the same color, like this one from Lulu and Georgia. It creates just enough contrast without being overwhelming. You can also use shiplap on one focal wall to achieve the same look. Building patterns and textures doesn't necessarily mean you need to add color.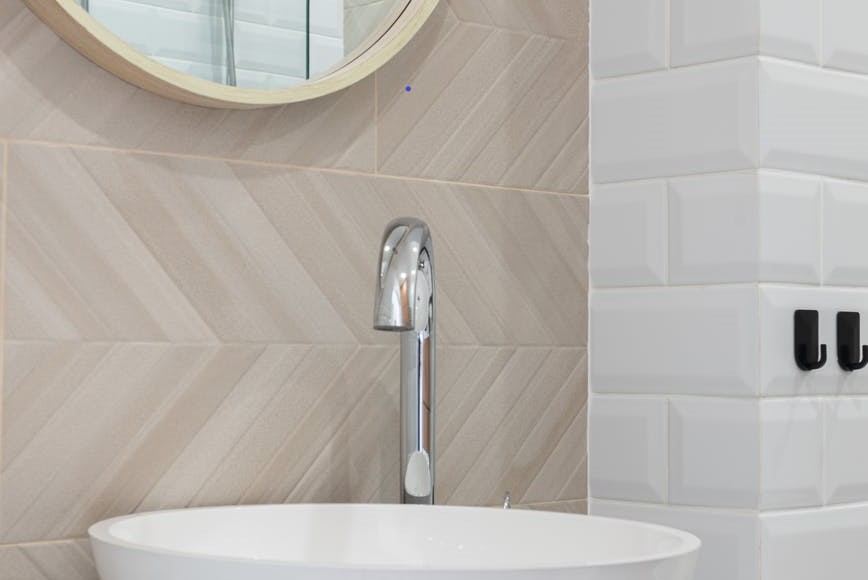 Don't forget the tile
Subway tile is ideal for a minimalist bathroom. It's clean and simple, and it can be used inside the shower and as a sink backsplash as well. You can play with the grout color if you want a little pop (consider black), but either way, it offers the perfect backdrop for a minimalist design.
Bring in nature using wood
Bringing in natural elements is super popular, and the bathroom is a perfect place to add in dark wood floating shelves or over-the-toilet shelving where everyday items can be stored. Not only will the dark play nicely with the neutral background, but shelving is also functional — another trait of the minimalist movement. The goal is to display only what you need and use every day.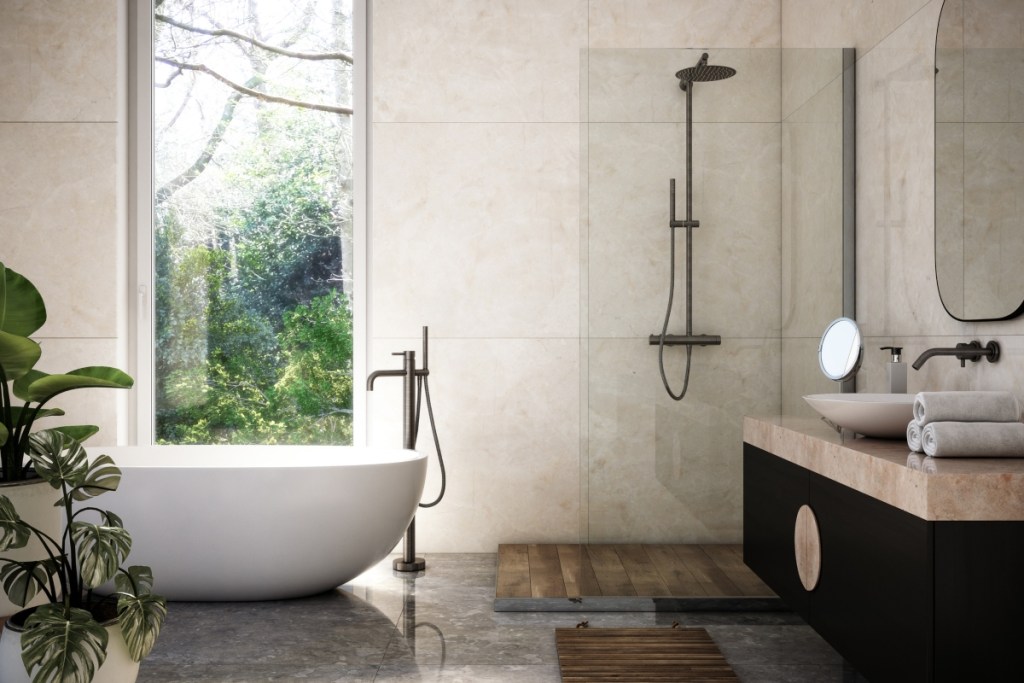 Don't forget the fixtures
Fixtures are one way you can build character into the bathroom without overwhelming it. We love muted gold, brass, or oil-rubbed bronze against an all-white bathroom in the shower, sink, and bathtub. You can get a little more dramatic here (like this stunning shower set from Signature Hardware) for a modern look in your bathroom that you'll never get tired of.
Light it up
Lighting is key in the bathroom because it's a place you get ready, style your hair, and get dressed. For lighting, as for fixtures, you can get a little dramatic with a mixed metal chandelier or sconces on either side of a vanity mirror.
Choose patterned floor tile
If you love a minimalist design but want a little bit more personality infused into the bathroom, why not pick a patterned tile floor to add dimension? You could choose a black-and-white hexagon pattern (which is very trendy) or bring in a surprising color like bright yellow or pink.
Remember the lines
If you have the budget for a complete remodel, consider the shapes you are bringing into the bathroom. Opt for a square-shaped vanity sink. Choose a shower stall with similar square lines in all glass. Clean lines are the hallmark of minimalist design, so the more you can keep things looking clean, the better.
Minimalism isn't about being sterile or boring; it's a way to maximize the space you have by keeping things clean and only having what you need in view. If you can, choose multifunctional items like hotel-style cubbies for fresh white linens, apothecary bottles for soaps and lotions, and antique bottles for perfume, which each serve as both a focal point and a place to store the things you need every day.
You can also land on one or two colors and highlight those in textiles, such as wallpaper, floor tile, rugs, or shower curtains, to add a pop of color to the room. The minimalist movement isn't going anywhere, and the bathroom is one space where it makes sense to choose a clean, uncluttered design.
Editors' Recommendations