When you imagine which room is the messiest in most homes, probably the first one that comes to mind is the one you feel like you are cleaning the most. For a lot of us, this tends to be the kitchen or the bathroom. That is why the results of a recent Joybird survey may surprise you. When they asked over 1,900 people what their messiest home space was, the answer was—drum roll please—the living room.
That is right, the family hub of many homes narrowly beat out the kitchen and bathroom (albeit by less than a point) as the catchall for clutter. At the top of many homeowners' list for the cause was laundry because, let's face it, who doesn't prefer folding it while catching up on the latest episode of your favorite show? Next up, was children's toys followed by food and dishes.
A room that sees this much activity is bound to suffer a lot of wear and tear. After all, living rooms have a big job to do. Not only do they serve as the main entertaining and television viewing space in a home, for a lot of us, they are also a play space, a home office, and a casual eating area.
Ideally, the living room should be a space that feels relaxed and inviting. When it becomes a place that is a magnet for mess and clutter, it is anything but that. If yours has gone the way of many, here are a few simple tricks to take it from sloppy to streamlined.
Declutter
The first step in regaining your living room is taking stock of everything in it. Have some of the things in it migrated from other areas of the house? It is time to return them to where they belong. Go through shelves, tabletops, baskets, and so on. Are there things you no longer use that can be donated or thrown away? Chances are, once you get the space into a more simplified state, you will be apt to keep it that way.
Clean
Now that you have paired down what is in the room, give it a deep clean. Before placing items back on shelves, thoroughly wipe them down. Vacuum rugs, under couch cushions, and behind and underneath furniture.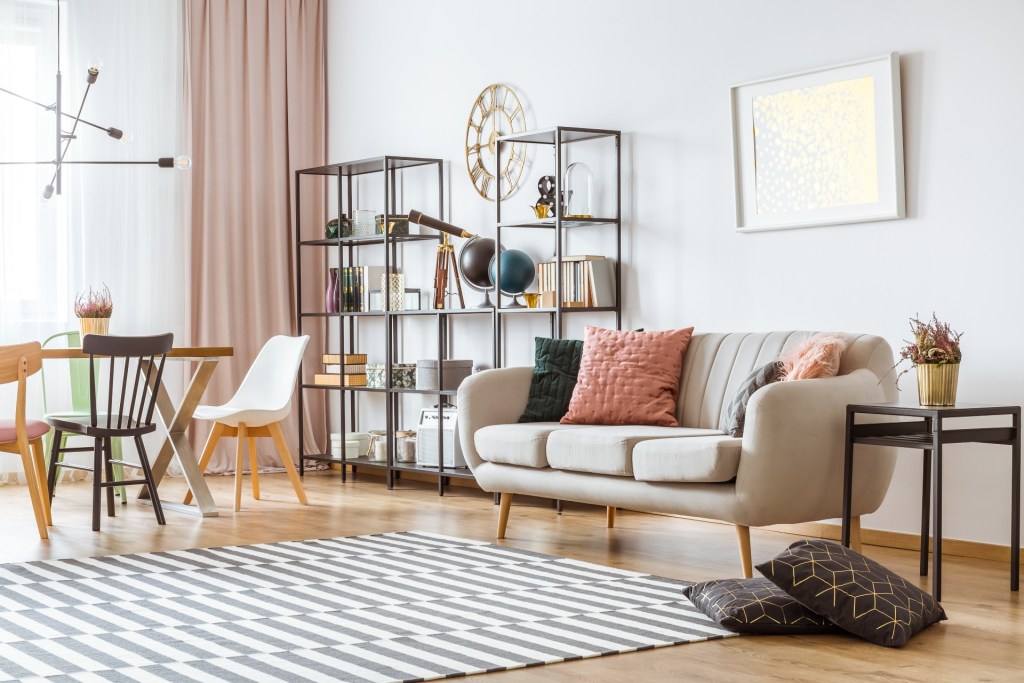 Rethink storage
If you have a lot of items to store, the best option is a cabinet with doors or drawers. When the items are not in use, they can be easily corralled and out of sight. For a small living room, always think vertical. Instead of wasting unused space, take advantage by going up with wall units or shelves. For children or pet toys, add large, covered baskets. Not only will they offer a designated place for storage, but they will be a chic design addition to the room.
Also, look for clever furniture pieces that perform double duty by providing a primary function and incorporating hidden storage. Why have a coffee table with an open bottom when you could have one that has a large inside that can hold many items? And don't be afraid to think outside the box—a dresser that you would typically use in a bedroom can also serve as a place to house the television and has many drawers.
Use color and groupings
Love decorative accent pieces? The key to incorporating them into your room without it looking cluttered is grouping similar items and colors. How does that translate when you are bringing them into a design? If, for example, you have a collection of pictures, souvenirs from vacations, candles, coffee table books, or sports memorabilia, rather than spreading them throughout the space, display them in groups for a cleaner and more significant visual impact. Color is also a good way to unify and create a more cohesive feel. Try to choose two colors that will be the dominant ones in the room and run them throughout.
Living rooms may have been cited as the messiest rooms in most homes, but by implementing a few organizational and clever decorating ideas, yours doesn't have to be one of them.
Editors' Recommendations