So many people treat lighting as an afterthought, but it has the power to make or break a room design. Proper lighting is especially vital in the living room as it's typically the main gathering space in the home. But prioritizing design and functionality takes more than just replacing an overhead light. From relaxing with a good book to entertaining guests, it's crucial to have the right lighting to accommodate all the activities that go on in the central hub of your home. Check out these eight fantastic living room lighting ideas to get started.
Create layers of light
Living rooms look their best when lit with layers of light, especially at nighttime. To get this look, experiment with these three common types of artificial lighting.
Ambient: Ambient lighting mimics natural sunlight to create soft pools of light and a chill vibe. You can create ambient light with lamps, pendants, and wall lights.
Task: This is lighting with a purpose. The focused light comes in the forms of bright ceiling lights and desk or reading lamps.
Accent: Accent lighting can highlight design features, like artwork or architectural accents, or create zoned pools of light, which can add separation to an open floorplan.
Use a combination of all three types of lighting in your living room.
Swap a pendant for an arc lamp
Both pendant and arc lights hang down and can serve as a room's focal point. But unlike pendants, arc lights are usually lower and produce more focused lighting. The shorter height can alter the vibe of the room, creating a more relaxed, cozy atmosphere. And since these floor lamps are easy to move around, they make it simple to build different zones in your living area.
Make your lighting a work of art
Should lamps match in the living room? Your lighting options don't have to match to go together. If your living room already has basic overhead lighting, have fun with your other lighting. Choose pieces with interesting and unique designs to add some style to your room. Try installing a sculptural sconce on the wall, place a retro mushroom lamp on a side table, or add any lighting that prioritizes form and function.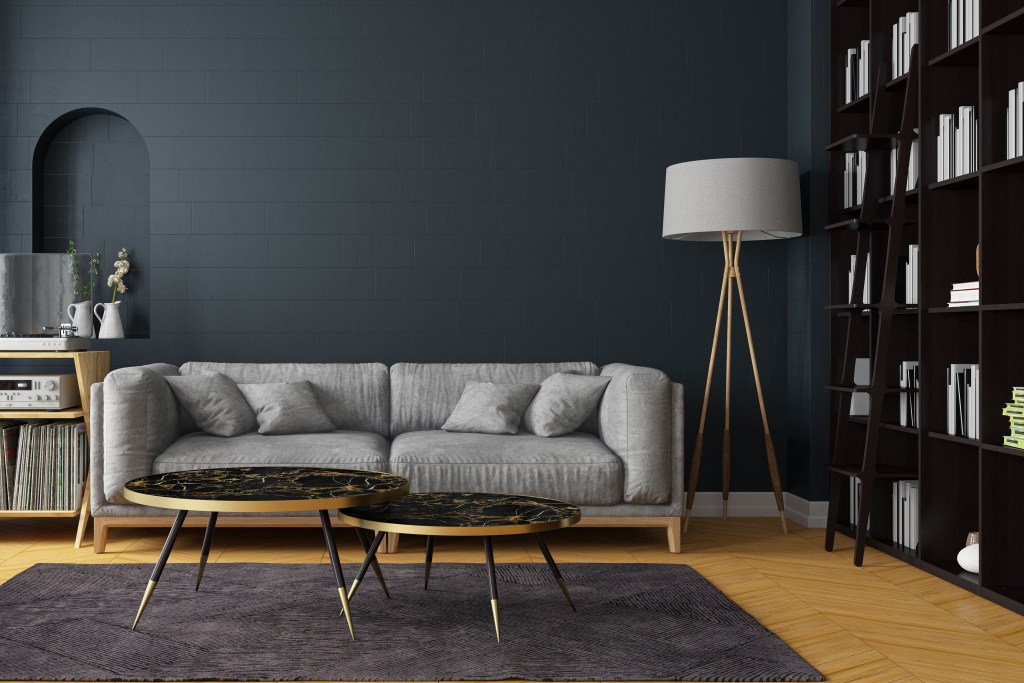 Brighten a dark corner
If you're wondering where to place a floor lamp in a formal living room, a corner is always a great choice. You can lighten the whole room with ambient lighting or use the standing lamp as a task light. Transform the dim, unused corner into a reading nook with a comfy armchair and a stylish floor lamp.
Mix and match old and new elements
Add contrast and character to your space by playing with vintage and modern pieces. In a contemporary living room, antique sconces and chandeliers can add much-needed warmth. Contemporary lighting can make a traditional or historic space feel updated and modern. Play with different design styles to give your living room an interesting and balanced look.
Add ambiance with light dimmers
Are you looking for an easy way to set the mood? Install a dimmer switch for your overhead light. This type of light switch allows you to control the brightness of the lamp and easily create ambiance in the space. Though this is usually a simple DIY project, you may want to hire a professional if you're not comfortable performing electrical work.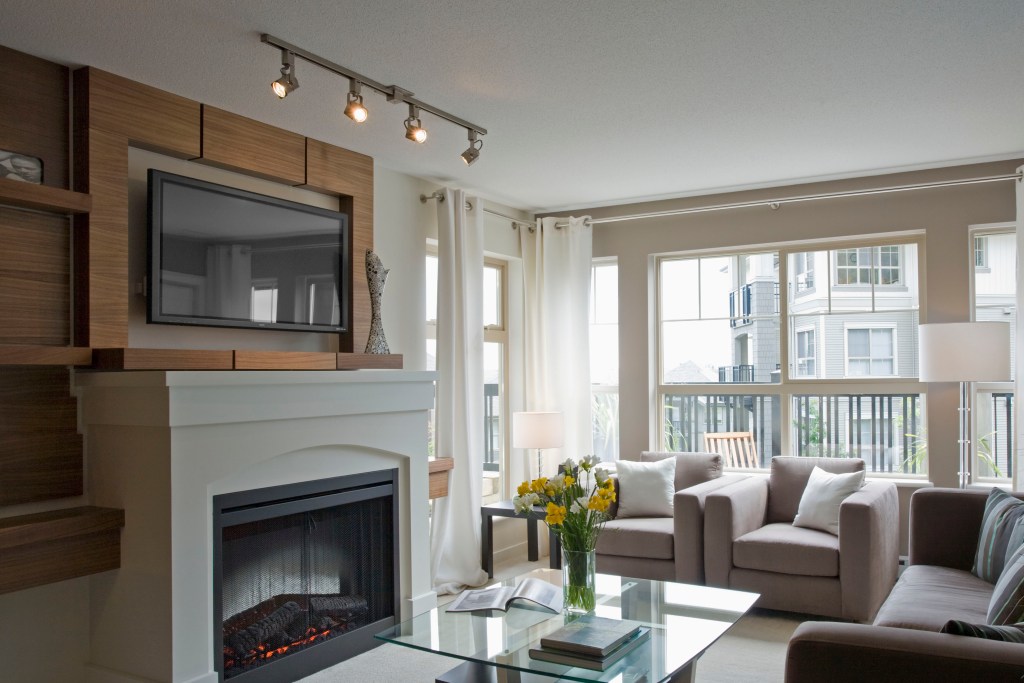 Highlight your favorite feature with built-ins
Install built-in spotlights or LED strip lighting to draw attention to your favorite feature in the living room. You can showcase a unique architectural feature, like an alcove or a coffered ceiling. Add lighting to open shelving to create an eye-catching display for your books or decorative objects. Or make the room feel like a luxury theater by placing colored lighting around your television.
Make a statement with an architectural chandelier
Take your living room design to the next level with a gorgeous architectural chandelier. This lighting can add an interesting focal point to your room and tie the whole space together. Go bold with a sculptural style, abstract shape, unique material, or really any features that make you stop and admire its beauty.
Light can make your space more usable, accentuate your favorite features, and add visual appeal to your room. Use all three types of lighting to create a gorgeous, layered look in your living room that combines functionality and aesthetics. Try out an arc lamp, a sculptural sconce, or an abstract chandelier. Think about how you use your living room most and the ambiance you want to create. With this in mind and any of these eight living room lighting ideas, you can totally transform your home into a brighter, more beautiful space.
Editors' Recommendations