If you want to give your home a facelift that is fashionable and functional, pendant lights are the way to go. They are a stylish addition to any room, especially one that could benefit from extra light and a little swank.
One of our favorite qualities of pendant lights is their adaptability in height. You can hang them as low or as high as you want, depending on personal preference and the layout of your room. If you need light at your desk but don't have space for a table lamp, a vintage industrial pendant could be the perfect solution to brighten your work area without taking up precious tabletop space. Or if your kitchen island could use better lighting, consider a barn house modern pendant to enhance the kitchen ambiance and provide better visibility while you cook. Let's take a look at our favorite retro industrial pendants to provide more light where you need it most.
Design House Kimball Pendant Light
Best pendant light overall
With a laid-back elegance, the Design House Kimball Pendant is a beautiful light fixture that looks great in kitchens, bars, and dining rooms. This dimmable solution allows you to adjust your brightness level when installed with a compatible dimmer switch. Mounts seamlessly without any visible chains or wires, for a casual refinement that enhances your decor.
Westinghouse Lighting Iron Hill Pendant Light
Best looking pendant light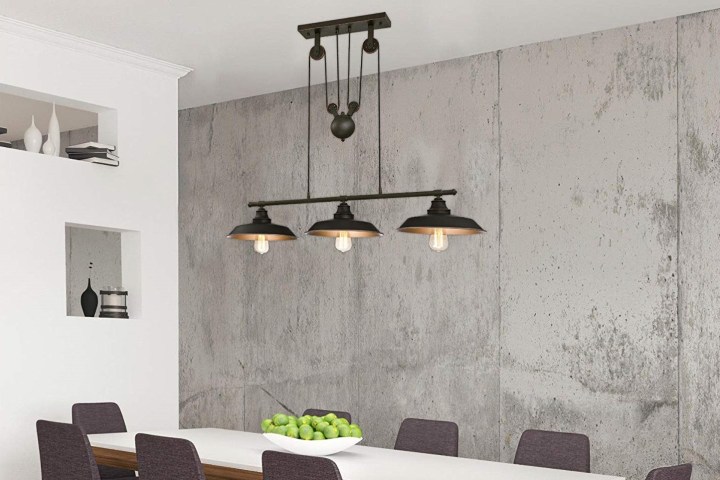 When a single light is not enough, the Westinghouse Lighting Iron Hill Pendant provides a 3-light solution with a rustic industrial look that feels contemporary and cool. Ideal for kitchens islands, this pendant light also looks stunning over pool tables, dining rooms or bar areas. With its pulley design, this impressive fixture brings a lot of personality to your home.
Claxy Ecopower Pendant Light
Best budget pendant light
The Claxy Ecopower Pendant has everything you're looking for in a pendant light. This fixture looks so high-end with its hand-blown glass and antique bronze finish that you'd never know it's a budget item. Use a compatible dimmer switch to set the brightness levels to your liking.
Lighting solutions are one of the best ways to update your home decor without undergoing a full renovation. If your home needs brightness and a refreshing new look, the modern industrial pendant lights on our list are the perfect solution. Make a statement by adding the trendiest light fixtures to your home.
Editors' Recommendations