A Sagittarius, according to Greek mythology, is the centaur — a half-horse, half-human healer who has a love of learning and is known to be one of (if not the) smartest of the zodiac signs. If you are a Sagittarius (or live with one), there are ways to go about decorating your home that speak to this sign's sensibilities and what makes a Sagittarius happy. You may have some of these unwittingly already in your home because you like to surround yourself with color, texture, new trends, and items that speak to you at the moment. Sagittarius room decor can be found in many online and retail stores that sell whimsical, boho-inspired decorations that aren't abundantly found in big box stores.
There are so many ways to inject your Sagittarius personality into your home. Here are a few ideas that will get you well on your way!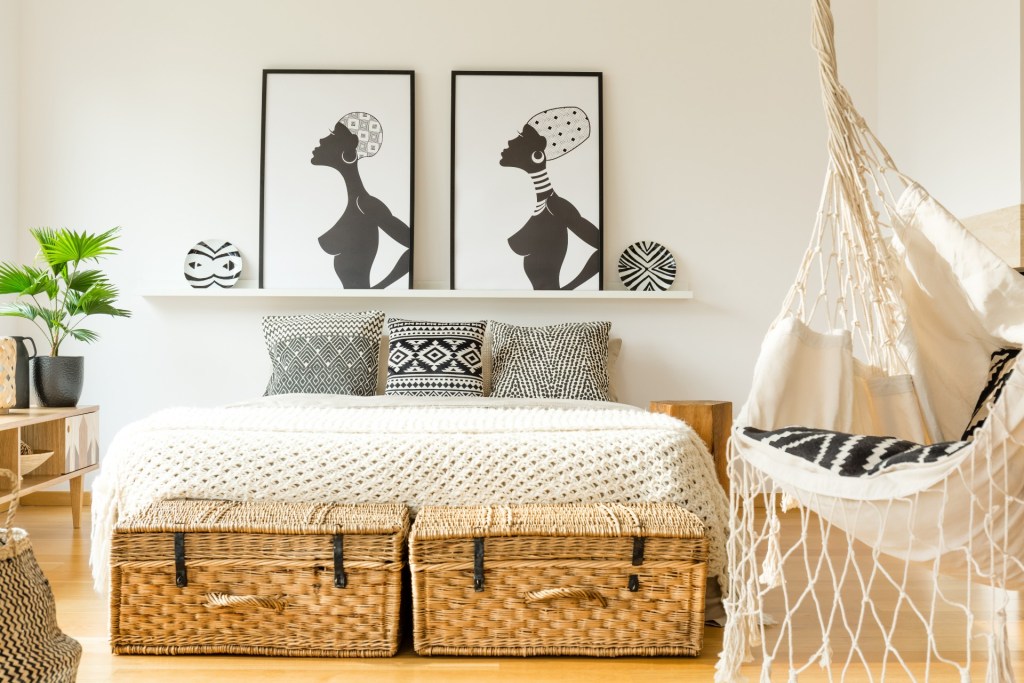 Sagittarius bedroom design
To embrace your love of spontaneity, good nature, and learning, decorate your bedroom in a way that inspires you to jump up and tackle the day but still be able to relax and reenergize at night. That being said, don't shy away from color in the name of calmness. Instead, pick one or two (blue and yellow are especially fitting for a Sag) and keep the rest a more muted palette to offer a sense of tranquility.
Decorate with items you've collected on your travels and situate them on wooden floating bookshelves alongside your (many) books. Bring in bits of nature with plants, natural wood, and wicker baskets to house colorful throw blankets and pillows.
One of the hallmarks of a Sagittarius is a lack of commitment to one aesthetic or another, so use this to your advantage in the bedroom and other rooms of your home. Embrace a more eclectic style and pair a vintage duvet with a modern dresser. Add farmhouse wall hangings with a boho floor rug. The possibilities are endless.
Sagittarius home storage
While you likely desire showcasing collectibles and putting your favorite things on display, a Sagittarius like you doesn't like clutter. Finding unique pieces of furniture that can double as storage will go a long way in maintaining your sanity. We love this midcentury modern storage cabinet from Article, which can do just that. If you are looking for more color, check out this gorgeous teal accent cabinet from Overstock. The hexagon pattern is super on-trend, and the color looks like you're staring at the sea.
Must-have decor for a Sagittarius
Regardless of the room, there are a few favorite items every Sagittarius should have in their home.
Unique decor
While there will always be a wide range of personal preferences that make up the Sagittarius sign, most enjoy unique items that add character to a space. Think bespoke wall art, handmade vases from a recent trip, a refurbished rocking chair to read a book in, or collectibles from an antique store. If you're looking for a few pieces to round out your collection, check out Etsy to find one-of-a-kind pieces that you won't see in anyone else's home. You can find everything from wall decor to handmade furniture, vintage wallpaper, and everything in between.
Embrace clean lines
Designing for a Sagittarius means clean lines and boxy, square furniture rather than circular items like round rugs or oval coffee tables. But, there's no reason to be too intentional in how you place furniture or decor. Keep it light and breezy and the eclectic look that will result will be more pleasing to the eye than an overly planned, stiff arrangement.
Add lots of lighting
Lighting is also important because you want to show off your vibrant side. Any opportunity to introduce natural night or add floor lamps or overhead lighting is welcome.
A Sagittarius home is unpredictable and whimsical, just like the sign itself. You'd rather bury yourself in a book or travel the world than spend a lot of time picking out furniture, but your home will still present well because the items you choose to showcase tell a story. They may not always be found in the same spot you left them, but they reflect your whimsy, and that's what matters!
Because a Sagittarius loves to entertain and is usually the life of the party, focus your attention on decorating entertaining areas like the kitchen and dining room, as you'll likely be hosting parties and holiday gatherings. Keep the necessary items like wine glasses and serving trays within an arm's reach in a storage cabinet. Remember that, above all else, a Sagittarius home is inviting and warm, so embrace your fun-loving attitude and your home will welcome anyone who walks through the door.
Editors' Recommendations