Staycations can be just as, if not more, relaxing than a trip across the country. Traveling is expensive and often stressful, but staycations offer the opportunity to explore your own city, take a few days to relax, or spend time with friends and family, all without booking flights or hotel rooms.
Instead of investing hundreds or thousands of dollars on a vacation, why not use that money on renovating your guest room? You can create a hotel-like feel inside your own home so both you and any guests have a five-star experience without leaving the house. When you need a change of scenery, just hop down the hall and spend some time in a space that rivals your favorite Hilton or Marriott. To inspire your renovation journey, we tracked down the best ways to transform this room on any budget.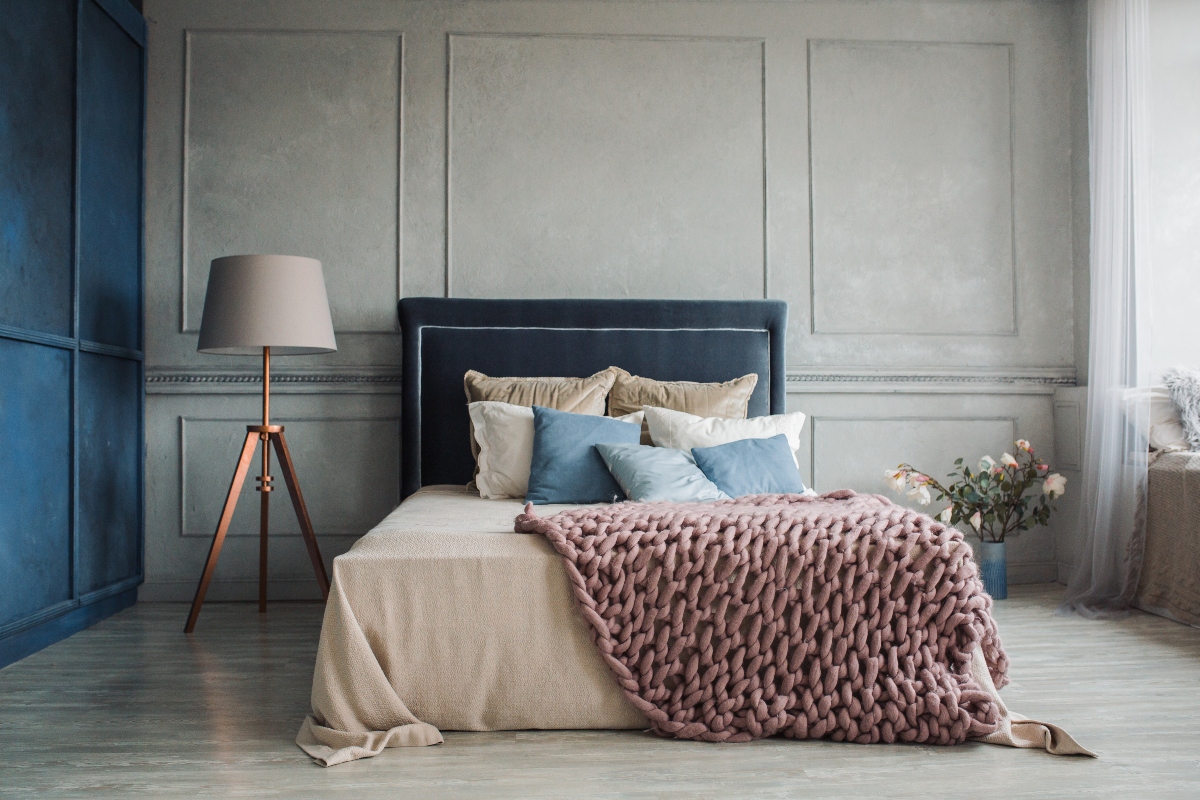 Splurge on bedding
One of the best parts of a hotel room is the luxurious sheets and duvet. There are always way more pillows than the average person needs, allowing you to sink deeply into a cocoon of comfort. Capture this feeling in the guest room with this oversize California Siberian goose-down king duvet from Amazon. It's not too heavy, so you won't sweat while you sleep, but it's ultra soft and delivers maximum comfort. In terms of sheets, we love these CottonWorks exclusive 1000 thread count Pima cotton sets, also sold on Amazon. Treat yourself and make sure you buy an extra set for the master bedroom as well.
Try dark paint
Hotels know exactly how to make guests feel cozy and relaxed. One of the tried and true methods of ultra-luxurious hotels is filling the room with dark paint and decor. It may seem counterproductive to paint a small room a dark color, but as long as you balance it with plenty of natural and artificial light, it provides a sense of calm, not claustrophobia.
If you pair this color scheme with light-colored, neutral textiles, you can also prevent the room from feeling too small. For color choices, we recommend either Arches or Duke Grey from Magnolia Home, which you can pick up at your local Ace Hardware store. If you're still concerned about a dark room looking too moody, incorporate white or ivory wainscoting to break up the deep-colored hues.
Remember home comforts
Convenience is another huge part of a successful vacation (or staycation), so be very thoughtful in your design and try to anticipate your guest's needs. Further, if you're spending your self-care day in the guest bedroom, you shouldn't have to worry about laundry or toiletries, either.
Make sure there are clean bath towels on the bed and extra sets in the closet. Don't forget the small necessities like an alarm clock, chapstick, a few reading options, and a phone charger on the nightstand. If there's a TV in the room, leave instructions for how to use the remote if it's tricky. Put some nice smelling lotion, a face mask, and fresh flowers on the dresser for a mini-spa day.
Use blackout shades
When you're taking time off to relax and recharge, the last thing you want is to be woken up early by the sun shining in your eyes. With hotel-quality blackout curtains, you can sleep in for hours without disruption from the sunrise or any passing headlights. We love these Freemansburg curtains in Candlelight from Wayfair for a guaranteed light-free sleep.
Once you've got these basics down, the rest comes down to personal design choice. Find a few framed prints of places you've traveled (or are on your list to visit), leave some drawer or closet space for guests to put their clothing, and incorporate aromatherapy into the room with lavender, honey, or jasmine scented candles. Leave fuzzy slippers by the closet, and you've got yourself a guest room worthy of any staycation. For an extra touch, consider putting a small mini-fridge in the corner of the room or inside the closet. You can stock it with water, soda, wine, and other refreshments like fruit, chocolate, or cheese.
Little things go a long way, especially on staycation! Whether you're hosting a guest or spending a few days in there yourself, the key is convenience and comfort. With these few tips, you can create a guest space that can outshine any hotel room.
Editors' Recommendations