One of the best parts about working from a home office is it allows you to personalize the space in any way you choose. You're already at work in there at least five days a week, so why not make it a fun and engaging space that you enjoy?
When it comes to revolutionizing your home office design, why not start with the place you spend most of your time: the desk? We searched high and low to curate a collection of desk that emphasize one thing – work doesn't always have to be serious.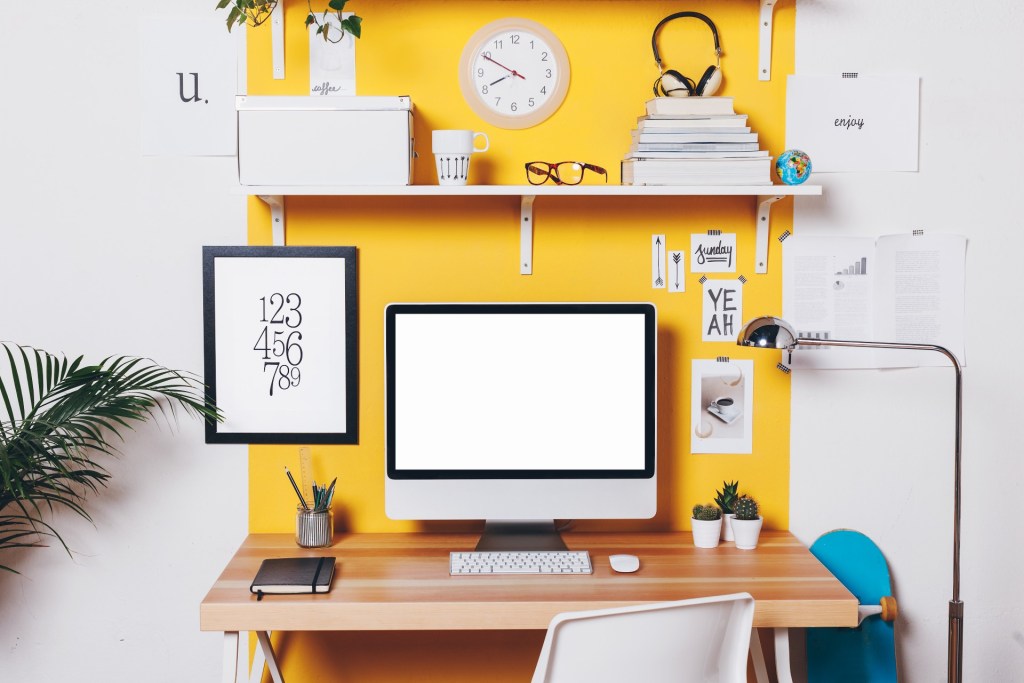 Delightful design
Looking for a conversation piece? The Optical Inlay Desk from Anthropologie offers intricately patterned bone inlay and is adorned with brushed brass drawer pulls. The perfect marriage of form and function, it has ample storage and is available in three unique finishes.
What we love
The handcrafted bone inlay and brass hardware are as beautiful to touch as they are to look at, and the two storage drawers offer ample space for pens, pencils and doodads.
What we don't love
This desk is designed to be minimal, and is optimized for a lifestyle that matches. If you're someone who likes to spread out or take advantage of a dual-monitor setup, you may find the desk's petite profile to be more restrictive than functional.
Full of surprises
We love surprises, and this desk has more than one. Fashioned out of an attractive combination of white oak and grasscloth, Crate and Barrel's Twist Rotating Desk pivots on a round hub to give you an extremely versatile workstation. The nesting table can sit inside for a standard desk or swing out in either direction to create an executive or corner desk. The drum-shaped hub also hides a convenient storage cabinet, perfect for snacks (don't worry, we won't tell anyone).
What we love
Making the most of your desk space is vital, and we love the many ways this desk is designed to accommodate a whole host of work-from-home needs. Its minimal silhouette is elegant and effective, and not only functions well in a variety of spaces, but looks great too.
What we don't love
Because this desk only comes in one color, it could be difficult to integrate it into different home office color schemes. Additionally, due to the grasscloth finish, the inevitable spill and sunlight exposure this desk may face could permanently damage the desk's aesthetic appearance.
Form and function
With its funky lines and minimalist design, the Inispollan Desk from Ivy Bronx sits at the intersection of form and function. The sturdy white surface can stand up to plenty of wear and tear, and the sides have shelving set at various configurations. It comes in ten finishes, including colorful and natural wood options, which are perfect for any decor.
What we love
For a workspace, this desk also looks remarkably like a piece of art. The color varieties available, and the manufactured wood build, ensure this desk's design will endure for years to come, provided you choose a color you're not bound to dislike any time soon.
What we don't love
There might be such a thing as too minimal; this desk's silhouette is beautiful, but leaves something to be desired when it comes to concealing wires and other less-than-attractive elements of working at a desk all day. Additionally, some reviewers mentioned they had some difficulty assembling the desk and had to ask professionals for assistance.
Up and down
If you love the idea of a standing desk but don't love the plastic-looking models dominating the scene, the Pittsburgh Crank Standing Desk from Pottery Barn is the perfect fit. This adjustable desk lets you easily raise or lower it to accommodate whatever activity you are doing.
What we love
This desk is the epitome of rustic industrial design; its black metal hand crank and kiln-dried wood nod to industrial-era furniture in the best way possible. The heigh flexibility and durable finishes are just two more reasons why we loved bringing this desk home.
What we don't love
While many standing desks on the market are at least somewhat automated, this one isn't, meaning users have to be able to crank the desk up and down by hand.
Whether you're in the market for a new desk that marries form and function, provides a pop of color, or gives guests something to talk about, these incredible unique desks are sure to please. Who knows, you might even find yourself excited to sit down and work every day!
Editors' Recommendations