The living room is where most of us spend our lounging time. It's where family and friends gather to watch movies, play cards, work from home, entertain, or just plop down to unwind after a long day. Because it's such a central space, homeowners usually give this room a lot of attention, remodeling to spruce up outdated decor, clashing colors, and other eyesores. When working to remodel this living space, focus on the areas that need a little extra TLC, like the unadorned corners, walls, or nooks that have been empty for far too long.
Irregularly shaped corners, short walls, and other difficult spaces often remain blank as homeowners struggle to decide what to put there. Perhaps it's a small corner nook, a wall with unevenly spaced windows, or a corner that looks like it would benefit from a piece of furniture but you're just not sure which piece to pick. Below, we rounded up a few recommendations from design experts on how to make those barren spaces pop.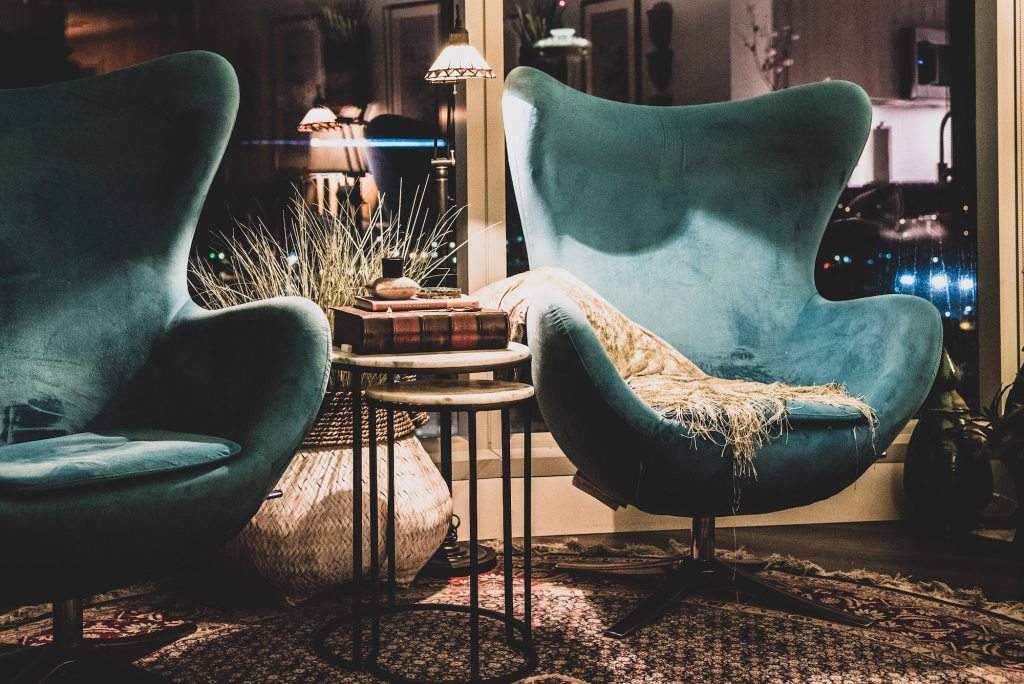 A naked corner
If a corner of your living room is lacking decor, consider placing a small armchair there. It doesn't need to be a large La-Z-Boy chair with a matching ottoman, especially if the room is on the smaller side. That being said, you can still make a statement without investing in big furniture — sometimes less is more.
We love this Donham cowhide chair from Wayfair because the ivory and brown colors ensure it pairs well with any decor, but the fun pattern adds a little character and charm. While we're talking character, we'd be remiss if we didn't recommend this embroidered chair from Grandin Road as well. The stitched birds, trees, and flowers are sure to add whimsy to any room.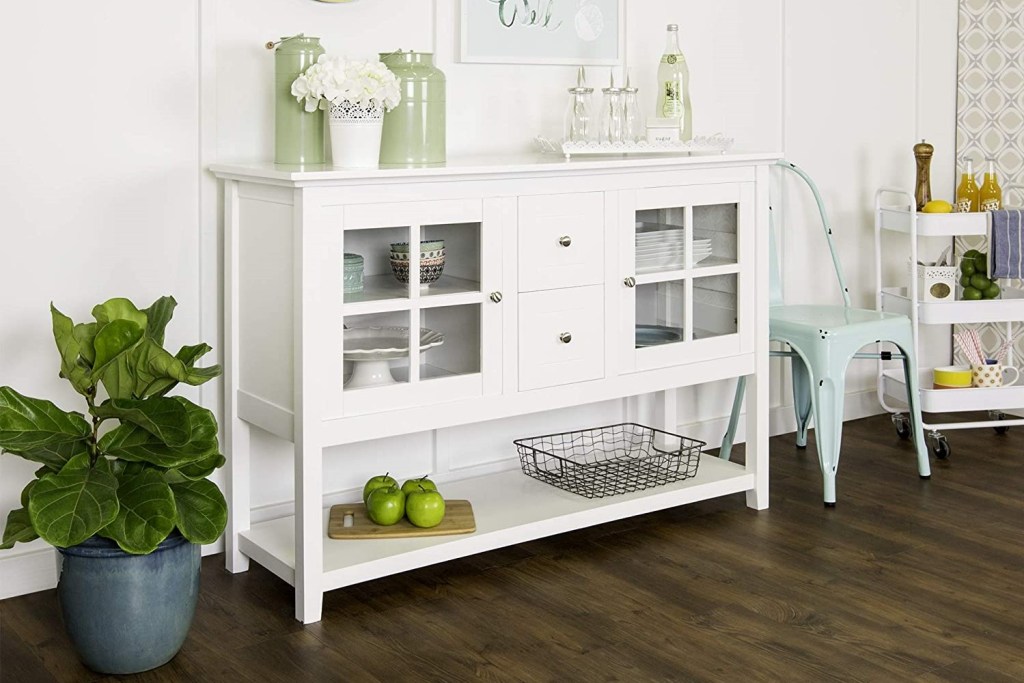 A pony wall
A short wall, also known as a "pony wall," can be difficult to design around. It's too short to place wall art since it's so far below eye level, and trinkets placed atop it tend to get knocked over by wayward elbows. We recommend placing a small cabinet right along the wall. Here, you can store items that are good to have on hand while entertaining like wine glasses and extra serving trays. We love this mint green storage cabinet from Overstock that's also available in pink, grey, and white.
To add more dimension to the room, rest an antique ladder along the wall and lay throw pillows on the rungs so guests can grab one or two on chillier afternoons.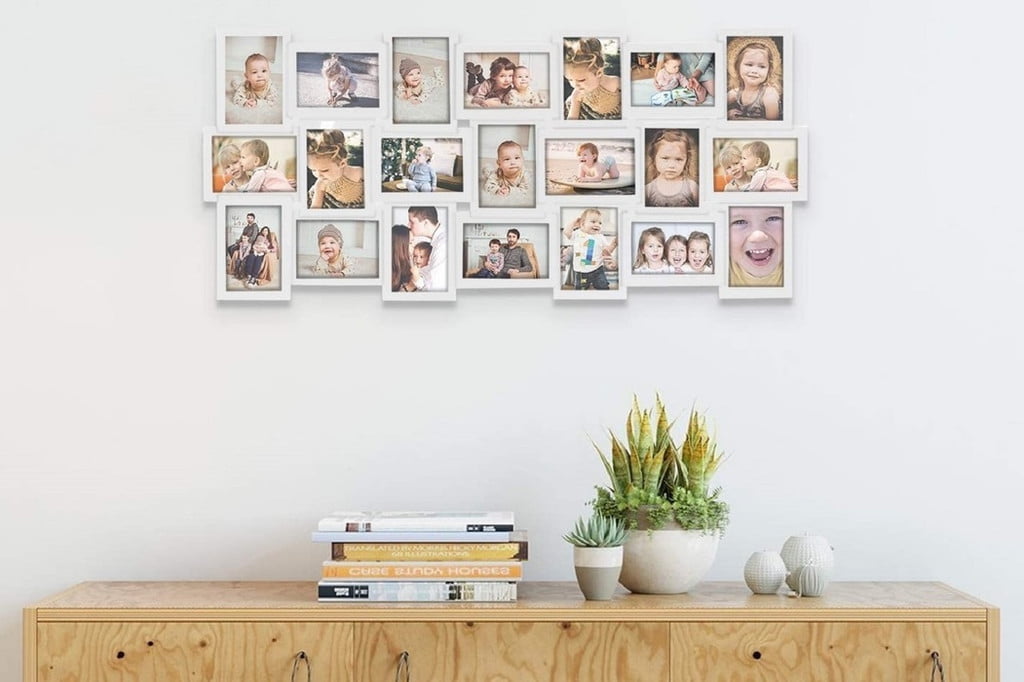 A wonky wall
For those walls with asymmetrical spacing between windows, use this wonky design to your advantage. Consider displaying a collage of art prints and hanging them at different spacings and angles. Here, you don't need to do any measuring, just grab a hammer and nail and start hanging, creating an eclectic vibe that looks fun and free-spirited. If you don't have enough art to make an entire wall work, feel free to add in other decorations like clocks, a small shelf, and any other of your favorite wall hangings.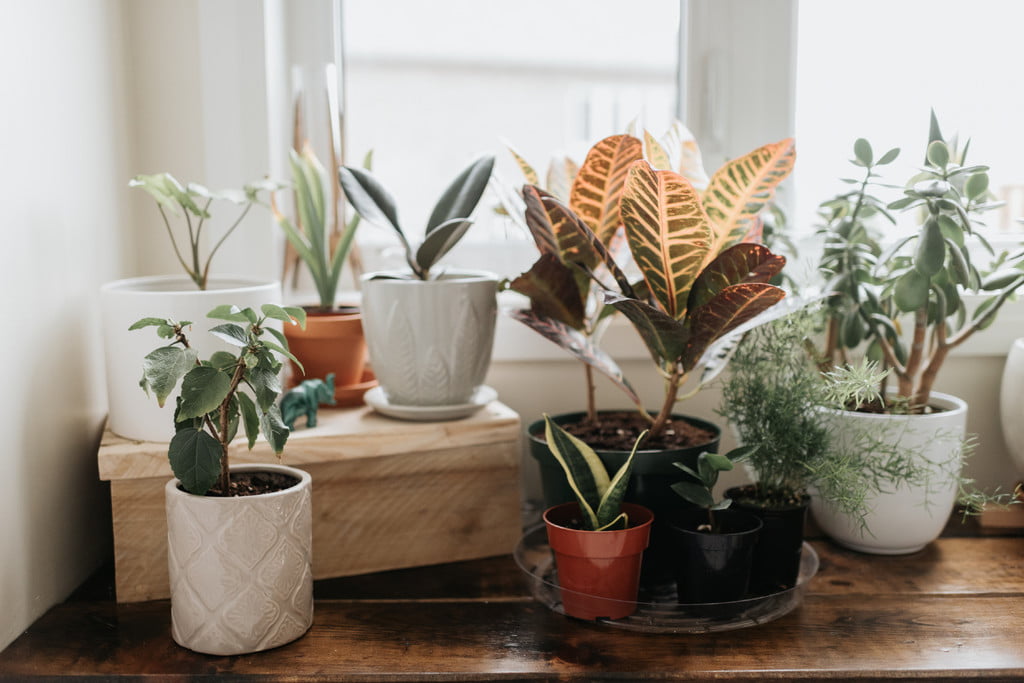 Bring the outdoors in
Plants are our go-to method for adding color, texture, and liveliness to a blank space, be it a corner, fireplace, or the space between the sofa and the end of the wall. Whether you choose to hang multiple succulents or place one large oversize plant in the corner, you'll be grateful for this touch of summer when winter arrives.
Don't think of empty spaces as a burden, but rather consider them blank canvases that you have the opportunity to liven up. Be creative and incorporate all of your favorite decorative pieces like poufs, floor lamps, seasonal trinkets, and small furniture. Rugs can also make a room feel more warm and full, even though it's not taking up much space. The more you layer fabrics, colors, and textures, the more character the room will have.
If you tend to host more than you travel, consider multi-use pieces that are as fashionable as they are functional. Transform the top of the cabinet into a mini bar, pick ottomans with built-in storage space, and collapsible side tables that you can stow away when you need more space. As you decorate these blank spaces, make sure you incorporate your own unique point of view and fill it with all the pieces that reflect your character.
Editors' Recommendations