Make the most of your dining room furniture by investing in a dining room chair that fits into any room as needed. If you like to switch up furniture often, it's ideal to purchase pieces that work in more than one setting. A dining room chair with arms is the perfect example. Here is our list of the best dining room chairs available to help you choose the ideal one.
A truly great dining room chair can work both at the dinner table or in any other part of the home. This ensures that you invest in a multipurpose piece of furniture that is still usable even if you purchase a new dining set. You know your home best — what looks best might depend on the material of the chair, if it has cushions, or even the color.
It might also be helpful to consider the height of the chair relative to your table. If your family tends to use the dining room often and heavily, opt for chairs that are easy to clean and hard to stain. With that said, let's look at our top picks.
Lansen Furniture Dining Room Arm Chair
Best overall
Lansen Furniture's Modern Living arm chair is where comfortable meets luxurious chic. The padded back and cushioned seat are covered in soft fabric. The legs are made of solid, light-colored wood to deliver an elegant yet effortless look.
Modway Casper Acrylic Dining Room Chair
Best acrylic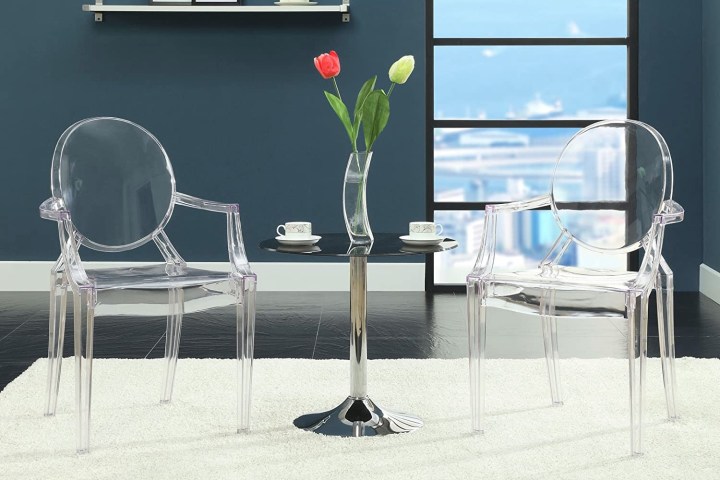 Modway crafted this extremely modern acrylic dining room chair with arms. The fully see-through chair is a fun addition to any room, and it works a practical dining chair because it's easy to clean and transport. It is also stackable if you purchase several for outdoor events or your patio.
Modway Gear Modern Farmhouse Dining Armchair
Best rustic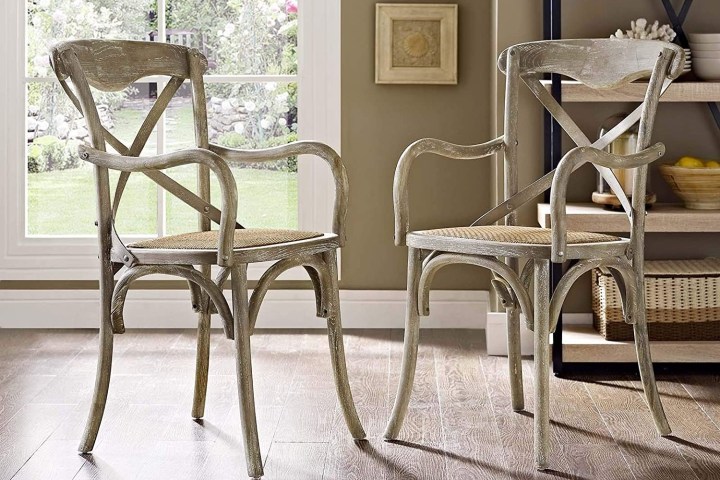 If rustic barn is your motif, try Modway Gear's Modern Farmhouse Dining Room Chair, which comes in a set of two. Inspired by vintage design and crafted with durable wooden parts, this dining room chair is ideal for homes with a similar feel. Note that assembly is required, but simple instructions and hardware are included.
The greatest dining room chairs can go undercover as living room chairs, patio seats, or even vanity chairs. When looking for new dining room chairs, consider what material and size the chairs are and if these complement your dining table. Consider dining chairs with arms for the most-versatile option, saving you money down the road on new furniture.
Editors' Recommendations