Cooking is as much of an experience as it is a process. With a tapered shape and rustic feel, the tagine pots on our list will inspire you to craft healthier and more creative dishes. Gather your loved ones around the table to delight in tender meats and savory vegetables that will soon become family favorites.
This artisanal portable oven can be used to create different types of recipes, as well as traditional Moroccan fare. Rice, pastas, stews, and all of the meals that you make in a tagine will be packed with flavor. Once your dishes are cooked to perfection, use your tagine as a stunning food server for a meal that is lovely to look at and even better to eat. Let's take a look at our favorites.
Bruntmor Cast Iron Tagine Pot
Best tagine overall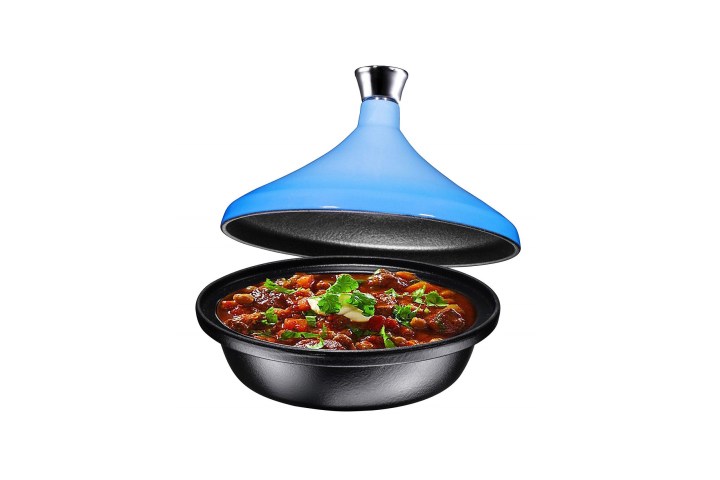 Keep the moisture and nourishment sealed into your dishes with the Bruntmor Tagine Pot. This enameled cast-iron cookware features a colorful lid and sleek design that make it beautiful and functional. With its generous rim, you can confidently take your meals from the kitchen right to the table without worrying about spills.
Emile Henry Flame Tagine
Best flame ceramic tagine
Conventional in its construction, the Emile Henry Tagine is made from traditional flame ceramic. This natural and authentic cooking vessel offers superior heat retention. It can be used in the oven, stovetop, grill, or even the microwave to continuously baste and lock in the complex flavors of your ingredients.
Cooks Standard Steel Tagine
Best steel tagine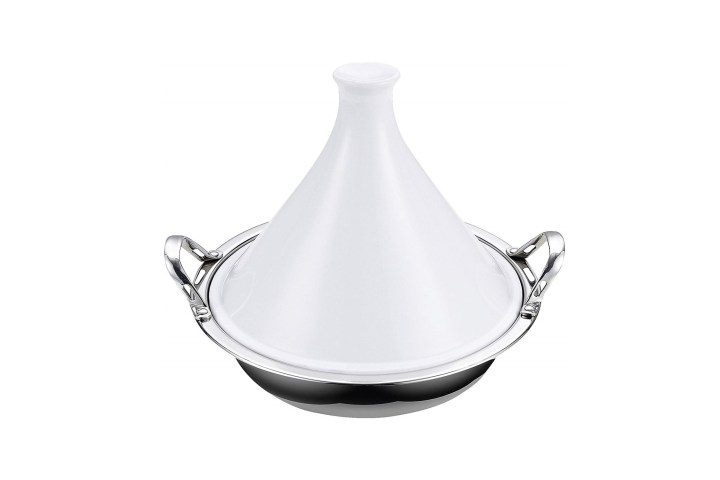 With two layers of stainless steel and an aluminum core, the Cooks Standard Tagine offers even and quick heat distribution without the need for a heat diffuser. It includes a tempered glass lid, for a traditional design with a contemporary twist. Oven safe up to 500°F, this tagine works on all kinds of stovetops and is dishwasher safe.
Are you bored of your usual meals or running out of ideas on what to cook? Bring out the depth of flavors and create dishes that only get more delicious after every bite with a tagine. This easy-to-use cooking vessel will open your eyes to a whole new culinary world and wow your family and friends. With a tagine on our list, you will quickly and easily be making a wide variety of dishes with more flavor than you ever imagined.
Editors' Recommendations