Whether you are a home cook stepping your game up, an outdoor kitchen adventurer or an aspiring Michelin star chef, owning a solid and reliable salmon knife will prove incredibly useful when serving seafood or carving other meats.
A fillet knife is an essential kitchen tool. In order to separate all bones from the meat, you need a blade made of premium materials with a non-slip grip and a flexible long-sized blade. A range from 7 to 12 inches is recommended.
Mercer Culinary Granton Edge Salmon Slicer
Best salmon knife overall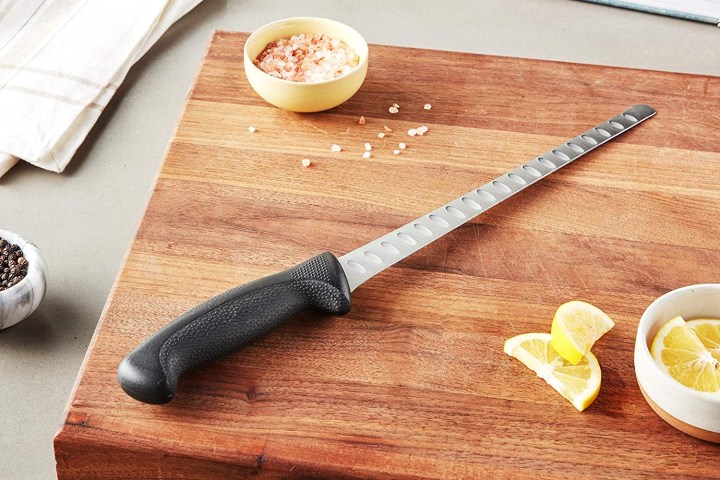 For those who are looking for top performance at an unbelievable price, the Mercer Culinary Millenia Salmon Slicer will prove to be a new favorite in your kitchen drawer. Featuring a single piece of high-carbon Japanese steel, this knife has an ergonomic handle with textured finger points for better slip protection.
Dalstrong Slicing & Carving Knife
Most durable salmon knife
The Dalstrong Phantom Series 12-inch Slicing & Carving knife is a master-chef level slicer. With elegant design, this perfectly balanced, razor-sharp blade performs and will outlast most of your cutting boards. The ultimate weapon for tender salmon, this knife has a beautiful, hand polished satin-finish blade with refined engravings.
Mairico Ultra Sharp Carving Knife
Best value salmon knife
The Mairico UltraSharp Slicing Knife deserves to be in this list for the craftsmanship and value you get out of this blade. With its professional design, the 10 inches of premium stainless steel deliver top performance. Cut precisely and safely with minimal effort thanks to its ergonomic construction and secure grip. This knife also doubles as a great carving tool for briskets, turkey and other roasts.
When it comes to cooking, owning the right tools for each job is the first step in your culinary journey. A high-quality knife will improve your overall cooking skills with each slice you make. Whichever knife you choose, you are sure to impress your guests with beautifully even salmon fillets.
Editors' Recommendations