Regular muffin tins simply can't make a perfect popover. This classic pastry requires just the right heat circulation to inflate and pop over without overcrowding. Popover pans are distinguished from regular muffin tins by their deep, steep-sided wells. This forces the batter upward and results in a popover with a puffy dome and crispy sides.
Muffins are great, and so are Yorkshire puddings, but when you are craving for something crispy on the outside and light on the inside, nothing can contend against oven-fresh popovers. With many different styles, choosing the popover pan isn't always easy, that's why we've gone ahead and created this list of the best popover pans in the market.
Bellemain Nonstick Popover Pan
Best overall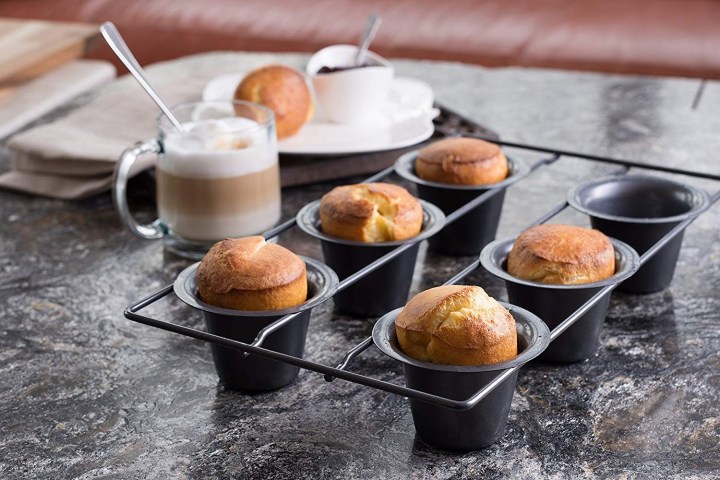 This Bellemain Nonstick Popover Pan is made with a nonstick finish for easy food release, with no sticking to the bottom or sides. Popovers slide out in one easy piece (of course, you will still want to use the melted butter your recipe calls for to give your popovers their delicious taste and crispy surface). This popover pan ensures that cleanup is a breeze, as well. In fact, you can put the pan straight into the dishwasher. Its 2.25″ deep cups promote rising — Bellemain's cups are twice as deep — which allows popovers to climb up to impressive heights. This popover pan is constructed of durable, welded metal, so you can count on the Bellemain's rugged construction for years of trouble-free use. The dark-colored metal also absorbs heat faster, which is ideal for the high-temperature, short baking time that produces perfect popovers.
Chicago Metallic Professional Mini-Popover Pan
Best for mini popovers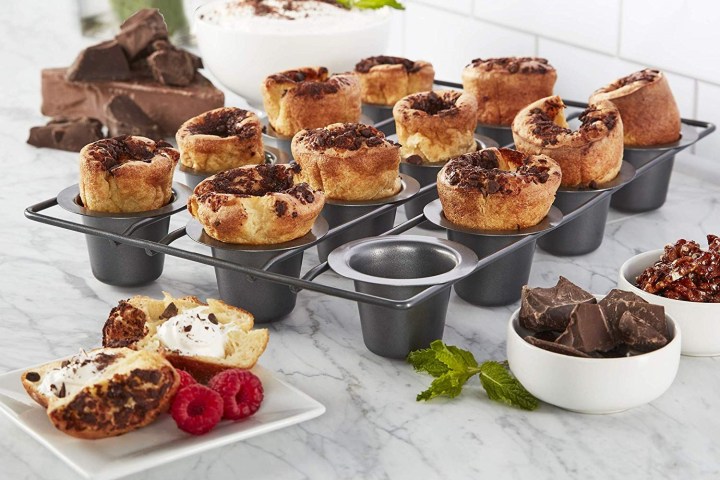 The Chicago Metallic Popover Pan can be used to bake traditional popovers, Yorkshire puddings, and can also be used to make traditional muffins. This pan is made from heavyweight, aluminized steel for superior heat conduction and even baking. This popover pan has nonstick coating for easy release, and its silicone-based, nonstick coating is ideal for easier baking and cleanup. In addition, it is heat safe up to 450 degrees F (232 degrees C). This pan is dishwasher safe, but hand-washing is recommended to extend the product life.
Nordic Ware Grand Popover Pan
Most durable popover pan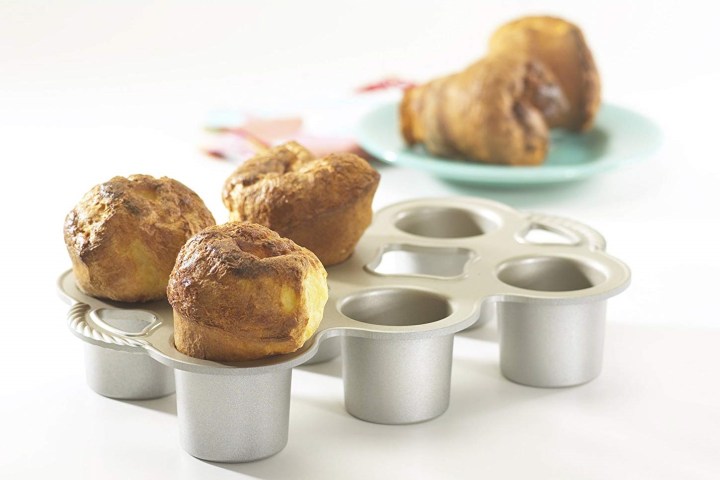 The sturdy Nordic Ware Grand Popover Pan can make six tasty popovers at a time. Its cast aluminum bakeware provides fine details and a superior baking performance. This popover pan's heat-reflective exteriors allows for uniform browning. Bake mouthwatering ¾-cup popovers and oversized muffins. This solid pan is also perfect for crown muffins, Yorkshire pudding, and molded desserts. This pan's center heat vents allow hot air to surround the popover for even cooking. It's constructed of heavy cast aluminum to ensure it will not warp and last a long time. It also features a nonstick finish for easy cleaning.
The key to a perfect popover is a quality pan. Deeper cups and straight instead of angled sides make popover pans only slightly different than muffin pans. So whether you go with the best overall, the best for mini popovers, or the most durable, don't make choosing the right popover pan a pop quiz. Our list for the best popover pans will help you pass the popover test!
Editors' Recommendations