If you are cooking at home several times a week or have the need to keep your chopping game sharp, a honing rod is a great upgrade for your kitchen. Unlike sharpening, you can hone your knives before every use to get that buttery sensation with every cut. We are confident that you will find the perfect match among our curated selection.
This simple yet powerful kitchen gadget actually doesn't sharpen. Instead, its job is to realign the blade. As you use a knife, the edge bends sideways and deforms at the microscopic level. The honing rod then fixes these micro dents into an upright position as the knife slides along both sides.
TUO Honing Steel Rod with a Pakkawood Handle
Best honing rod overall
For superior performance, the TUO Honing Steel Rod with Pakkawood Handle excels as one of the best in the world. Its proven design of tiny grooves along the steel surface straightens your blades without fault. The length of the rod is 9 inches, ideal for most knives sizes. Be prepared to cook at any time with this excellent model approved by the world's top chefs. This is the perfect choice for your very first honing rod.
Utopia Kitchen Honing Rod
Best budget honing rod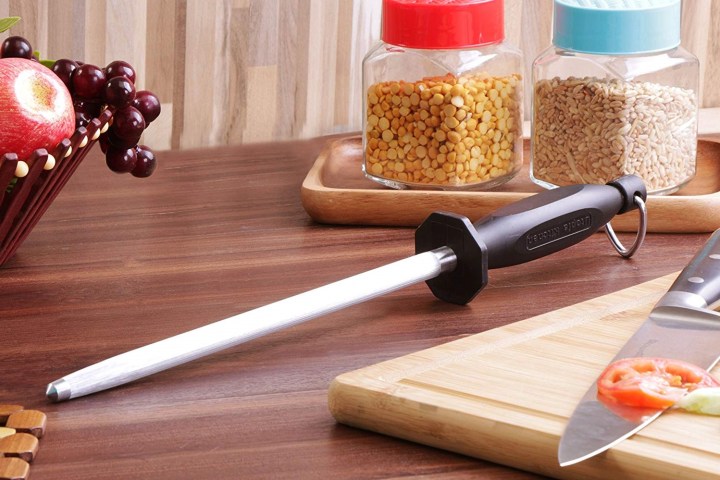 When you need a solid yet affordable option to keep your knives in perfect shape, the Utopia Kitchen Honing Rod will be there waiting to get to work. Longer and sturdier than most of the honing rods we researched, this carbon steel rod comes plated with nickel-chrome that protects your blades from accidental damage. Maintenance is a breeze with easy cleanup. Use running water to clean, wipe it dry, and then use an oil-soaked cloth to cure and leave a protective coat.
Noble Home & Chef Honing Rod
Best magnetized honing rod
The premium option with the most innovative features is the Noble Home & Chef Honing Rod. Magnetized for safety, it also prevents any metal particle that chips away to become airborne. The oval handle allows for a strong, comfortable grip and gets some extra style points for its sleek look. Being a home-kitchen-friendly product, it is dishwasher safe and will remain rust-free.
Keep your kitchenware in great shape and your blades sharp, straight, and ready to cut with the right honing rod for you. Ensure your knives are safe and working perfectly and see how it helps your cooking. Start using professional tools and raise your culinary game big time.
Editors' Recommendations