The heat induction at the base distributes heat across the surface, helping you use every inch of the pan to cook your most challenging recipes with confidence. This level of performance will put you on your path to superstar chef in no time. Pick the best Gotham Steel cookware for you out of our selection of top choices.
When picking your next set of nonstick cookware, durability, and performance should be at the top of your wish list. The strong construction and ultra-resistant coating of Gotham Steel products set them apart. You won't have to worry if someone decided to flip that chicken with a metal fork. These pans are built to last and are scratch-resistant.
Gotham Steel Cookware and Bakeware Set
Best Gotham Steel cookware overall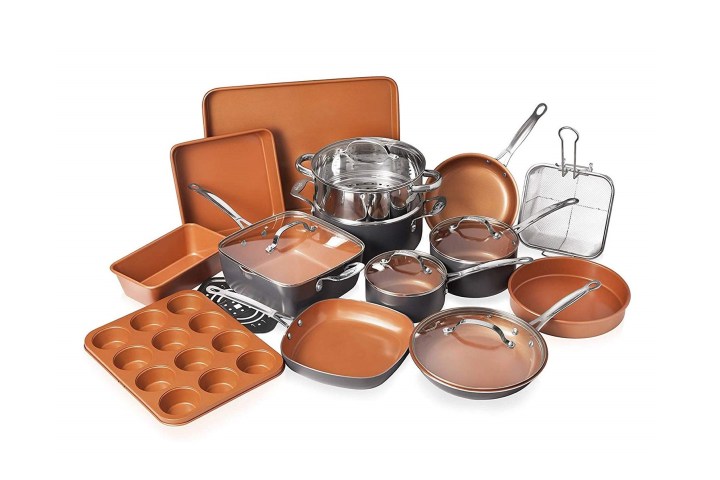 When it comes down to convenience, an all-in-one set of kitchenware gives you the most bang for your buck. If you want to take a full dive into quality cookware, the Gotham Steel Cookware and Bakeware Set is a 20-piece collection that includes every item you need to have a fully functional kitchen. Skillets, stockpots, deep-fry baskets — you name it, you have it in this wonderful collection of ultra-durable utensils. A solid investment for years of cooking to come.
Gotham Steel Mini Egg and Omelet Pan
Best Gotham Steel egg pan
There is no cuter breakfast than perfectly round sunny-side-up eggs. Serve masterful creations with the Gotham Steel Mini Egg and Omelet Pan. It is a mini fry pan designed to help you make the most delicious morning food you can imagine. If you get fancy and want to bake something small, this mini yet mighty pan can take up to 500° F and is dishwasher safe.
Gotham Steel Nonstick Copper Crisper Tray
Best Gotham Steel crisper tray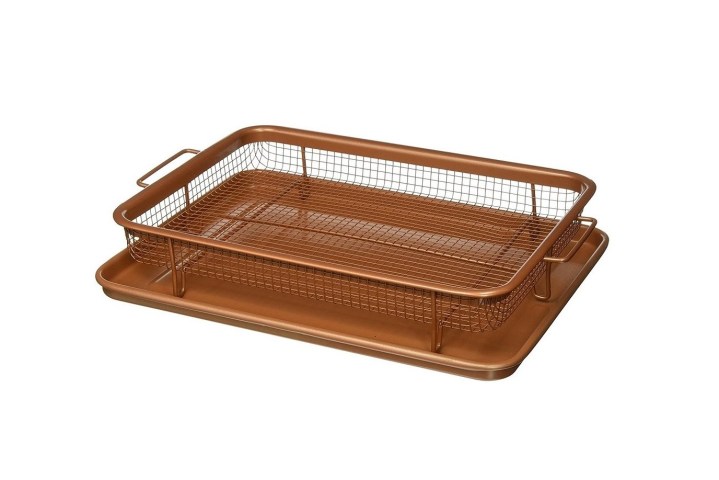 For lovers of healthy fried food, the Gotham Steel Nonstick Copper Crisper Tray will quickly become a favorite tool in the kitchen. Enjoy air frying directly in your oven with this amazing crisper tray. It allows hot air to circulate around your food and for fat to drip down, creating the crispy crust without the need for flipping or turning.
If you want to experiment with the latest technology, getting some Gotham Steel cookware is a sound investment that will surely expand your culinary expertise and allow you to give more complex and rewarding recipes a shot. High-end cuisine at home coming soon.
Editors' Recommendations