Keep chafing dishes, fuel cans, and banquet carts with the confidence that all your guests will be served hot food and beverages at any time during your events. Our selection of chafing fuel cans will power your catering business to success with the best and most value-packed options.
Chafing fuels come in a variety of options to choose from. They come in liquid, solid, and gel materials and have different burn times depending on your needs. For long events, liquid fuel is preferred for its long-lasting burn time and higher safety measures. We have selected the top options to make sure your next banquet or event is a success.
Sterno Canned Heat Chafing Fuel
Best chafing fuel overall
For top performance and sustainable materials, the Sterno Canned Heat Chafing Fuel pack contains six cans of gel fuel, each with over two-hour burn time. An ideal set for entertaining, catering, and camping. It provides a safe and environment-friendly food-warming solution and keeps food in the safe zone of 140⁰F. Plus, it's a clean-burning fuel that does not emit carbon monoxide.
7Penn True Heat 6 Hour Chafing Fuel
Best long-lasting chafing fuel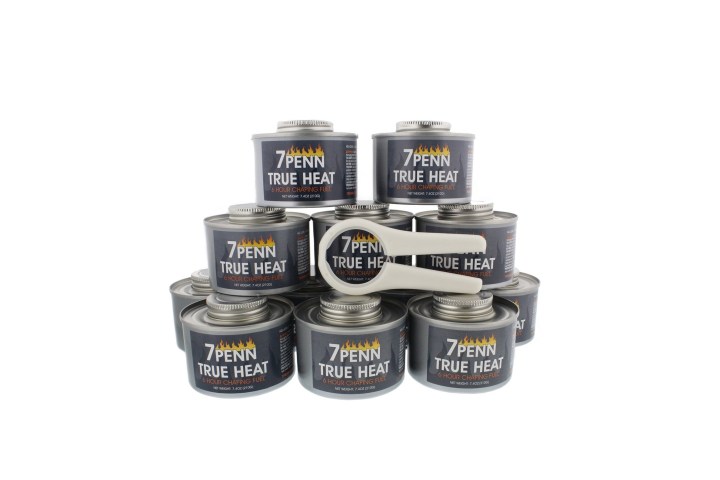 When you are catering larger and longer events, you will need the most efficient fuel, and the 7Penn Liquid Safety True Heat cooking fuel is the best option with the longest burn time. This 12 pack of wicked liquid fuel cans can last up to six hours each, providing you with enough heating power to face the most demanding of catering needs.
Party Essentials Chafing Fuel
Best value chafing fuel
Get the most value out of the Party Essentials Chafing Fuel, a 12-pack of ethanol gel cans that burn for over two hours with the highest heat available for an incredible price. Keep hot foods ready during all of your special events with this jelled warming fuel. This nontoxic fuel burns clean and is odorless, and the cans are spill-resistant.
Keep the party going and the guests happy with hot food with our selection of chafing fuels. All of them fit the standard chafing dinnerware and will support your catering all night long. Be the star of the party even when you're working behind the scenes.
Editors' Recommendations