Ceramic knives are such a hot item in many kitchens at the moment, and for good reason. Not only are they strikingly beautiful, the best ceramic knives are substantially hardier than steel knives. Due to their resistance to acidic substances, they will not rust or corrode. As the name suggests, ceramic knives are made of hard and long-lasting ceramic material, zirconia, or zirconium dioxide, making them well worth the price.
Whether you're a seasoned or novice home chef, a great ceramic knife can provide you with the confidence and precision to achieve your culinary aspirations. With many different styles, choosing the right ceramic knife isn't always easy, and that's why we've prepped this list of the best ceramic knives in the market.
Kyocera Advanced Ceramic Revolution Utility Knife
Best overall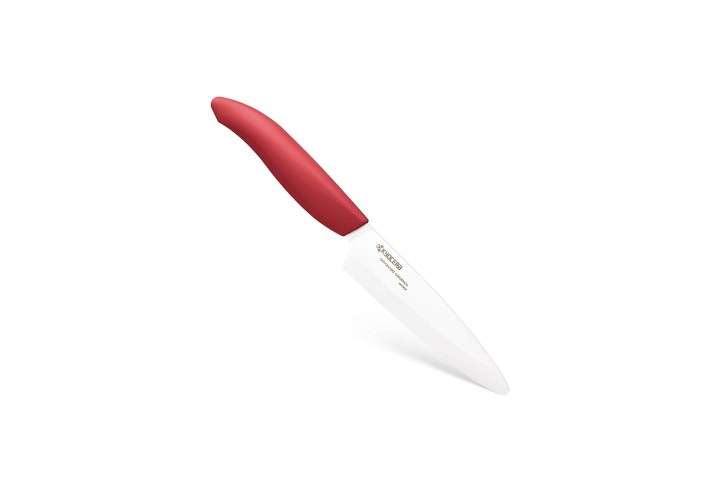 This Kyocera Advanced Ceramic Revolution Series is one of the brand's most popular advanced ceramic knife series for home and professional meal preparation. This knife is lightweight for ease of use in repetitive slicing tasks, producing less fatigue on hands and wrists. This knifes' ceramic blades are ultra-sharp and hold their edge up to 10 times longer. The beveled doubled-sided, cutting edge will thinly cut fruits and vegetables, making it a favorite knife in the kitchen. Its ceramic blades are made from Kyocera's proprietary zirconia material. It is produced in Japan for exceptional quality and beauty.
Takiup Ceramic Knife Set
Best knife set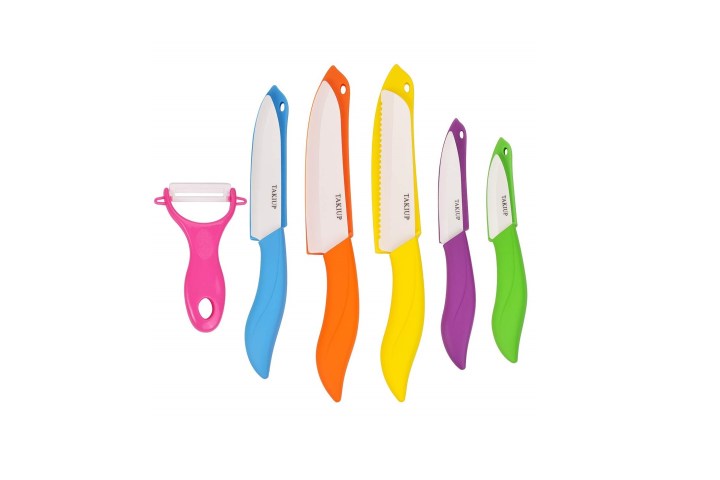 The Takiup Ceramic Knife Set is made from zirconium oxide to ensure it will never rust while also providing ceramic coating will not transfer to your food. The set consists of five knives with sheath covers including a 6″ serrated bread knife, 6″ chef knife, 5″ slicing knife, 4″ utility knife, 3″ paring knife, and a Peeler. These knives are color-coded to reduce the risk of cross-contamination during food preparation. This professional knife set is perfectly weighted with comfort grip handles to give you balanced chopping and precise cutting control.
WACOOL Ceramic Knife Set
Best value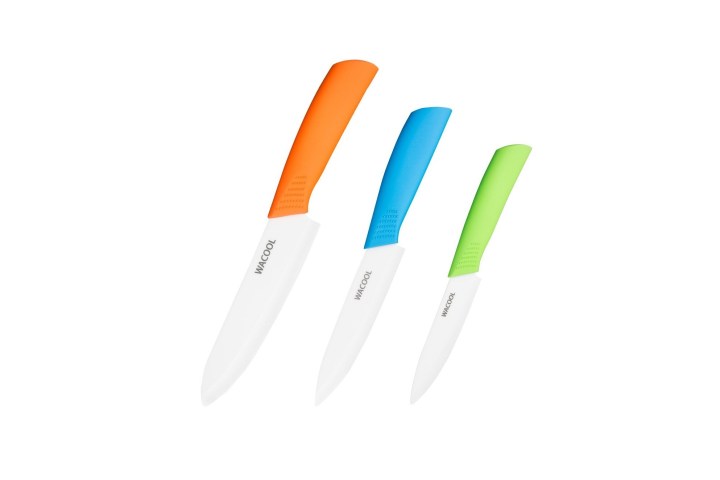 The WACOOL Ceramic Knife Set 3-Piece delivers exceptionally less surface resistance and ruthlessly razor-sharp edges. These ultra-sharp set of ceramic knives will never rust, absorb oils, odors, or salts. These knives are resistant to chemical leakage while also being spectacularly light with a perfectly engineered balance and 15 times the edge retainment of steel. The set is designed with colorful handles, making it easy to pick and choose. It also includes a matching BPA-free PerfectFit sheath for each blade.
When it comes to slicing smaller and more delicate items, you need a knife with a little more finesse. For pinpoint precision, a ceramic knife is that perfect tool for those times when your larger knife feels awkward to use. So whether you're a master chef or a novice just starting out their culinary journey, we've given you our best picks to prep you for your journey.
Editors' Recommendations