Green living isn't just a marketing phrase — from design that brings the outdoors in to electric vehicles, solar roofs, and sustainable, healthy food choices, this concept is an everyday part of our lives. And while many people have taken to cultivating a vegetable garden in their yard or herbs on their windowsill as part of this trend, winter weather and apartment living both make that a little more difficult. Well, LG thinks it has the solution for you: an indoor smart garden that's about the same size as a mini-fridge.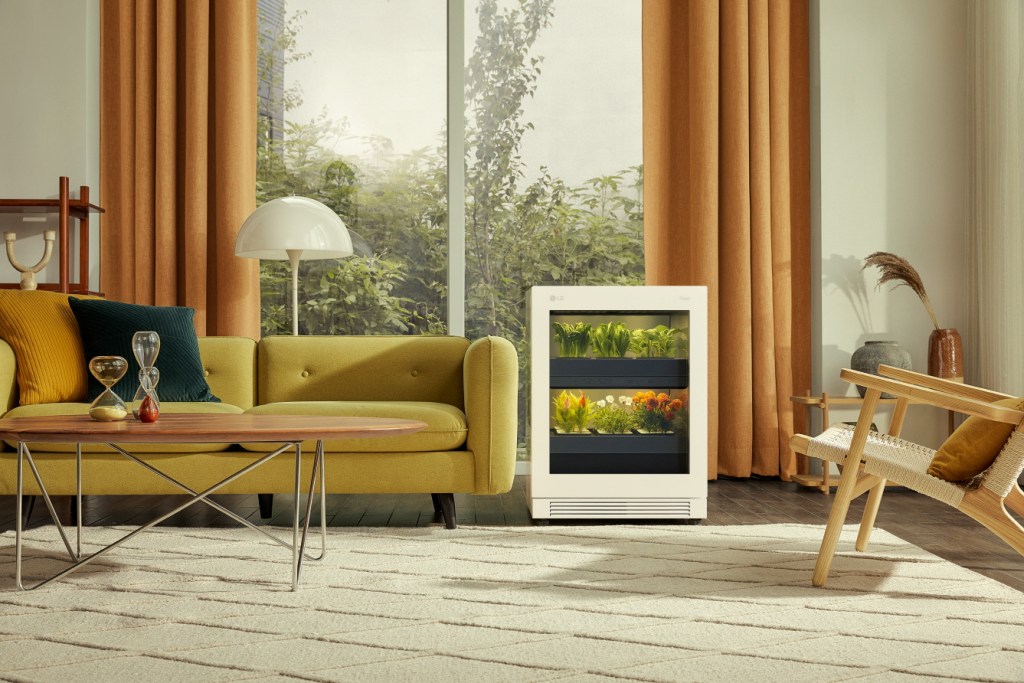 What is tiiun?
Revealed at CES 2022 (and a CES 2022 Innovation Award winner), LG's appropriately named tiiun (it means "sprout" in Korean) is a freestanding indoor gardening appliance that can host vegetables, herbs, and even flowers if you're looking for a colorful way to spruce up your home.
The self-contained unit — offered in beige and green — comes with two shelves that can each hold up to six all-in-one seed packages. Each seed package contains 10 holes for germination. According to LG, it will take four to eight weeks for the seeds to come to fruition.
What does this all mean? There's enough room for a variety of greens, but tiiun doesn't take up so much space that it takes over the entire room.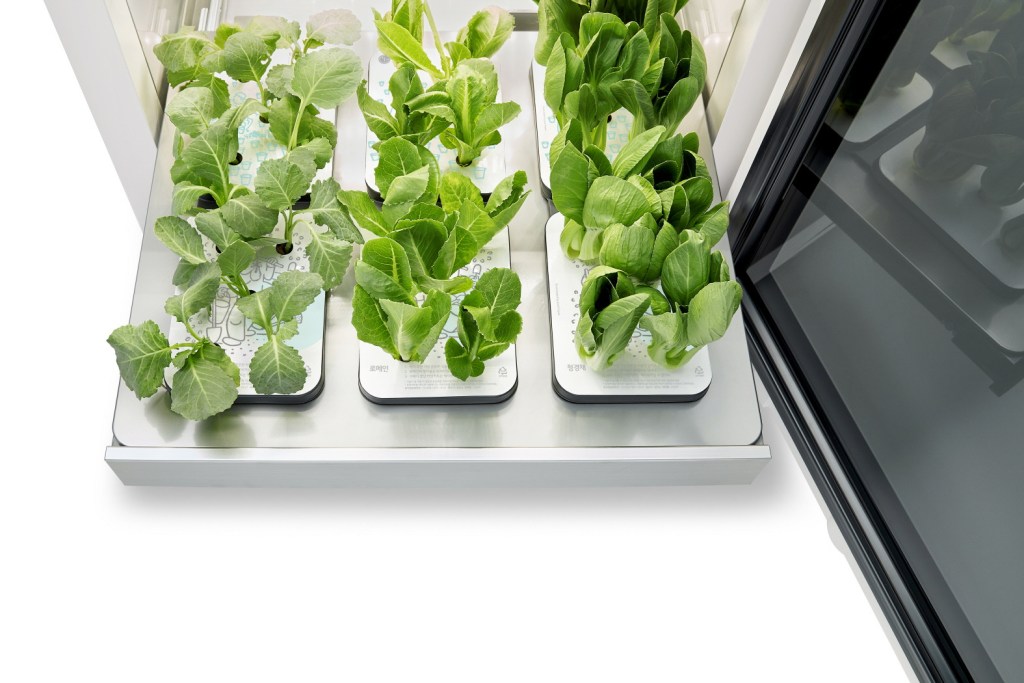 This smart garden was designed for beginners
Not an experienced gardener? That's OK — tiiun was designed with you in mind.
"Tiiun is a practical and convenient solution for busy consumers who want to enjoy a greener, healthier lifestyle at home. A stylish addition to one's home or apartment, our smart gardening system makes growing herbs, leafy greens and flowers fun and simple, even for those of us with zero gardening experience," Lyu Jae-cheol, president of LG Electronics Home Appliance & Air Solution Company, said in a statement.
This means that tiiun eliminates unfavorable climates and conditions in a smart, automated way.
Pests are kept out
One of the major benefits of a self-contained indoor garden is you don't have to worry about pests. The airtight door serves to keep them out, so you can focus on growing your plants and not on how to get rid of any unwanted visitors.
But, of course, the transparent door also allows you to keep an eye on your garden and make sure it's thriving.
Temperature and light are regulated
The appliance's flexible weather control system utilizes LG's Inverter Compressor to adjust tiiun's internal temperature — which is a fancy way of saying that this smart garden offers the optimal temperature for growth without you having to do a thing.
In addition to temperature, tiiun also automatically regulates light, simulating the natural cycle of the sun. According to the company, the design of the unit increases photosynthesis efficiency so that plants grow more quickly.
Water is automated, too
The Auto Ebb & Watering System was designed to make sure the seeds are getting just the right amount of moisture. Water is delivered eight times every 24 hours. All you have to do is fill up the tank when it's empty.
There's an app for that
With LG's ThinQ app, you can essentially set it and forget it. The app will notify you when the water tank is empty, and it also enables you to watch the entire process, checking and changing settings as needed.
Want to go away for the day? You can use the app to keep an eye on things from anywhere.
While pricing and the precise rollout timeline aren't available yet, if you're interested in getting into home gardening, tiiun is definitely something to consider. The automated design means less work for you, and the unit's sleek appearance can easily fit into any home.
Editors' Recommendations