cGallery walls have been around for some time. They are a great way to take up space on a large wall, and they are much more interesting than one single piece of art. But if you aren't careful, gallery walls can look a bit basic and too uniform.
The point of a gallery wall is to showcase something that's important to you — family trips, rare art, special photos — so make sure to highlight them in a fun and interesting way. Here are a few gallery wall ideas to get you inspired and ready to tackle your most boring wall.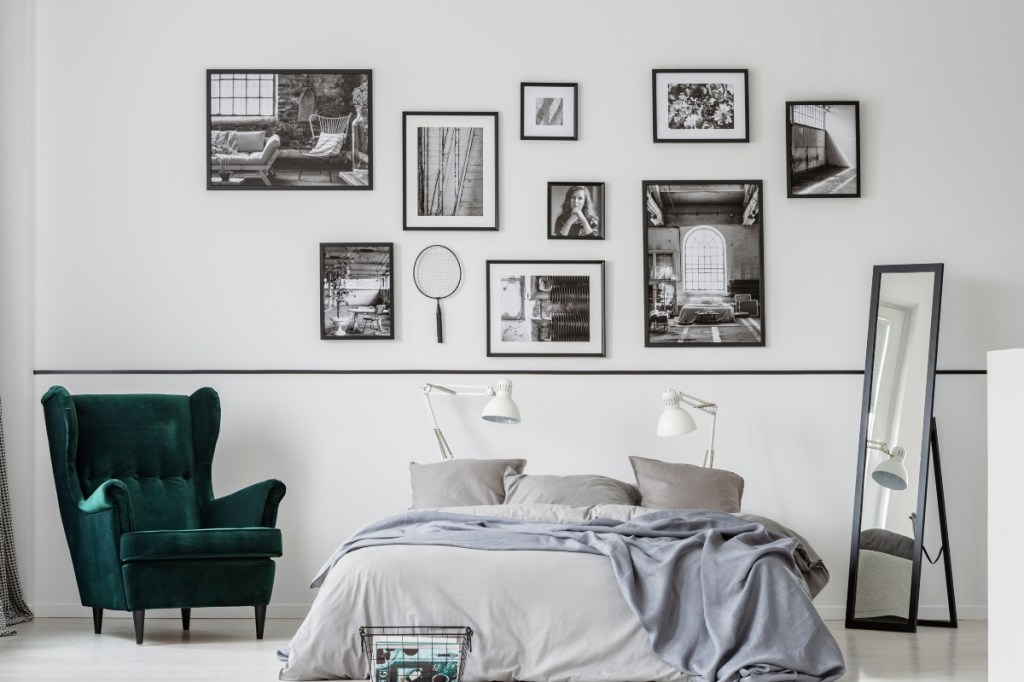 Mix metals
We love mixing things up, especially on a gallery wall. You can accomplish this in several ways, and choosing frames that are variations of gold, silver, black, and copper can help add a bit of character to the wall. Play around with sizes and make sure the wall is balanced, so you don't have one color too prominent on one side or another.
You can also add in a frame or two that has a pop of color, like bright pink or orange, for a bit of a surprise element. Hang them in a way that isn't uniform to add additional character. We advise laying all pieces out on the floor first, so you can move things around without punching too many holes in the walls.
Add in more than photos
Gallery walls can be filled with all sorts of decor, be it wall candles, small shelves, clocks, and other wall hangings mixed in with photos. This allows for varying textures, heights, and depths to come through. We also love adding mirrors of different sizes to a wall to balance any light coming into the space. I have a gallery wall in my entryway, and it's filled with photos from family travels, along with other mementos from trips like framed train tickets and a unique piece of art found in a distant location.
Find unique locations
We love the idea of gallery walls in different places in the home, like up a staircase or in a bathroom. The goal is to have fun with it and make it an interesting place to stop. One unique idea if you have kids is a gallery wall of their artwork over the years. This can be fun in a hallway between kids' rooms or in a pantry. Kids bring home so many school projects and it's a fun and interesting way to display some of it in your home.
Gallery walls don't have any rules, and that's why we love them. They can be as interesting, quirky, or classic as you want them to be. Play around with different colors, metals, and fabrics to create a unique look that's right for your home.
Editors' Recommendations