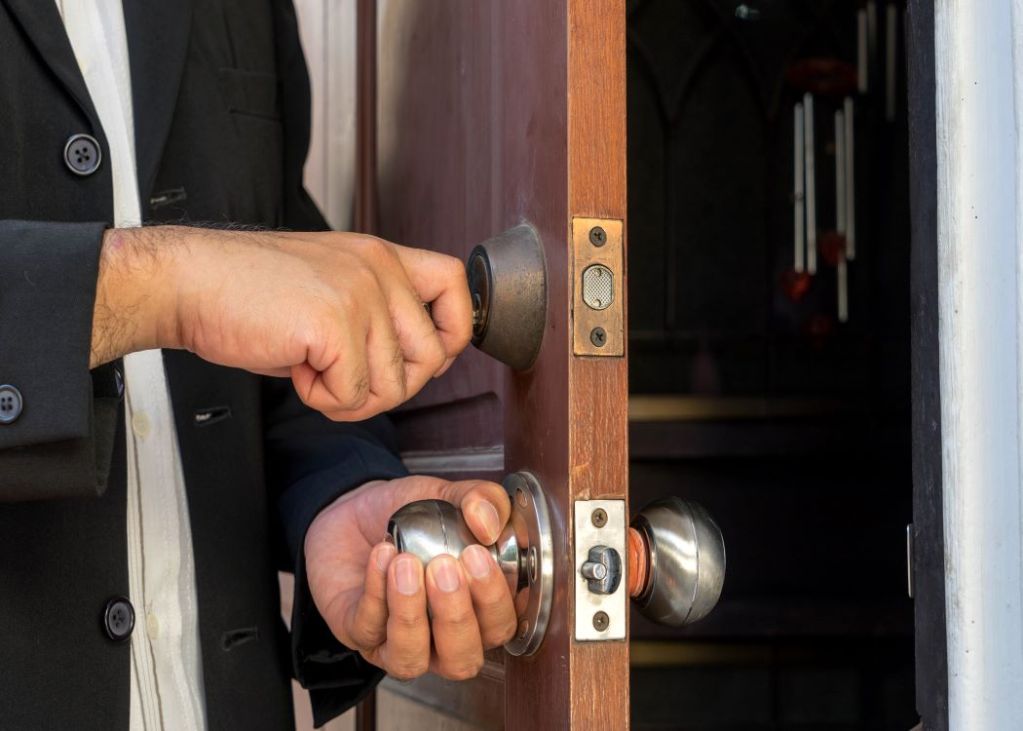 When you want security doors, but they need to be a little more stylish
Have you been considering buying security doors, but you just can't quite warm up to the harsh look many of them have? Of course we all want home protection and privacy, but we still want a pleasant-looking entrance to our homes. We felt the same way — until we started looking into the matter a bit more closely. Turns out there are solid steel doors, some with solid steel on the inside and wood exteriors, others with steel and mesh, sliding doors with stainless steel woven mesh, and more — each with plenty of varieties in design and color.
So we found that these numerous styles of security doors, many of which are quite stylish, can still protect your home against brutal weather conditions and home invasion. Come see some of the best looking security doors we found in our recent search:
This Iron Entry Door from Escon is as gorgeous as it is sturdy. Featuring ornate Tuscan designs throughout, its dimensions are 72-inches width by 96-inches height. The door itself is 12-gauge thick, with insulated, double pane tempered safety glass and additional matching top and bottom cam locks that work together beautifully when the interior glass panel door is in its proper position. Pre-installed weather stripping can be found on both the door frame and glass panel for superior weather-proofing also.
The door and frame are both 2-inches thick. The doorjamb is 6-inches wide. Finished in an appealing dark bronze, the door's handle set includes a deadbolt and spring latch. Prices can change , enter your zip code for price at store nearest you.
This stunning steel security door offers the classic look of a traditional screen door alongside the sturdy features of heavy duty tamper-proof hinges and 24-gauge perforated steel mesh. Stained in a subtle oak finish, the door's dimensions are 36-inches by 80-inches and it comes with a 3-piece outer mount frame and matching one-way security screws. You'll need to get your own doorknob and deadbolt. The installation process is a breeze as shown in this convenient how-to video. Get it for $360 via the button below:
This security door is retro chic in eye-popping red, ideal for the fun, contemporary household. Made of aluminum alloy, this door is rust-resistant and considered to be even times stronger than steel. With dimensions of 30-inches by 80-inches, this stunner comes with a protective powder-coat finish and accompanying 5-year warranty. Also comes with touch-up paint, wilded hinges, and mitered corners, a performated aluminum screen, and a lockbox opposite the door hinges. Enter your zip code on this page for most up-to-date prices.
Minimalist and chic, this security door comes in your choice of bronze, white, black, almond, and silverado finish, with dimensions of 32-inches by 75-inches by 81-inches.
Providing the optimal home protection, this door offers a sturdy heavy duty steel construction, virtually tamper-proof 4-in-1 one-way installation screws, lock features very difficult to pick, easy reversibility to open on either left or right sides, and concealed tamper-resistant hinges. Hardware is sold separately. Enter your zip code for current prices and availability in your area.
While technically not a security door, this Oak Hidden Door from Murphy Door, Inc. (available at Wayfair) is a very slick James Bond-ish way of hiding an extra room for indoor security purposes whenever you must — or just for fun! Select your preferred stain finish from natural, cherry, dark, medium, or unfinished, and choose whether you'd like the door to open with a right in-swing, left out-swing, etc. (4 choices). You may also select your ideal size (the main size shown on the page is 80-inches height by 24-inches width and 25-inches depth.) Made in the USA. Get it for $1,400 here.
IronDoorsNow makes impressive customized security doors like the 72 x 96 Arch Patagonia and the 72 x 120 Kelly with side lights, both featured on their menu on this site. Additional great deals are also featured on their Clearance Sale page as well.
Choose from single and double doors on this well-stocked site, as well as other high quality options. These doors won't weaken or warp due to high or cold temperatures, moisture or winds, or any other climate issues throughout the country – they've even passed coastal hurricane testing. Each of their doors is made with 3/4-inches thick dual pane glass filled with Argon gas, built strong enough to withstand 2,000 pounds of pressure.
All doors come with a 25-year warranty, and some are in stock available for immediate delivery. Others need customizing, so it may take some time. Clarify this at the time of your order if you need it by a certain date. Get the Patagonia for $2,695 here, and inquire about the current price of the Kelly with side lights here.
These stylish security doors should give you a pretty good idea on what's available out there, and where you can start your search. Keep in mind there is a broad range of prices on these, depending upon what type of door you need, any customizations you opt to add, and what season it is, so pay close attention to clearance sales and such as you go along. As far as adornments and color, size and single/double door options, it appears that the sky is the limit with security doors — so take your time browsing and make sure you find the perfect door for your home.
Keep an eye on our pages so we can guide you in building your home security system. We'll keep you updated on great deals on products like security doors, bars for doors, or other sweet home security-related sales. Stay ahead of upcoming holiday sales by following us across social media for prompt updates!
Editors' Recommendations