Your home contains not only your most valuable belongings but your loved ones as well, so it's important to keep everything under your roof safe at all times. This is why home security systems are so prevalent. When simple locks no longer give you the peace of mind you need, it's time to invest in some high-tech security features like window sensors.
Among all the elements of a comprehensive home security system, window sensors are some of the most economical features. Plus, they're easy to install yourself. Keep reading to learn more about why you need them, how they work, and how to install them properly.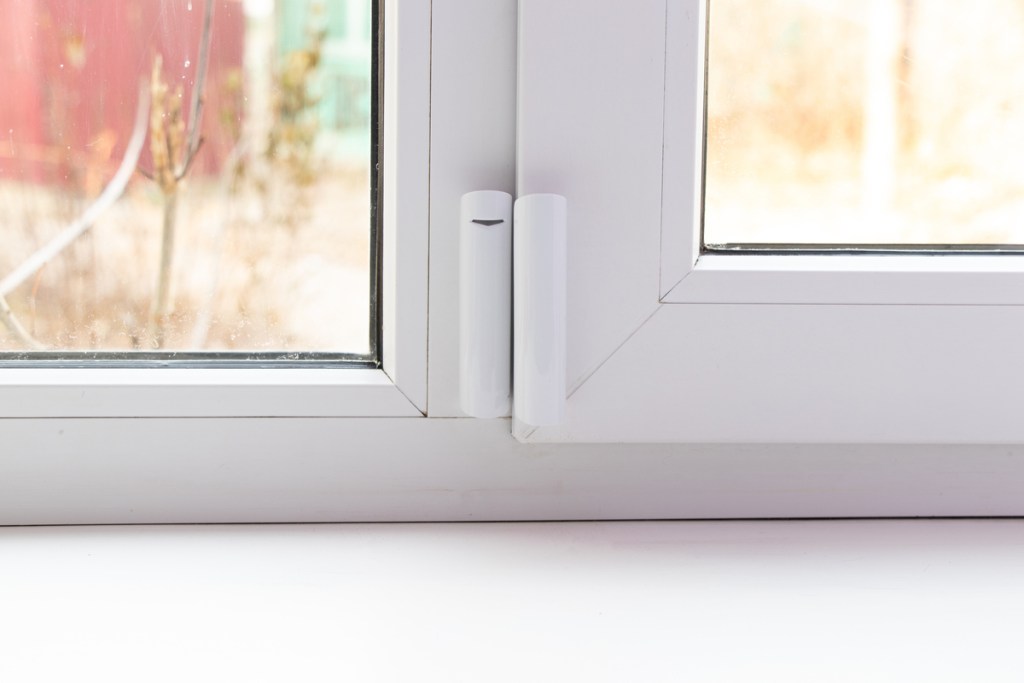 How do window sensors work?
The basic components of a window sensor are a magnet and a reed switch. When the two pieces meet, which is when the window is closed, they create an electrical circuit. When the circuit is broken, like when the window opens or the sensor is disabled, it triggers an alarm.
Do I need sensors on every window?
Installing window sensors is beneficial only on windows that are accessible to the outside world. This includes first-floor windows and any upper-floor windows that a would-be intruder can reach from a tree, balcony, or deck. You don't need to install sensors on windows that aren't entry points into the home.
How to install window sensors
You can also use sensors on access points beyond windows, like entry doors or even the doors of safes that house your valuables. Some homeowners install them on cabinets that house items like alcohol or harmful cleaning substances to keep children away from harmful substances. Now that you've determined all of the locations for your new sensors, it's time to get down to business.
Step 1: Carefully read the instructions on your window sensors to familiarize yourself with the product. Most sensors operate in a similar way, but each brand has small variations.
Step 2: Test your window sensor before installing it to avoid having to uninstall and remount it. Close and open the magnets to ensure the sensor is operational and paired properly, particularly if it's connected to a smart home security system.
Step 3: Determine where to mount the sensor. Keep in mind that you'll need to secure the two pieces in a place where they'll separate when the window opens. However, they also need to sit at an appropriate distance from each other so that their presence doesn't interfere with the normal operation of the door or window.
Step 4: Clean the surface of the door or window before installing the sensor. This is particularly crucial if your sensor is mounted with an adhesive as opposed to screws, as the adhesive won't stick properly to a dirty surface.
Step 5: Following the product instructions, mount the reed switch to the stationary part of the window frame or door jamb. If it uses an adhesive backing, remove the film over and press the sticky side onto the flat surface. Hold the sensor in place for roughly 30 seconds so the adhesive sticks completely.
Step 6: Install the magnet in a similar fashion but on the part of the window or door that moves.
Step 7: Once installed, test the sensor again to be sure it's working properly. Depending on the product you purchase, the system will either sound an alarm or send a smartphone notification.
Are window sensors worth it?
Burglars know that homeowners typically install a lot of security features around the front door, such as door locks, cameras, and motion sensors, so the next best entry point is an accessible window. Window sensors give you a second line of defense against these crafty invaders, so this inexpensive security upgrade is well worth the time, money, and effort of installation.
It's important to note, however, that window sensors don't prevent entry. They simply alert that the window has opened by sounding an alarm, sending a smartphone notification, or alerting authorities. Unfortunately, there are a couple of methods intruders can use to bypass these sensors. For example, burglars may use an additional magnet to manipulate the sensor into thinking there's been no movement. Breaking the glass also doesn't trigger the window sensor, so it's a good idea to couple this sense with glass break alarms or motion sensor lights.
Door and window sensors are great additions to your home security system since they're affordable, easy to install, and operate in a simple, "no-nonsense" way. Following this guide for window sensor installation, your expanded security system will give you the peace of mind you need when protecting your home and loved ones.
Editors' Recommendations