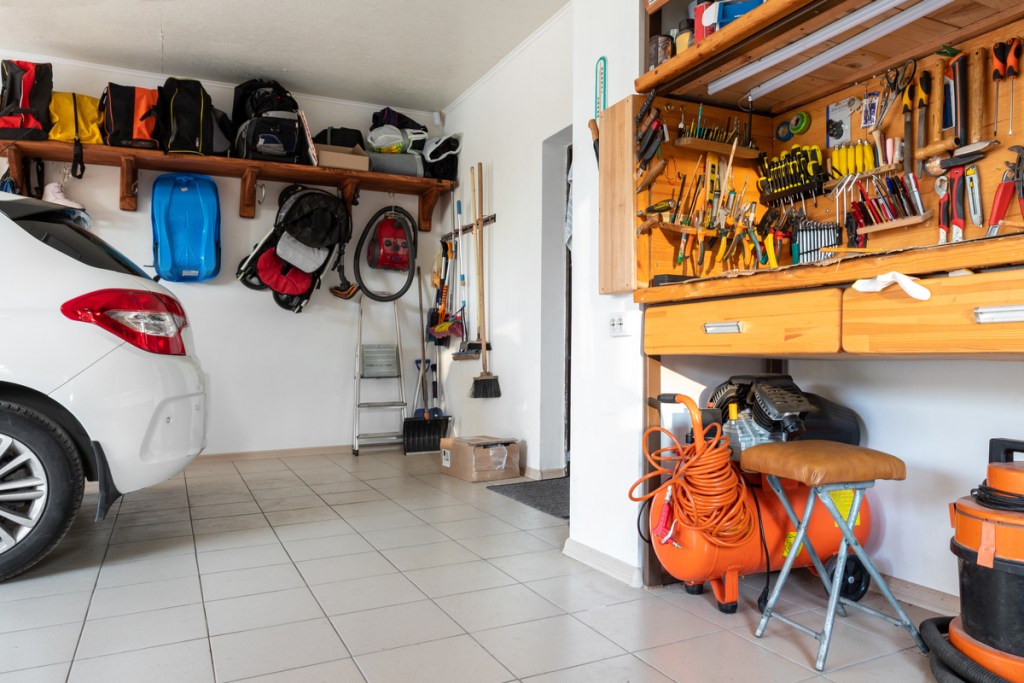 Most Americans use their garages for many tasks other than parking cars. For some, the garage becomes a workshop, studio space, or extra storage room. To really maximize this square footage, other homeowners convert theirs into added living space such as a game room or even a guest room. For anyone who spends more time in the garage than simply getting in and out of the car, adding a heating or cooling system will ensure you can be comfortable in the space whether it's the peak of summer or the dead of winter.
How to determine your heating and cooling needs
The most important variables to consider while shopping for garage heating and cooling equipment are the size of the space and the climate of the region. The larger the space, the more powerful the system must be to maintain a steady temperature. Similarly, the more extreme the climate, the more power will be required to raise or lower the temperature to a comfortable level.
Calculating BTUs
The British Thermal Unit (BTU) is the most common method of rating the heating or cooling capability of an appliance. Heating or cooling appliances must provide a minimum of 30 BTUs per square foot of garage space. Tall ceilings, extreme temperatures, usage patterns, and other factors can dramatically increase the requirement, so make sure the system you purchase is strong enough to manage your space.
You must also consider the difference in cooling versus heating power. Since most of the country experiences high temperatures in the 90s, cooling BTU requirements for these peak times are similar. However, heating requirements differ drastically different between the northern and southern regions, so you need to ensure the unit can handle your local temperature extremes.
Cooling BTUs
1 car garage:

7,200 to 9,000 BTUs

2 car garage:

13,200 to 15,000 BTUs

3 car garage:

16,000 to 18,600 BTUs

4 car garage:

20,000 to 24,000 BTUs
Heating BTUs
Mild climate:

30 to 40 BTUs per square foot

Moderate climate:

40 to 50 BTUs per square foot

Cold climate:

50 to 60 BTUs per square foot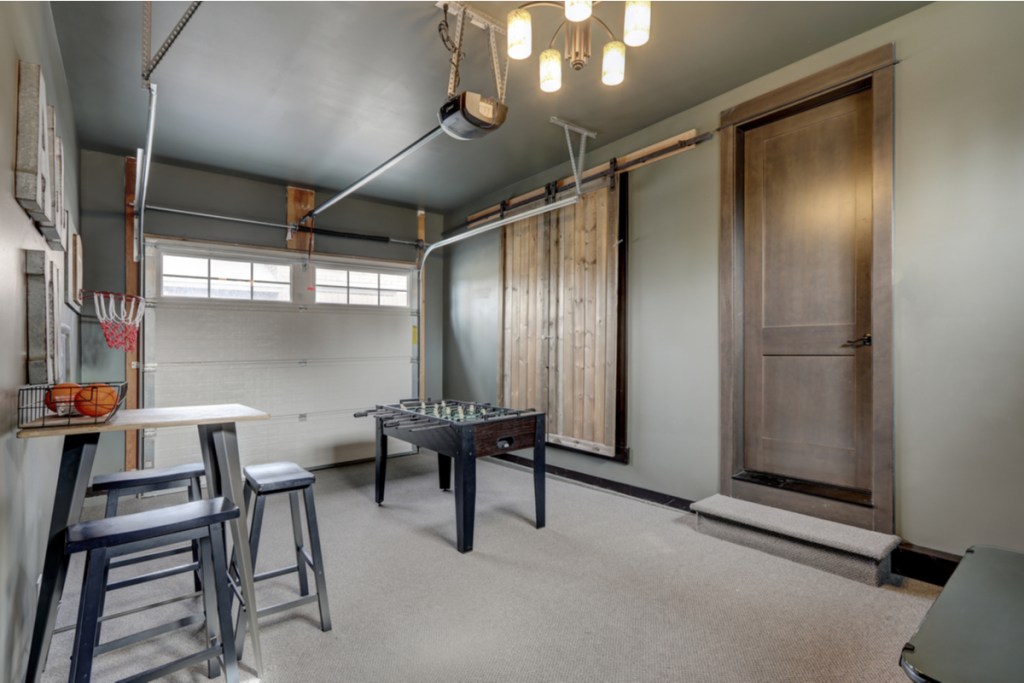 What to do before installing a garage heating or cooling system
Get the most out of your investment by preparing the space beforehand. These steps will improve the system's operating efficiency, keeping the temperature consistent and saving you money every month.
Eliminate drafts
A drafty space releases costly temperature-controlled air back outside, meaning your system will have to work harder to control the interior climate. With a quick inspection of the walls, doors, and windows, you can easily find the places where air escapes and close all the gaps.
Make sure the overhead garage door, windows, and any other doors to the outside function properly and close securely. Replace or install new door seals and weather stripping, then caulk or seal any gaps where lines pass through walls, such as exterior water lines, air conditioner condensate tubing, cables, etcetera.
Insulate the garage
After securing any drafty areas, add some insulation. Walls or ceilings with living space on the opposite side need not be insulated. But for areas that face the great outdoors, install R-13 or R-15 fiberglass batt insulation between the studs on all exterior walls. Then, cover the walls with paneling or drywall. Insulate between ceiling joists with R-30 fiberglass insulation or between rafters with R-38, then use R-12 polyurethane insulation panels on the back of the garage door.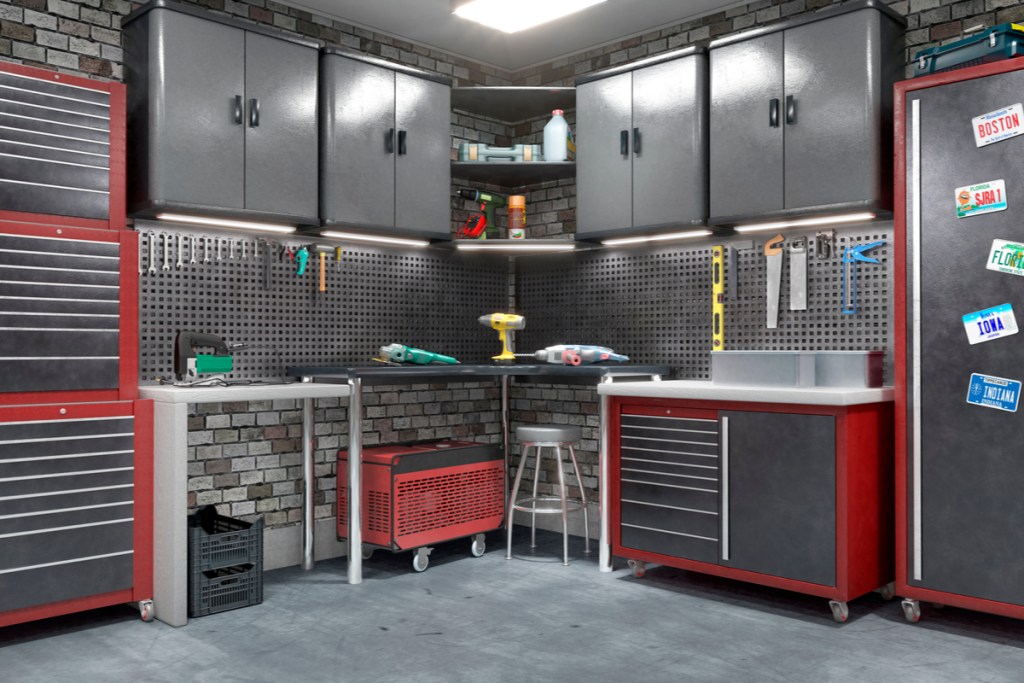 The best ways to heat and cool a garage
Ductless mini-split system
These high-efficiency systems work similarly to HVAC systems but without all the ductwork. The two-part system includes an outdoor compressor/condenser unit connected to a wall-mounted indoor air cycling unit by power and refrigerant lines.
Pros
Highest energy efficiency ratings

No ductwork

Heating and cooling capability in one unit for mild to moderately cold climates
Cons
Costly to buy and install

Heating capacity may not be sufficient for colder climates
Window unit
In warm climates where freezing temperatures are rare, cooling may be the only requirement to keep the garage comfortable. In this case, a window air conditioner unit is more than sufficient. If you decide you do want a heating system, window units exist for this as well, although they run a bit higher in price.
Pros
Relatively inexpensive to purchase

Easy DIY installation

Some units offer heating capabilities
Cons
Requires a window

Must be removed in the winter to avoid heat loss
Forced air heater
In cold climates where air conditioning is not required, a gas-powered forced air heater is the best solution. The heater is typically mounted to the ceiling with the blower directed toward the center of the space. A gas burner warms a heat plate inside the unit, and the blower distributes the warmth through the garage.
Pros
Inexpensive to buy and operate

Powerful

DIY-friendly installation
Cons
Requires an exhaust vent to the outdoors

The blower can stir up dirt and debris
With any of these systems, you can ensure your garage is a comfortable, usable space all year long.
Editors' Recommendations