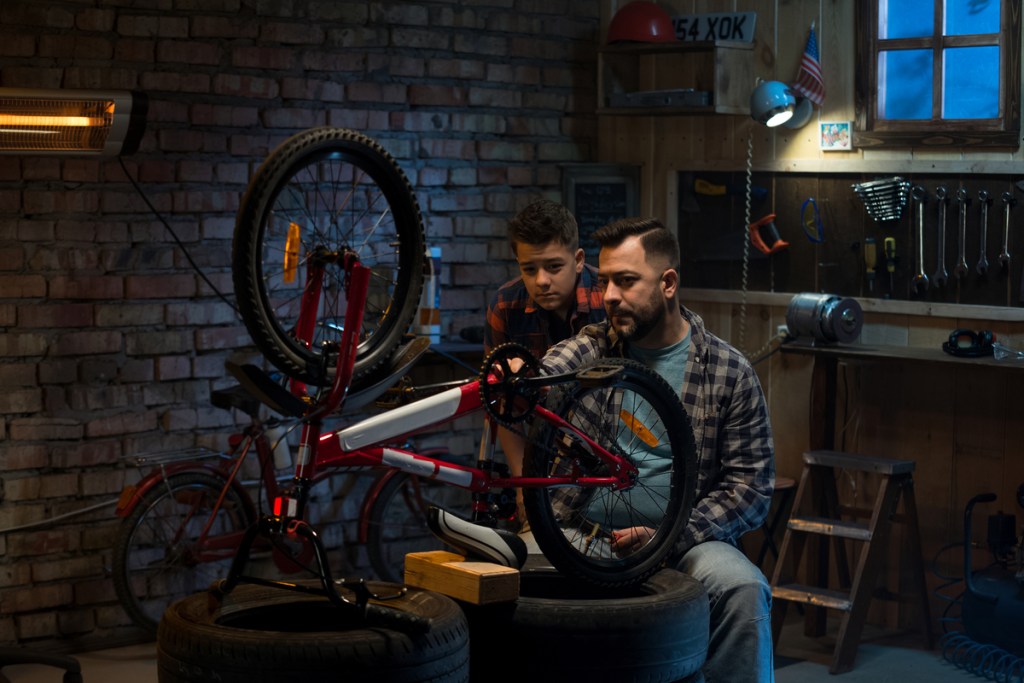 When you maximize your garage space, it becomes much more than just a place to park the car. Attached and detached garages can become de facto storage rooms, woodshops, garden sheds, extended living spaces, and much more. Regardless of its use, controlling the temperature of this multi-use space is key.
Insulate the garage
Most garages are not insulated, so any attempt to heat or cool it will be inefficient and expensive due to rapid heat transfer to the outdoors. Before installing a heating or cooling system, eliminate these inefficiencies and save money on operating costs.
Insulate exterior garage walls with R-13 or R-15 fiberglass batt insulation between the studs. Then, cover them with drywall or paneling. If the garage is not beneath a finished room, the ceiling will likely need treatment as well. Either insulate between ceiling joists with R-30 use R-38 insulation up the rafters. Finally, on the backside of the garage door, apply R-12 foil-backed polyurethane insulation.
Eliminate drafts
Next, inspect the garage door, windows, and any other openings to ensure that they close properly and do not admit airflow. Insulation won't do you any good if there's an external source of draftiness.
Keep the garage door draft-free with a bottom seal, weather strip, and threshold seal. Secure the bottom seal to the lower edge of the door, affix the weather strip to the exterior of the door frame, and attach the threshold seal to the floor to stop airflow. If you live in a region that experiences inclement weather often, you may need to repair or replace these fixtures often.
Also, inspect any lines that pass through the wall, such as air conditioner condensate drain tubing, exterior hose bib water lines, and the like. Fill any gaps with caulk or spray foam.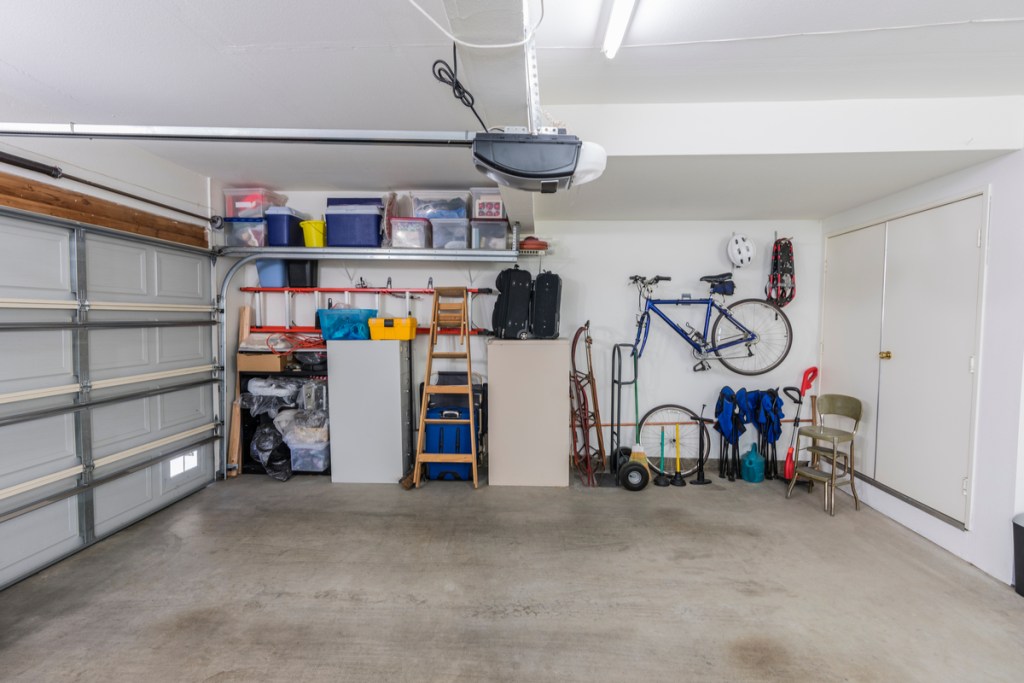 Heating and cooling systems must be properly sized
British thermal unit (BTU) ratings convey the heating and/or cooling power of a heat pump, heater, or air conditioner. One BTU equals the amount of energy required to raise (or lower) the temperature of a pound of water by one degree Fahrenheit.
Heating and cooling equipment should offer at least 30 BTUs per square foot of garage space, so, a 600 square foot garage will require a unit with at least 18,000 BTUs of heating or cooling power. Be aware, however, that extreme climates, high ceilings, and other factors may necessitate more powerful equipment.
Choose efficient heating and cooling systems
Once the space is ready for a heating and or cooling system, it's time to select the type. If you spend ample time in the garage daily, efficiency should take precedence over initial cost savings. Trust us, the monthly energy savings will pay you back. Look for appliances with energy efficiency ratings (EER) of 12 or higher, or choose those that are ENERGY STAR qualified for best results.
If the room only needs occasional heating and cooling, high-efficiency appliances are not as necessary. Instead, opt for one of the smaller, more economical choices below.
Ductless mini-split
These high-efficiency systems are similar to central air pumps but don't require all the ductwork. This two-part setup consists of a compressor/condenser on the outside wall and an air cycling unit mounted high on the inside wall. The two are connected by a power and refrigerant line, as well as a condensate drain line.
Because it simply transfers heat rather than generates it, a mini-split can control the temperature quickly and efficiently. The heat works best when outside temperatures are in the 20s or higher, so invest in a supplemental heat source if you expect chillier days. Most of these systems boast EER ratings of 12 and higher, and the average price of a 12,000 BTU mini-split is around $3,000.
Window or wall units
Window air conditioning is an inexpensive and easy-to-install solution. Just open the window, install the unit, and plug it into a standard wall outlet. Expect to pay between $300 and $800 for a new window air conditioner rated EER 10-13.
For those without a window to work with, through-the-wall heating and air units are viable alternatives. They are just as effective but cost slightly more, averaging $500 to $800.
Radiant heat
Radiant heat is a highly efficient, yet expensive, option for colder climates. The system, installed in either the floor, walls, or ceiling, heats water with propane, electricity, solar, or a combination of these sources. This energy-efficient method can generate whole-room heat without the need for an air distribution system.
Radiant floor heat costs $12 to $20 per square foot, installed. Keep in mind that this is not a DIY job, and it will take several weeks to complete. However, if you have the budget and time, radiant floor heat will certainly give you the biggest bang for your buck.
Ceiling mounted forced air heater
For those on a budget, invest in a ceiling-mounted gas-powered forced air heater. It's essentially an enclosed gas burner with a fan that ventilates any exhaust to the outdoors. Popular in industrial and agricultural settings for decades, these units only cost a few hundred dollars, and an advanced DIYer can install one over a weekend.
Utilize all the space available to you and make sure your garage is a comfortable area, whether it serves as extra storage or a full-fledged man cave. With a little research and planning, you can install an efficient temperature control system for your garage without blowing your monthly energy budget.
Editors' Recommendations