Spring is here, and there's no better way to celebrate it than by refreshing your home. Decorating your home for spring invites life, color, and serenity to your space. If you've been itching to try some new DIY projects and want to change up your home for the season, this is a great place to start.
It's always important to know that you don't have to break the bank to refresh your space. A few simple DIY hacks will help you create a fun, colorful spring environment on a budget!
Make a DIY spring wreath
One of the best ways to refresh your home this spring is with a DIY wreath. Wreaths are inexpensive and easy to create while giving you a stunning piece of decor to hang on your wall or front door. The best part about making your own wreath is that you can create a work of art that reflects your style in only ten minutes.
You can make spring wreaths with natural or faux flowers, green leaves, and any other springtime detail you would like to add. Tulips are a favorite for this activity, but of course, the options are limitless!
To start, you'll need a wooden or metal ring or grapevine wreath as a base. You can find rings in all sorts of sizes at the craft store or online to help you make your wreath. Once you have your base, begin winding faux or real leaves and vines around it. You'll need a hot glue gun to hold the leaves in place.
Do your best to even out the foliage and make it as thick or thin as you like. Next, begin weaving in your flowers. If using real flowers, try to use ones with longer stems to wrap around the base of your wreath. Glue the stem in place.
Finally, add a bow or a small wooden sign to the wreath to add more visual interest. Hang the wreath on the wall or your front door to welcome that springtime energy.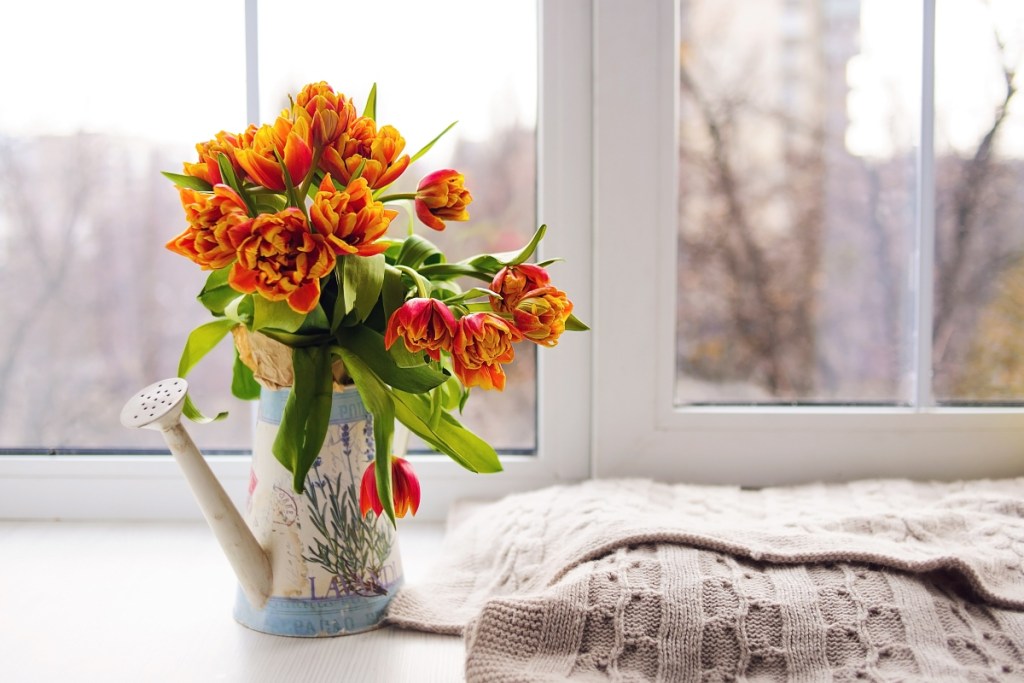 Fill vases with fresh flowers
Fresh flowers add delicacy and vibrance to your space, and spring is the best time to begin filling your home with its beautiful appeal. While the flowers themselves are one of the most important aspects of decorating your home in spring, please don't neglect the appearance of the vases which hold them!
Get creative with the containers by experimenting with different shapes and designs. Use watering cans, porcelain pitchers, recycled canisters, old mugs, and any other cylindrical object you can think of. If it can hold water, it will be perfect for your flowers.
If you want to take more of a DIY approach, consider purchasing some thrifted pots or jars to paint. This is a great activity for families with kids who love crafts. Using acrylic paint, decorate your jars or cups with designs and patterns that you like.
If you want to experiment, try a dipped acrylic look. Fill a bowl with the paint, dip your jar or cup into it, pull it out, and set it aside to dry. If you have non-toxic paint, pour the paint into a clear jar and tilt it so that the paint covers the sides slightly. Then, wait for the paint to dry before adding your water.
Use pastel and embroidered pillows
Embroidery and pastel are spring staples in 2021. Pastel is soft, airy and adds a splash of gentle color to your space. Experiment with pastel throw pillows and blankets or lay down a pastel rug or two.
Embroidered pillows and blankets are also a decorative way to refresh your space. If you're crafty, try to embroider some flowers on your own. There are several kits out there to help you get started. With a bit of patience, you could end up with an adorable embroidered pillow.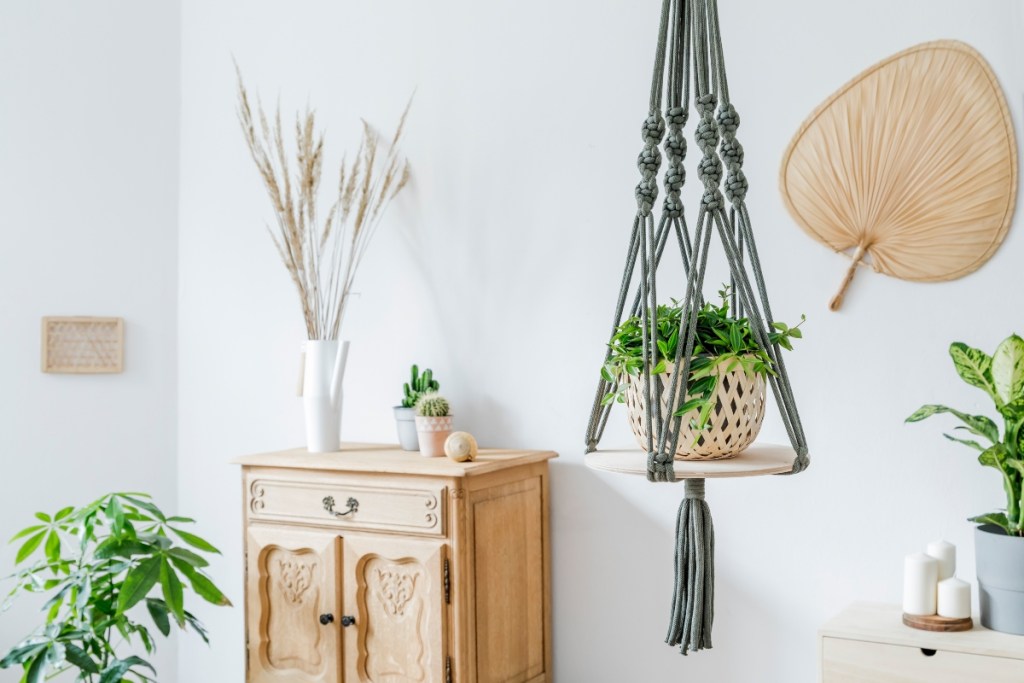 Create hanging and macrame plant holders
Hanging macrame is well-known in homes that favor the boho style. Whether you love that aesthetic or not, macrame is a fantastic addition to any space. While it may require longer to make, tying macrame for your potted plants can be a relaxing activity this spring. Follow some fun tutorials online to help you create a stunning hanging plant holder to house all of your new spring greenery.
No matter how you plan to style your home this spring, there are several opportunities to take a DIY approach and create decor pieces that are sure to wow any visitors. You can never go wrong with a stunning spring wreath or some uniquely potted flowers. Mix and match your jars, macrame, and pillows to create a sweet and inviting space in your home this spring.
Editors' Recommendations