Your outdoor oasis is a place you go in the warmer months to relax in the sun (or to comfortably unwind in the shade). So when you're putting this space together, plants are a natural part of the equation. Why not create a rooftop garden so you can spend your summer surrounded by plants?
If you're lucky enough to have a residential rooftop as part of your living space, landscaping your rooftop yard is a must. Take advantage of this scenic area by choosing the best rooftop garden plants and growing a beautiful, healthy garden that you can enjoy all summer long. If you're not sure where to begin, we have some great tips for how to care for your rooftop garden so you can bask in this perfect summer oasis.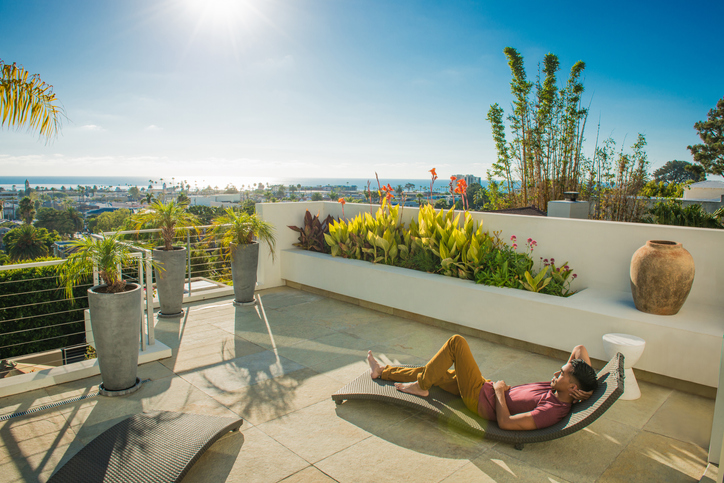 What you'll need
For starters, get your planters. You can go with a bunch of pots, but we suggest a few large planters instead. They will allow you to stand while caring for your plants, rather than crouching on the ground, and make your beautiful garden more visible to others. Another option is to buy some hanging plant stands, which are totally in style.
You'll also need at least one bag of extra soil and gardening gloves. Depending on how many plants you buy and how large your planters are, you could end up needing two to three bags of soil or more. Make your own judgment based on the size and number of planters.
A hose would be great for watering your garden, but if that's not possible, we suggest a large watering can. Fertilizer is your friend as well. You can also get other gardening tools as you see fit. Some of these include a hand trowel, a rake, and a wheelbarrow for soil.
You'll need yard furniture and decor to make your garden a true hangout spot for the summer. We suggest some comfy outdoor couches, string lights, umbrellas for shade, a stand-up bar, and a small shed, shelf, or cabinet to store your gardening tools. The exciting part will be arranging your planters and other furniture to your liking. Now, all that's left are the plants themselves.
The best rooftop garden plants
Sturdy plants that can withstand lots of sunlight are best for a rooftop. You definitely don't just want to re-pot your indoor plants — they stay inside in indirect sunlight for a reason. Most plants that call for direct sunlight will work in your rooftop garden.
Plants can range from leafy bushes and small trees to flowers and vines to vegetables. Here's a short list so you can choose your favorites, but know that there are many more options available to you.
Flowers
Roses

Marigolds

Petunias

Pansies

Begonias
Trees/Shrubs
Juniper

Pine

Lemon

Japanese maple
Vegetables
Tomatoes

Cucumbers

Zucchini

Radishes

Peppers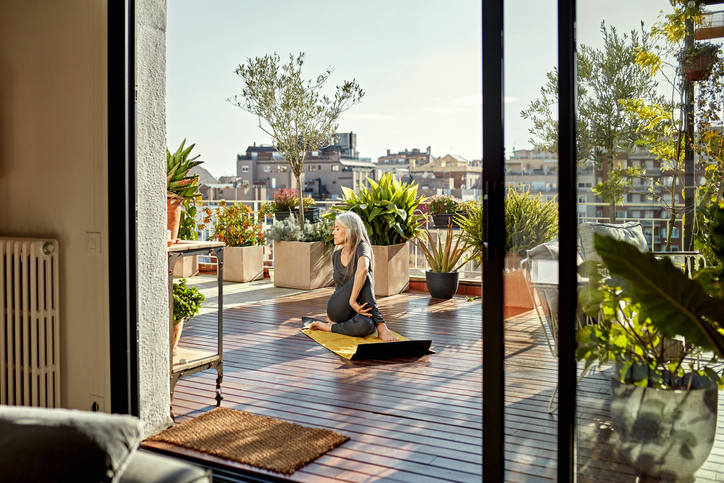 How to keep your rooftop garden thriving
Rooftop gardens are extra-exposed to the elements, so it's important to check on them frequently — about twice a day — and keep up with maintenance. Make sure you have the time to care for your garden and water your plants thoroughly.
When you check on your garden, remove all weeds, trim your plants, and make sure no pests or animals have tampered with the garden. You can also fertilize your plants periodically so that they receive the proper nutrients to stay alive. Be sure to keep them moist at all times because they get lots and lots of sunlight.
Though planting a rooftop garden can be hard work, the result is a heavenly summer oasis for you to relax in. The time and effort it takes to care for a rooftop garden are rewarding and worth it, especially when you have guests over who are sure to be in awe over your outdoor home design and gardening skills.
Residential rooftops are becoming ever more popular, especially in cities where people want to escape from the hustle and bustle on the streets and relax on some higher ground. Plants work so well in a space like this. Not only do they give off some seriously zen vibes, but they actually purify the air. Plus, who doesn't want to be surrounded by nature?
When preparing your rooftop garden, don't forget your planters, gardening tools, furniture, and tips for caring for and watering your plants. Once you've cared for your garden each day, you can sit back, take in the sun, and relax among nature of your own making.
Editors' Recommendations