You want an illustrious garden but may not have all the land or structures needed for a traditional plot. But get this: There's this technique called grow bag gardening, and it's actually kind of genius. Instead of raised planters or tilled beds, you can grow different types of vegetables and plants in the comfort of their own bags. If you're considering this type of plant cultivation, read on to see if it's right for you.
What is grow bag gardening?
Grow bag gardening, also called container gardening, makes use of breathable fabric (sometimes plastic) for both indoor and outdoor planting. In lieu of planting directly in soil, you can leave your vegetables, shrubs, or plants in their grow bags indefinitely.
You may be wondering if the roots will eventually need more room to grow to avoid rotting. Grow bags keep them in check: When the roots reach the end of the bag, they are pruned by the air, which prevents the roots from getting tangled. This allows for a wider system of thin, branched roots to grow instead of infinitely expanding in search of more soil and nutrients.
Is grow bag gardening right for me?
There are many advantages to using this method, and you should consider the following:
You have low-quality soil in your yard that's not suitable for gardening.
You live in an apartment or small townhome with limited space that makes gardening difficult.
You want to move your plants around easily.
You plant vegetables seasonally.
You want to transplant seedlings directly into the ground.
You have a greenhouse.
On the other hand, there are some disadvantages to grow bag gardening, which should also be considered:
The average planter lasts two to three growing seasons.
Grow bags need frequent watering.
Grow bags typically only come in a few colors: Solid black, gray, or brown.
Large grow bags may be difficult to move around and can rip.
There are pros and cons when it comes to this method, but the pros definitely outweigh the disadvantages — at least in our opinion! You can try a few grow bags per season and see if it works for you.
Here's how to get started
The first thing you can do is buy the materials you'll need before you begin this process. This list includes soil, mulch or compost, plants, a watering system, and grow bags. We will expand on the types of bags below.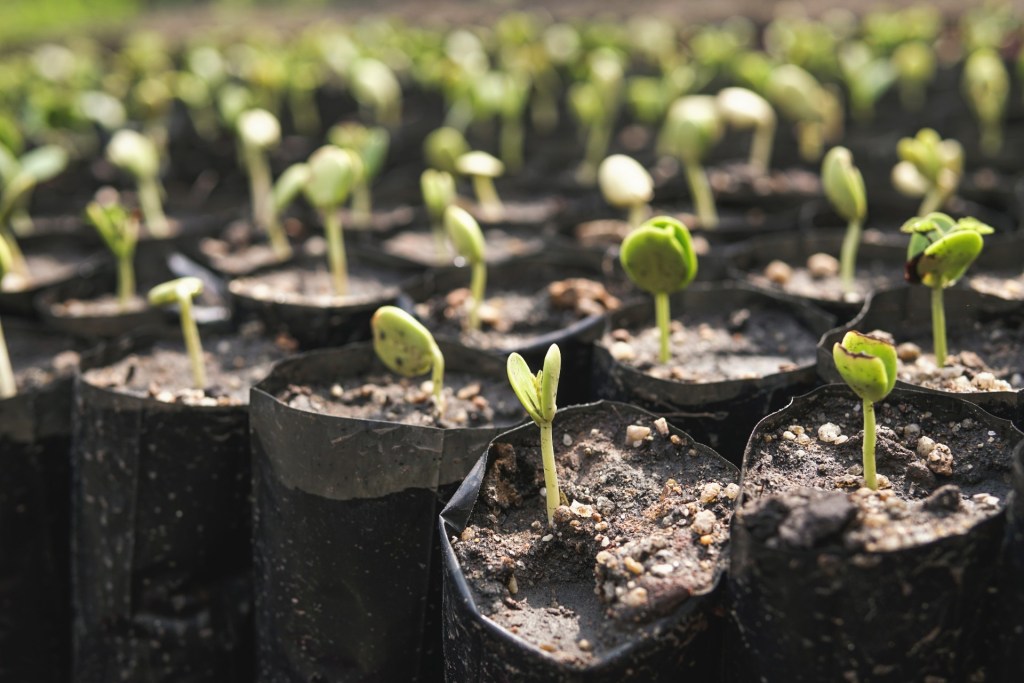 First, consider what soil you need for the type of plants you'll be growing. Grow bags need a mix of equal parts moss, compost, and vermiculite for your plants to thrive. Note that vermiculite is necessary for water to drain adequately throughout the bag.
A smart way to make sure you have decent soil is by using store-bought soil, then incorporating some mulch on top for nutrients. You should buy soil with a fluffy texture; this means that it will drain water well and allow roots to extract nutrients.
For water systems, install a drip irrigation system if you have the room and resources or create a self-watering system for less maintenance. To make the latter, fill up an airtight container or lined container with water and place your bags on top. The majority of the bag should be above the water. In most cases, you should water your grow-bag plants regularly.
What types of bags do I need?
The main difference between growing bags is size. There are many sizes ranging from 1-100 gallon bags. Most have carrying handles on top, so you can move them around. While there are plastic grow bags available, fabric is the superior option for breathability and air pruning.
Common vegetables that thrive in fabric grow bags are tomatoes, greens, eggplants, peppers, and squash. These do well in 5- to 20-gallon bags. Taller bags are suitable for growing trees, while tiny bags are perfect for seedlings.
Grow bag gardening is a wonderful way to garden even if you're new to the green world. In fact, this gardening method is probably the most beginner-friendly because it requires the least maintenance, and it is forgiving on most common vegetables and plants. If you're looking for a new hobby or simply want to add some greenery to your yard without taking up a lot of space, you should definitely try grow bag gardening.
Editors' Recommendations