What is Zoey Sleep and why should I care?
If you're new to the Zoey Sleep Pillow, be assured — it's time to check it out. Designed with the health-conscious in mind, Zoey Sleep provides luxury style comfort while maintaining the highest standards of sustainability and responsible manufacturing. Made in consultation with experts in the fields of yoga, textile, bedding, and health, Zoey Sleep Pillows are hypoallergenic, hand-rolled, and certified toxin-free.
According to Zoey Sleep, it is "disrupting the wellness revolution, revolutionizing sleep, one pillow at a time." Since sleep is so essential to health in many ways, Zoey Sleep has taken on the task of creating the optimal pillow for alleviating joint pain and supporting the spine properly for a full night's slumber.
We got to try them out — and loved them!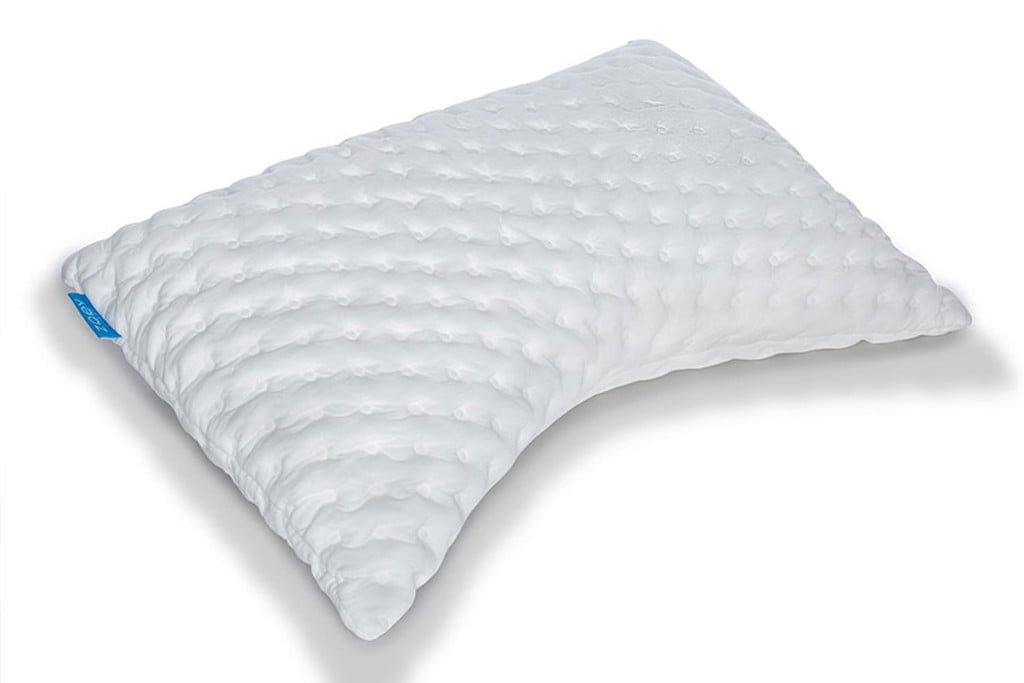 I had the opportunity to try out both varieties of Zoey Sleep Pillow recently, the Curve Pillow and the Classic Pillow, and found both to be extraordinarily comfortable, scent-free, and adjustable. After reading about the company and materials used to make the pillows, I felt confident sleeping on them and also allowed my son to sleep on them as well. We both tried out and enjoyed them equally, but my son ended up keeping the Curve since he is a side sleeper (the Curve is a great pillow for side sleepers and for back sleepers), while I opted for the Classic (designed for stomach sleepers).
Proprietary shredded foam blend and pillowcases
Zoey Sleep, like several mattress companies that make pillows as well as other brands that specialize in pillows, has their own proprietary blend that makes their brand special. In this case, Zoey Sleep's proprietary shredded foam blend, comprising shredded memory foam and polyester fibers, paired with their removable, machine washable pillow covers made of eucalyptus, oak, and birch woods, are integral to the Zoey Sleep Pillow's cushy essence. The polyester fibers also provide moisture control and thermal regulation, keeping sleepers cool regardless of their body temperature. Sleepers can also adjust their pillows by removing some of the foam blend or replacing it as needed for their precise comfort preferences.
You'll have color and shape options — and they're all toxin-free
Available in grey or white, the Curve or Classic Zoey Sleep Pillows are designed for preferred sleep positions. (As mentioned, while the Curve is for back and side sleepers, the Classic is for stomach sleepers.) Additionally, the pillows' foam blend contents are hypoallergenic, so they're great for those with allergies, as well as certified Certi-PUR US and Oeko Certified — meaning they are toxin-free and made without harmful chemicals, ozone-depleting substances, formaldehyde, heavy metals like lead and mercury, PBDEs, or prohibited phthalates. The pillows' removable covers are made with Lyocell fibers derived from eucalyptus, oak, and birch wood fibers.
Firmness and price
The firmness of both varieties of pillow is about the same, which I think would be about a 6 on a scale of 1 to 10 compared to all other pillows made currently. You'll sink in just enough to feel cozy and cuddled. But don't take my word for it! Both Zoey Sleep Pillows come with a 100-day free trial so you can try them out risk-free and get a full refund if you don't like them. They also both come with a 5-year warranty.
The Classic pillow's dimensions are: Luxury Standard Size – 25 inches by 19 inches, and Luxury King Size – 35 inches by 19 inches, with prices of $55 and $60 respectively. The Curve's dimensions are: Chiropractic Queen Size – 19 inches by 29 inches, with a price of $65.
Who is this product made for?
We think anyone who has trouble sleeping should consider the Zoey Sleep Pillows, as well as anyone with allergies or anyone who has trouble getting comfortable with their current pillow. Remember, there's a 100-day trial, risk-free, so you don't need to worry — if you don't like it, you'll get your money back. Just be sure to order the type that matches your sleep position preference.
What We Like
Proprietary memory foam blend
The proprietary shredded memory foam blend is hands-down what makes these pillows divine. The way your head sinks in just the right amount for perfect support and comfort makes them ideal for anyone who has trouble sleeping with other types of pillows. If you find they're stuffed too full for your tastes, just remove some of the foam blend, and place it in the drawstring bag included with your purchase. Replace it as you wish to fill it up again.
What's more? We didn't notice any unpleasant chemical scent when we received our pillows. Some reviews reported otherwise, however, so you may need to give it a day or two before sleeping on them if you don't like the scent once yours arrives.
Removable, machine washable pillow covers
These pillow covers are also soft and well-fitting. We've already washed ours and hung them to dry rather than putting them in the dryer — although you can put them in the dryer if you wish. You won't need to use an additional pillowcase over the Zoey Sleep Pillow covers; they will serve perfectly as pillowcases themselves.
You can also wash the entire pillow if you wish; just follow instructions carefully.
Price
The prices of these pillows are definitely on the low end compared to others of similar quality — between $55 and $65.
What We Dislike
We had no areas of dislike with these pillows, although in my case, I could have gone even firmer and plumper with mine than how it arrived (and it arrived quite well-stuffed and pleasantly firm with just the right amount of 'give' for most people).
What Customers Think
With a 4.2 star rating out of 5 possible stars on Amazon after 60 reviews, as well as 22 5-star and 1 4-star review on their own website, it's easy to see that Zoey Sleep customers are quite pleased with their purchases. Reviews mentioned neck pain disappearing after receiving and using Zoey Sleep pillows, the great prices, being able to sleep all night when they could only sleep a few hours (or less) previously, the ease of adjustability, and convenient machine washability.
Should You Buy It?
We think if you have trouble sleeping, ongoing neck or back pain, or trouble getting comfortable with your current pillow, it couldn't hurt (and just might help) to give the Zoey Sleep pillows a try — especially with their 100-day risk-free trial.
If you're interested in trying out a Zoey Sleep Pillow, click on the button below to get started with your order and your 100-day risk-free trial. We think you'll be pleasantly surprised — so please let us know what you think!