Working from home has become more than a trend. It's become a lifestyle for an overwhelming number of people. With so many employees integrating office space into their houses and apartments, home office inspirations are being shared extensively. From those working in a kitchen corner to those renovating a spare room into a luxury workspace, remote workers have learned to get creative with their home office spaces. We've drawn our inspiration for these six ideas from popular home office photos this year to give you some office decor ideas and space-saving strategies. With these ideas, your work-from-home life will be more pleasant and productive.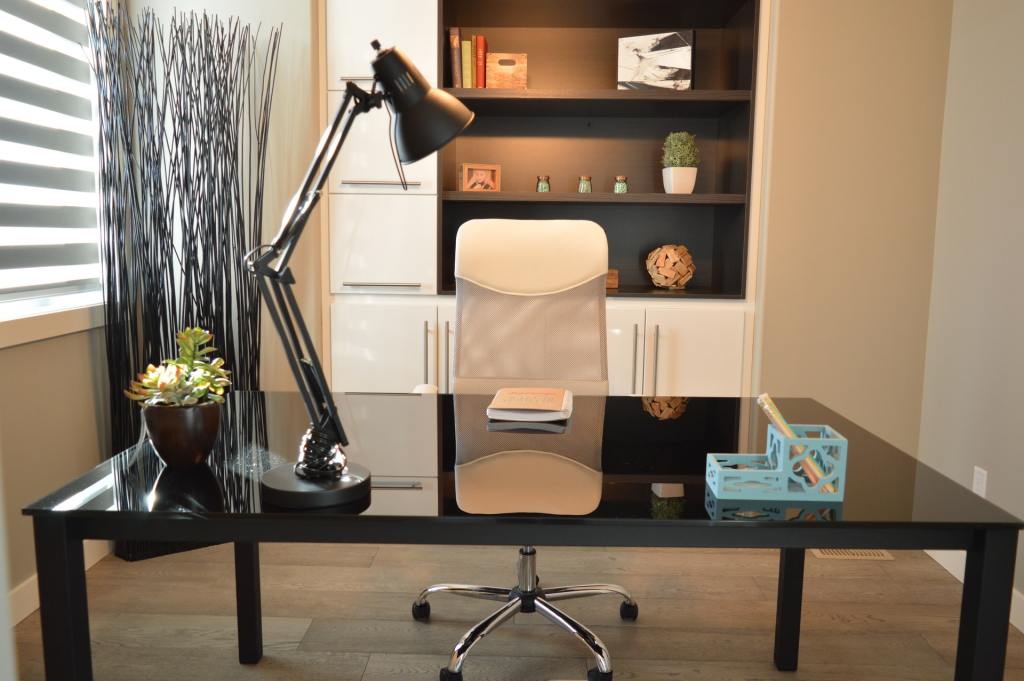 Home office decor ideas
Particularly if you're working with a small space for your home office, you need to organize and decorate your space wisely to keep your mood lifted and your work hours successfully productive. With these three ideas, you'll be able to turn your cramped working spot into a home office you'll actually want to be in.
Take advantage of unlikely space
It's necessary to get creative to maximize a small office space. Clean Design Partners shared this photo of a workspace that utilizes space on only one wall, from ceiling to floor, for books, decor, supplies, and equipment. The final product creates two whole workspaces that utilize only about a third of the room, leaving space for a lounging area for those quick, mid-day breaks.
Make the most of a tight corner home office space
Even if you only have a corner to work with, you can still have a home office space that you love. Braam's Custom Cabinets shared this photo of a small corner desk that has been designed to maximize space. The L-shaped counter surface and multiple, built-in drawers give ample space for work and supply storage, while the high-reaching shelves create an aesthetically pleasing space for books and office decor.
The benefits of plants in your home office
Living indoor plants are cute additions to your office decor, but they have other benefits as well. Not only are indoor plants known to elevate moods and increase productivity, but they also help purify the air in the room and free it of toxins. This is good news when you're spending hours indoors breathing recycled air. Zanna Van Dijk shared this photo of her working space where she integrated gorgeous greenery to create her dream home office.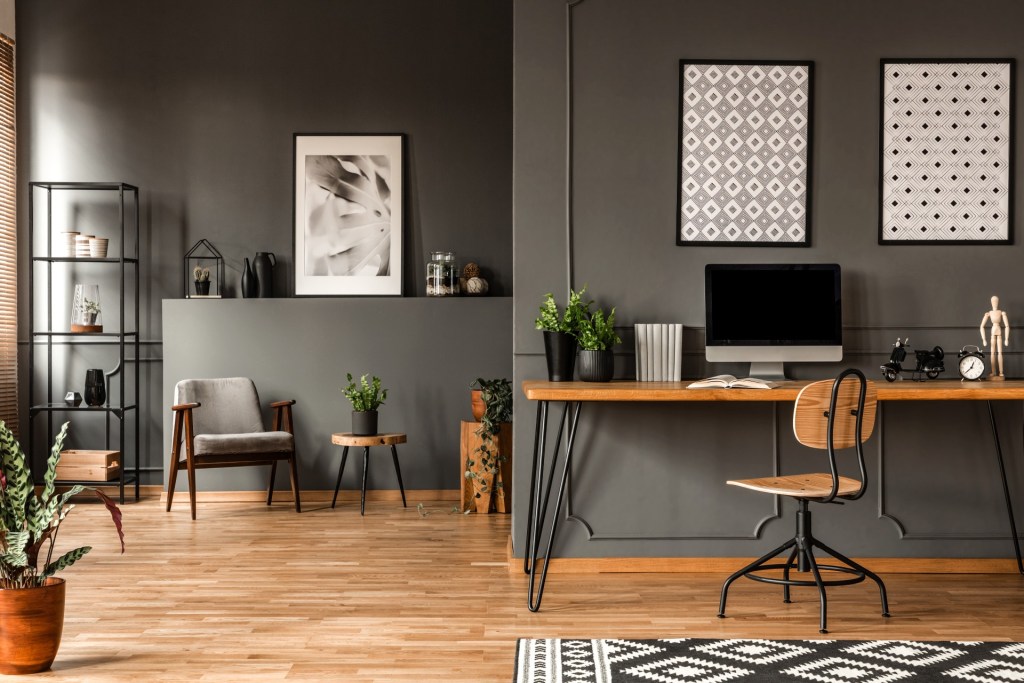 Sparks of home office inspiration
Working from home is becoming a practice that will likely be around for a long time. Remote work is a dream for many people, but as the months pass, many start to feel the negative effects of rarely leaving their homes. When you're settling in for the long haul in your remote-working status, you need to get a hold of some creative ideas that will allow your at-home working life to not only be tolerable but enjoyable. These three ideas will keep your working hours refreshing, balanced, and health-conscious.
Use an area with access to natural light and fresh air
It's easy to use the most logical and available space in your home for your office. However, the available spot for your desk is not always the most beneficial for long hours of remote work. Instead of setting up camp in a dark corner or basement space, rearrange some areas in your home so your working space can be in an area that gets lots of light and the option for some fresh air. SIMONHAMUI Interior Design Studio shared this picture of a brightly lit office space that is sure to lift the spirits and boost your energy.
Share your home office space
Most remote workers say that one of the biggest drawbacks of working from home is that social contact is extremely limited. Human interaction is vital to our mental health, so consider integrating it into your workday. Sharing your home office space with your spouse or roommate is a great solution, and this picture shared by Architectural Designer Patricia Coutinho is a great example of a shared remote set-up.
Make your home office portable
Depending on the equipment you need to use to get your job done, you may not need to be tied down to one spot for your home office. If you only need your laptop, for example, you could invest in a few simple pieces to create a portable workspace that you can move wherever you'd like in your home. A small table surface or portable work desk and a chair on wheels could be the simple splurge that would allow you to take work into the family room when the kids get home, into the kitchen for a quick meal break, or out on the patio for some fresh air. This photo shared by Swansons Nursery is the portable office dream of any nature-lover.
Those who work from home tend to love the peace and freedom that their job allows them. It can be a challenge, though, to have a dedicated working space in your home that inspires and elevates you. Your success and happiness while working remotely is certainly impacted by the space you're working in. With these six ideas inspired by popular home office photos, your remote working space will create an environment that's healthy, uplifting, and productive.
Editors' Recommendations