Considering updating the look of your guest bathroom? Start with one simple change: the showerhead. With literally thousands of options to choose from, you may not know where to start. Even once you've settled on a budget, you still have to pick a showerhead that's easy to install and available in your favorite material (we're partial to brass because of its industrial look and resistance to rust), finish, brand, size, and overall design aesthetic. In the U.S., the National Pipe Thread size is standardized, so don't have to worry about picking a fixture that will fit the pipe.
Before getting bogged down with all of the details around the look of the fixture, you need to make sure it's functional for your needs. Here are a few options to consider.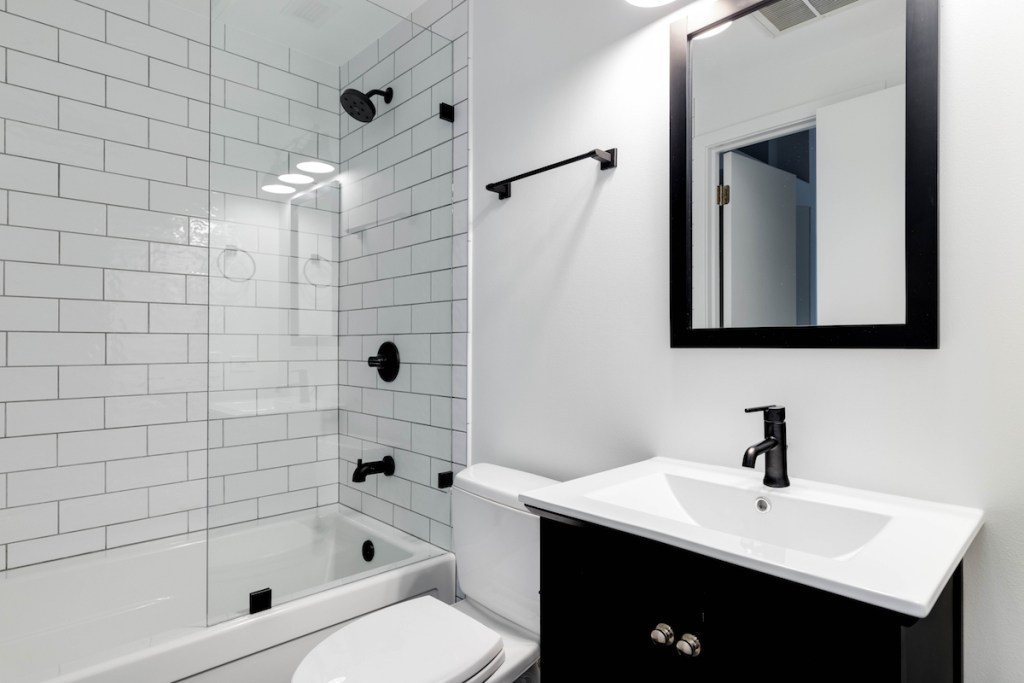 Wall-mounted
A wall-mounted showerhead will fix directly to the shower elbow on the wall. These mounts are super easy to install and use; just screw off your old head and screw the new one in. This option will definitely give you the most versatility. If you decide you want a different showerhead or your existing one has served its purpose, you can simply replace it with a new one without reinstalling any fixtures.
Wall-mounted showerheads come in all types of materials, like chrome, brass, and nickel, and most also come with features that allow you to customize the spray pattern and massage setting, and some even have dual-head options. If you're on the shorter side, keep in mind that you may have difficultly reaching high enough to change the settings unless you buy one with a handheld option.
Ceiling-mounted
Rain showerheads sit above you on the ceiling. Ceiling-mounted showerheads are stylish, luxurious, and give you all the coverage you need when taking a shower. They typically come in round or square shapes and are larger than most wall-mounted heads, so make sure your shower is large enough to fit the new fixture.
These options are more difficult to install, and you may need to hire a plumber to add an additional water line that directs to the new mount. Once the plumbing is in place, just follow the directions on the showerhead's package, to hang it up in no time. You might also want to consider a handheld as well, to make cleaning your shower easier.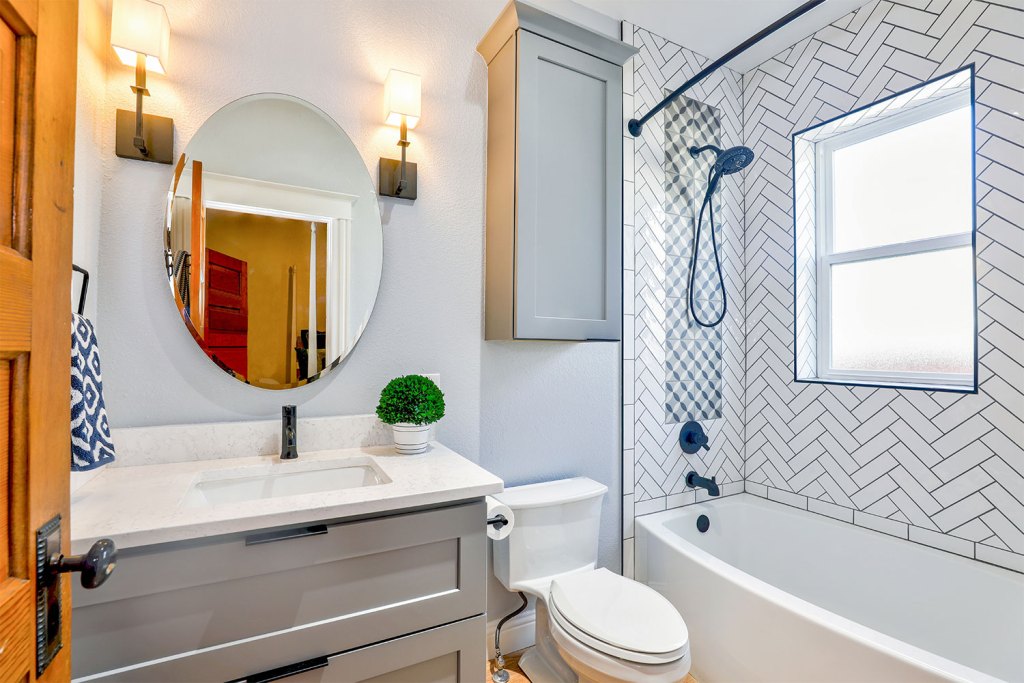 Handheld
Handheld showerheads give you more control over the direction of the water flow. This is especially helpful if you have an injury, use a wheelchair, or have other mobility concerns that require you to sit while showering. Instead of moving around under a stationary head, you can grab hold of the showerhead itself to direct the flow. This also makes it a great option for rinsing off a squirming child or pet.
Like the wall-mounted variety, many come with multiple settings so you can adjust the flow and pressure as desired. You can attach handheld fixtures to both wall and ceiling mounts — it's just one more feature to consider.
A little something fancy
If you're really looking to impress your guests, consider a showerhead that has some additional features like lighting and music. We love this option from Ello&Allo that has a color-changing sensor that adjusts the hue depending on the temperature of the water. If your guests love to sing in the shower, check out this Kohler Moxie showerhead with a built-in waterproof Bluetooth speaker. The speaker is also removable, so you can recharge it or take it with you when traveling — just don't let your guests run off with it. It's obviously not a necessity in a guest bathroom and you'll pay a premium for these features, but if you want to spoil your visitors, this is a great way to do so.
Final notes
The majority of the showerheads mentioned above need between 40 and 60 psi, so check your home's water pressure before shopping and pick an appropriate one for your home. Just keep in mind that the more water pressure it uses, the more energy it takes, so if you are diligent about saving energy (and money), make sure you grab an energy-efficient option.
Showerheads can add just a touch of luxury to your guest bathroom. Whether it's a small bonus like massaging jets or a big budget upgrade like LED lights and Bluetooth speakers, you can ensure your guests feel taken care of in your home. Round out this bathroom and make sure there are plenty of towels, toilet paper, and toiletries available. These little additions go a long way to giving your friends and family a fresh, clean, and fancy stay, and they'll appreciate your thoughtfulness.
Editors' Recommendations