Creating a warm, inviting kitchen in your home is important. After all, it's the heart of your home and a place where friends and family gather to engage and share a meal. That's why so many have connected to a farmhouse kitchen — it offers a cozy, serene design that people feel comfortable in immediately. But pulling off a farmhouse kitchen isn't easy. That's why we've enlisted the advice of an expert to give some tips and tricks to getting the farmhouse kitchen of your dreams.
Lisa M. Cini, an award-winning senior living designer, the president and CEO of Mosaic Design Studio in Ohio, and the author of multiple books, including Hive: The Simple Guide to Multigenerational Living, weighed in on how to pull off the perfect farmhouse kitchen and what trends have been overdone in recent years.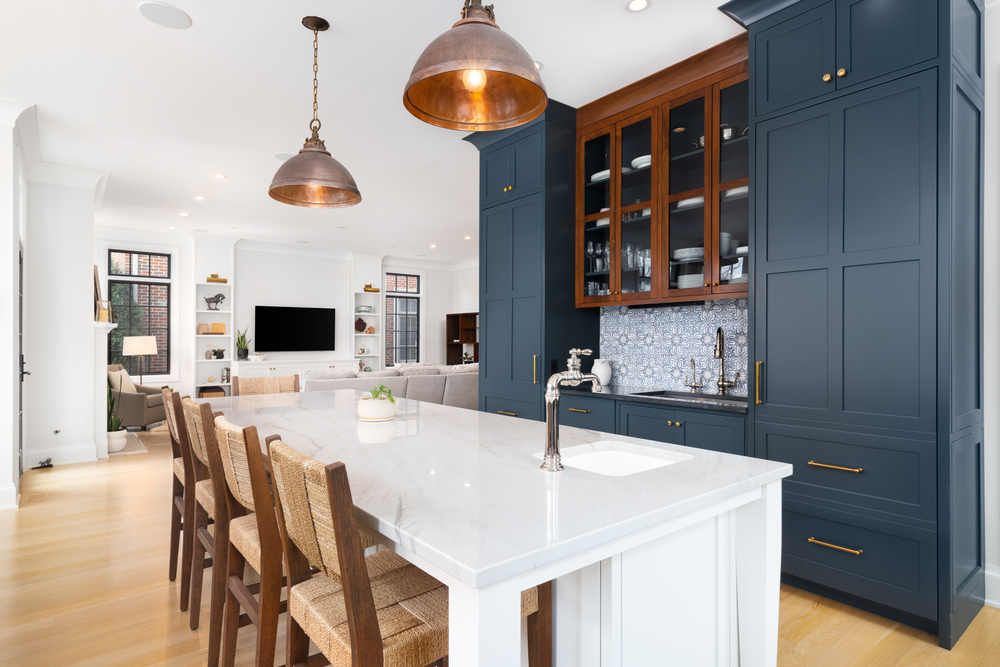 Stunning farmhouse kitchen decor
There are many places to incorporate a farmhouse feel in a kitchen.
Lighting: If your kitchen is in need of new lighting, consider updating it with a new farmhouse industrial option.
Backsplash: If you have the budget to remodel the backsplash, Cini recommends a "more modern look with Cambria's quartz."
Textiles: You can also bring in textiles like a farmhouse-inspired area rug for under your kitchen table, like this one by August Grove. Try adding accent rugs underneath your sink and in front of the stove that complement the look and make it feel more complete. Area rugs will also soften the overall look of the room and make it feel cozier.
While farmhouse decor like thick wood beams and floor-to-ceiling cabinets aren't cheap to install, finding affordable items that will add to the farmhouse feel will bring the entire space together.
Farmhouse kitchen colors
Cini believes a farmhouse kitchen should have some color, "either in the wall splash with a great decorative tile or chang[ing] the cabinets from the typical white or grey to a bold yet fun blue, green, yellow, or coral." This could even be incorporated into a farmhouse kitchen table or with barstools around a center island.
"My favorite colors for cabinets are Benjamin Moore's Dreamcatcher, Limon, Americana, and Crimson," Cini said. Once the color has been added, Cini also recommends changing out your cabinetry hardware to something "more sleek." We love muted gold or brass handles and knobs to lend a vintage feel.
While stark white kitchens will never go out of style, adding a pop of color to walls, cabinets, or flooring can make the room feel comfortable and inviting.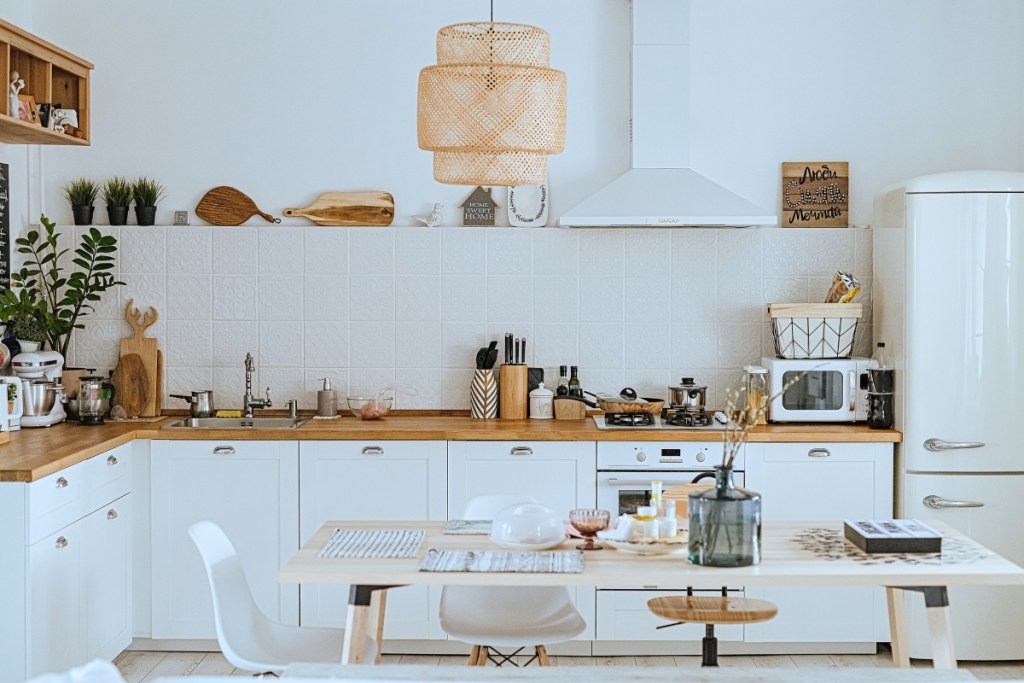 Farmhouse kitchen ideas that have been overdone
While farmhouse design will always have some common themes, there are a few trends that Cini believes should be put to rest for good.
Lap or board and batten
"Lap, as well as board and batten, for the interiors of a home creates a warmer vibe but have been overdone," she said, "especially when it's on the walls and you have a wood floor."
Open shelving
Another trend Cini warns against is open shelving in the kitchen to store glasses, cups, and bowls. "It can seem like a great idea," she said, "but can actually be difficult to manage."
Too many architectural elements
Finally, in terms of decor, Cini said sometimes too much of a good thing can be overwhelming, especially in a single room. "Old windows and architectural elements hung on the walls as artwork can honor the past and add a great vintage look, but this should be done sparingly."
The kitchen is the room where you entertain, cook, bake, and connect with your family. In the past couple of years, it has also become the place where many work, do homework, and spend the majority of their time. It should be a space that feels inviting to all, and one that makes you feel good while you're there. While kitchens, more than any other room, need to be functional, they should also give a sense of belonging and serenity. This is why the farmhouse design has remained popular for so long and, according to Cini, will stay current as long as you continue to update it in a fresh and exciting way.
We love that farmhouse allows you to go many different ways. From country-chic to industrial to vintage, the aesthetic can be incorporated into other rooms of your home connected to the kitchen as well. If your living room is off the kitchen, as in most open concept homes, carry the colors you selected into pillows, throw blankets, and living room rugs to blend the design of the rooms together. This will not only be appealing to the eye but create one cohesive entertainment area for you to enjoy.
Editors' Recommendations