We all need to relax and unwind after a long and tiring day, and what better way to decompress than to snuggle up with the warmth and coziness of a fireplace TV stand as you watch your favorite show? Aside from keeping you nice and toasty, a fireplace TV stand is the perfect focal point for any living space. A fireplace TV stand can provide you with all the utility of a TV stand with the added warmth and eye-pleasing design to make any room really pop.
The right fireplace TV stand can go a long way in easing the stress of everyday life and elevating the levels of coziness in your home. With so many different choices and options to choose from, it can be a tough decision. Choosing the best fireplace TV stand doesn't have to be a confusing process. Here are our choices for the best options that you can order online right now.
Walker Edison Farmhouse Wood Fireplace TV Stand
Best overall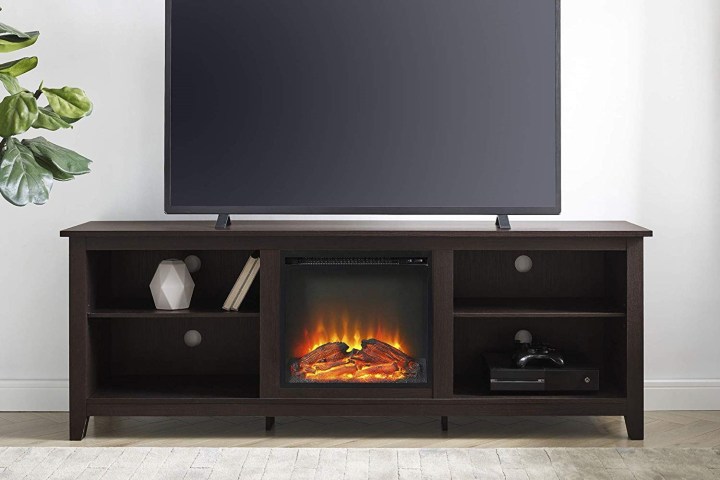 The Walker Edison Furniture Company Minimal Farmhouse Wood Fireplace Universal Stand lets you display your TV in style with this 70-inch TV stand and electric fireplace. Crafted from high-grade MDF with a durable laminate finish for a rich, textured surface, this storage console features two adjustable shelves on both sides of the fireplace to store anything from your electronics to your home décor. With a cord management port at the back of each shelving space, you'll never have to worry about a tangled mess of wires. This entertainment center mixes a traditional style with an on-trend rustic farmhouse look, making it the centerpiece in your living room. Installation for the fireplace requires no technician, simply plug into any standard household outlet.
Lumina Fireplace TV Stand
Best modern look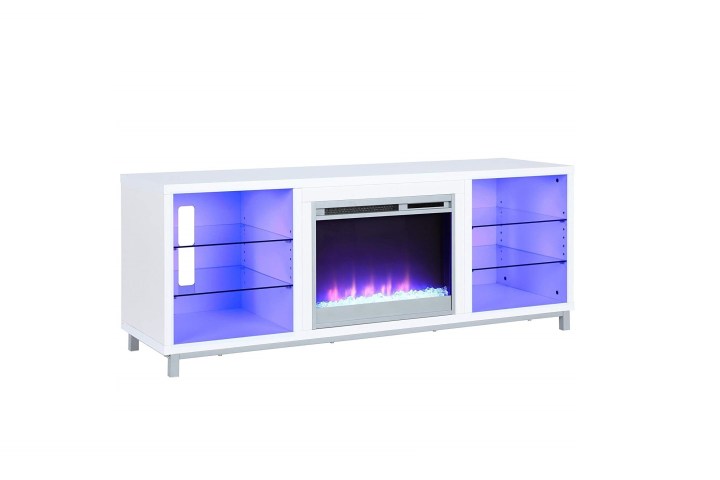 With the Lumina Fireplace TV Stand, you can step away from the ordinary and give your living room a modern makeover. Don't let the simple look fool you, this stand comes with a 23" electric fireplace insert that warms and entertains you. Ready to warm up a 400 square foot room with the touch of a button, you can relax knowing that timers will take care of the rest. If you want to simply enjoy the look of the flames without the heat use the included remote to switch off the heat option and pick your flame colors and brightness. On either side of the fireplace insert are three shelves that hold your gaming systems, a DVD player, remotes and more. Both of the side shelves are illuminated with blue lights to coordinate with the glowing fireplace.
Ameriwood Home Chicago Fireplace TV Console
Best for smaller TVs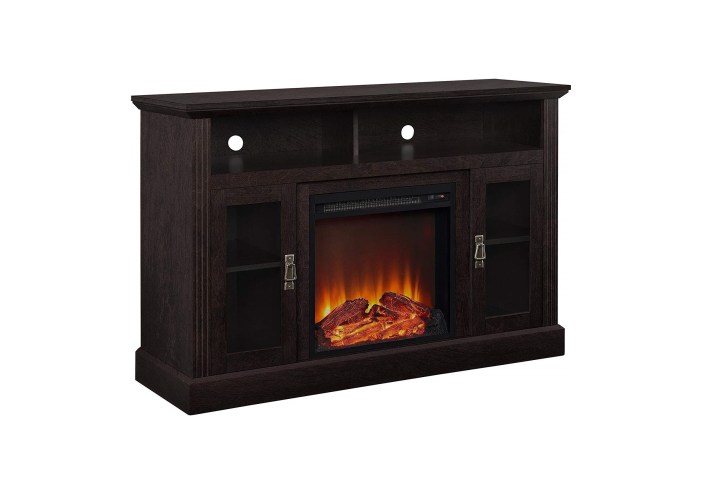 The Ameriwood Home Chicago Electric Fireplace TV Console gives you the perfect combination of storage with an added fireplace bonus. The TV Stand is constructed of laminated particleboard and MDF with an espresso finish and supports up to a 50-inch flat-panel TV with a maximum weight of 70 lbs. Its top divided open shelf is great for keeping your cable box or Blu-Ray player and the two side cabinets has room for books and DVDs. The 18-inch fireplace insert plugs into a standard 120V outlet and can heat a room up to 400 sq. ft. The insert can be used with or without heat so you can still enjoy the flame effect during warmer months.
Choosing the right fireplace TV stand ensures you the right design, size, or value for your needs. The right fireplace TV stand can make a world of a difference in the vibe of your home. That's why we've provided you with the information you need so you can stop worrying and start cozying up.
Editors' Recommendations