Your bedroom should be a place you go to relax, unwind, and recharge. Especially given the past year, finding a room in your home that's a refuge from the day-to-day is crucial for your mental and emotional well-being. Decorating it shouldn't be stressful, and it also doesn't need to cost an arm and a leg. If you know where to look, you're sure to find fun, cozy, and unique bedroom trends for 2021 that will give your space a well-deserved facelift, all for under $500.
We've highlighted a few trends that caught our eye and provide a lot of flexibility when it comes to color, texture, and aesthetic for any sized bedroom. According to experts, these bedroom designs are sure to bring a smile to your face and provide a place for a restful night's sleep to recharge for the day ahead.
Colors
There are a couple of stand-out color palates for 2021 that will bring on the calm. This sage duvet from The Company Store is a perfect way to introduce the color into your bedroom, and you can pair it with sage-accented pillows. Otherwise, consider bringing in the pale green accent with this gorgeous $80 pouf. It's the perfect textured piece for any bedroom nook.
Natural, earthy hues are also in style and can make your bedroom feel like a retreat in the mountains. These textured pillows from Pottery Barn would look perfect next to the sage green duvet, and the duo is sure to create a warm, welcoming environment after a long workday. The pillows and duvet together cost just over $200.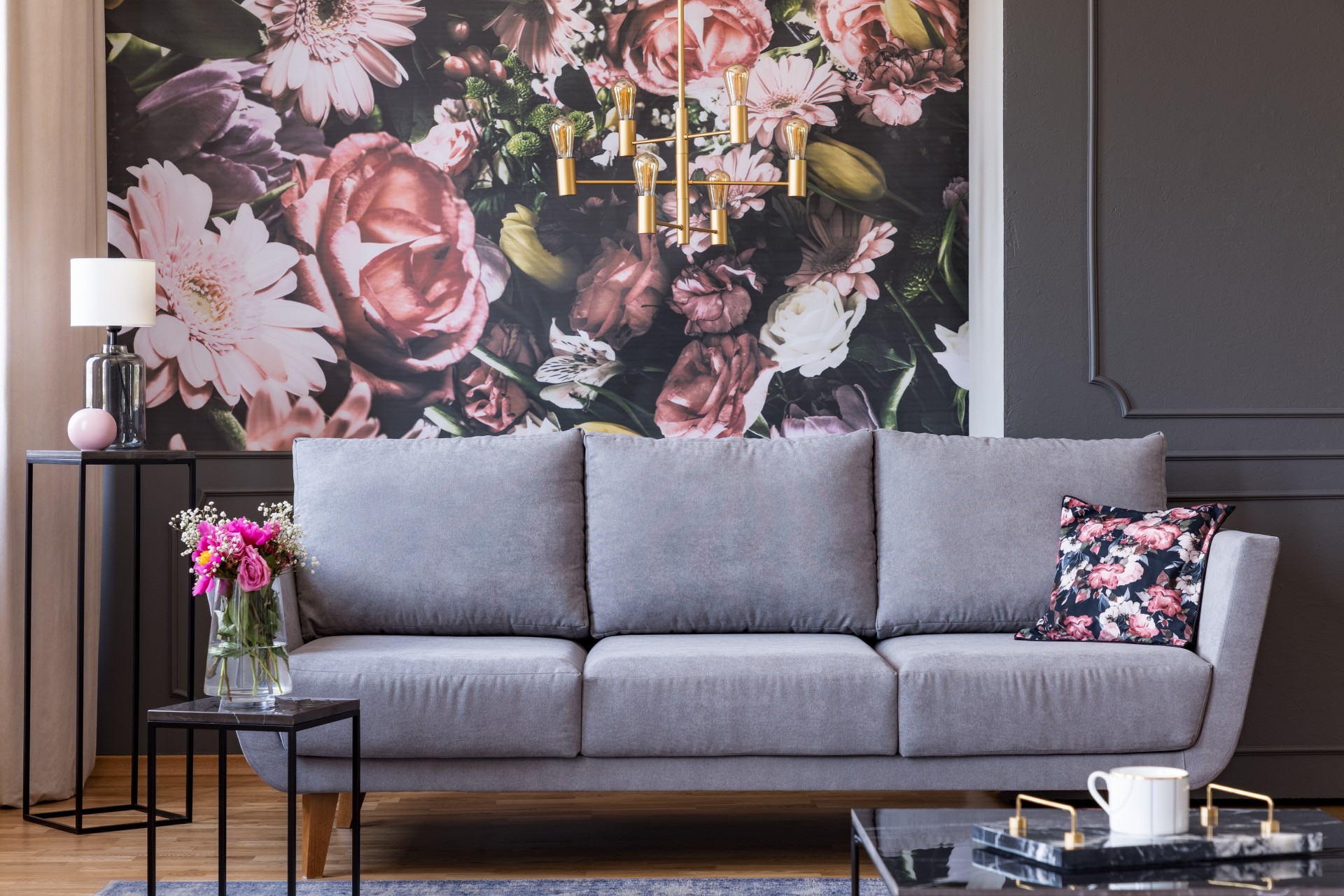 Peel and stick
Peel and stick murals and wallpaper are a fun and relatively inexpensive way to change things up in your bedroom without making any permanent decisions. If you get bored, just peel them off and start over. We're in love with this Botanical 118″ x 94″ 6-piece mural that brings in bits of sage and creates a feature wall that'll get people talking.
Speaking of sage, this Vertical Blossoms 33′ L x 27″ peel and stick wallpaper is a unique way to add color and texture to your bedroom. Even better, and it's on sale right now for just over $1/sq. ft. You could use the wallpaper to create one feature wall, but don't be afraid to go bold and wallpaper all of the walls for a more powerful look. Keep in mind, however, that busy walls require simpler decor. For the duvet, wall art, and shelving, opt for solid, neutral colors to ensure the wallpaper is the feature of the room.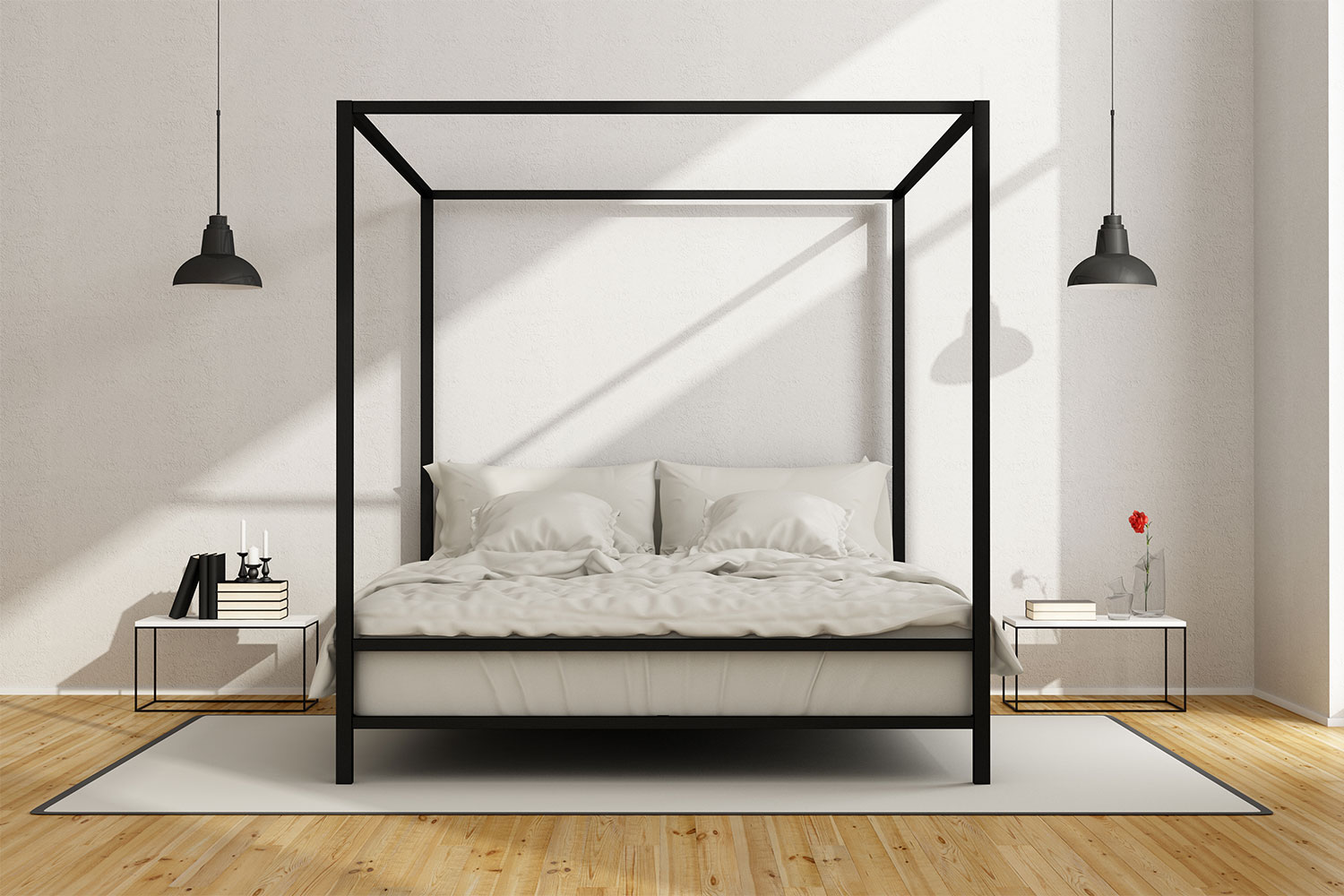 Canopy beds
To inject an air of fairytale romance into the room, check out these gorgeous canopy beds. This gold canopy queen frame from Wayfair makes for a luxurious addition to any room, and you can get it for only $318.07.
If you love the gold metallic look but want something a bit softer, this Bevellii canopy, also from Wayfair, is just the ticket. The four-post bed also comes in pewter, and it allows you to add decorative curtains, so you can better customize the look. The scrolled hearts on the head and footboard are also unique touch, providing an additional small but charming design element. Both options are well under $500, so you don't have to break the bank to get a hotel-worthy look in your own home.
The 2021 style is very much "anything goes" when it comes to texture, color, and pattern. Layering them together in an unexpected way lends itself to a creative and inspiring space that balks at the minimalist trend of years past. Gone are the days where everything needs to match. Instead, embrace playing with bold patterns and warm colors. Add elements like poufs, covered benches, and metallic lamps to create a luxurious, tranquil space that exhibits your own personality, and mix vintage and industrial-inspired elements to create moments of unexpected charm.
With all the stress and goings-on in the world, your bedroom should be a place you can come back to at the end of the day to relax and recharge. The options above are all inexpensive ways to update your current bedroom to an envy-inspiring oasis that's on-trend for 2021.
Editors' Recommendations