This content was produced in partnership with Canadian Down & Feather co.
Cold weather is on the way, and so are the holidays, so it's a good time to stock up on cozy bedding gear to make your bed more comfortable and inviting, but also, bedding items can make great gifts too! Of course, if you're looking to make your bed more comfortable than ever, you'll need more than just traditional sheets. Canadian Down & Feather has some pretty amazing deals going on right now, including price cuts on down pillows, duvets, mattress toppers, and much more. Adding a topper, for example, adds an extra soft layer of cushion over the top of your mattress, and with a plush option, you'll feel like you're sleeping on a cloud!
You can browse the selection yourself below, or keep reading for some of our recommendations!
Start with a pillow
Where you're laying your head at night matters, at least when it comes to getting a good night's sleep on a comfy pillow. That's also one of the best places to start if you're transforming your bed into an ultra-cozy spot.
If you prefer a firm pillow, a good bet is the Down Perfect Pillow, which offers resilient support thanks to the feather core. The feather core is surrounded by a small layer of 575 loft goose down for added luxury. The outer shell is made of a wonderful 255-thread-count cotton.
Alternatively, if you prefer a softer pillow that sinks and is squishy, it's best to go with the White Down Pillow. The outer shell is 260-thread-count cotton, while the fill is 550 loft duck down.
Honestly, you can't go wrong with either pillow option. They're both going to offer a crazy comfortable headrest.
Firm pillow: Down Perfect Pillow —

Soft pillow: White Down Pillow —
Next, a soothing duvet
Following a pillow, and an ultra-soft place to rest your head, you'll want a blanket or duvet for your body. Canadian Down & Feather has a host of options there, of course, but we selected a couple, shall we say, more enticing bundles.
The gel microfiber down alternative duvet is "generously filled" with high-quality polyester that mimics the softness of down. The shell is 300-thread-count cotton so equally plush. Bear in mind, microfiber duvets are a little heavier in weight compared to down.
Another option is the 650 loft white goose down duvet which is filled with, well, 650 loft goose down. Comparably, this duvet has more fill than a 700 or 850 loft down variant. The 360-thread-count cotton shell adds a soft and quiet touch on top.
Gel microfiber down alternative duvet —

650 loft white goose down duvet —
Finally, soften up that mattress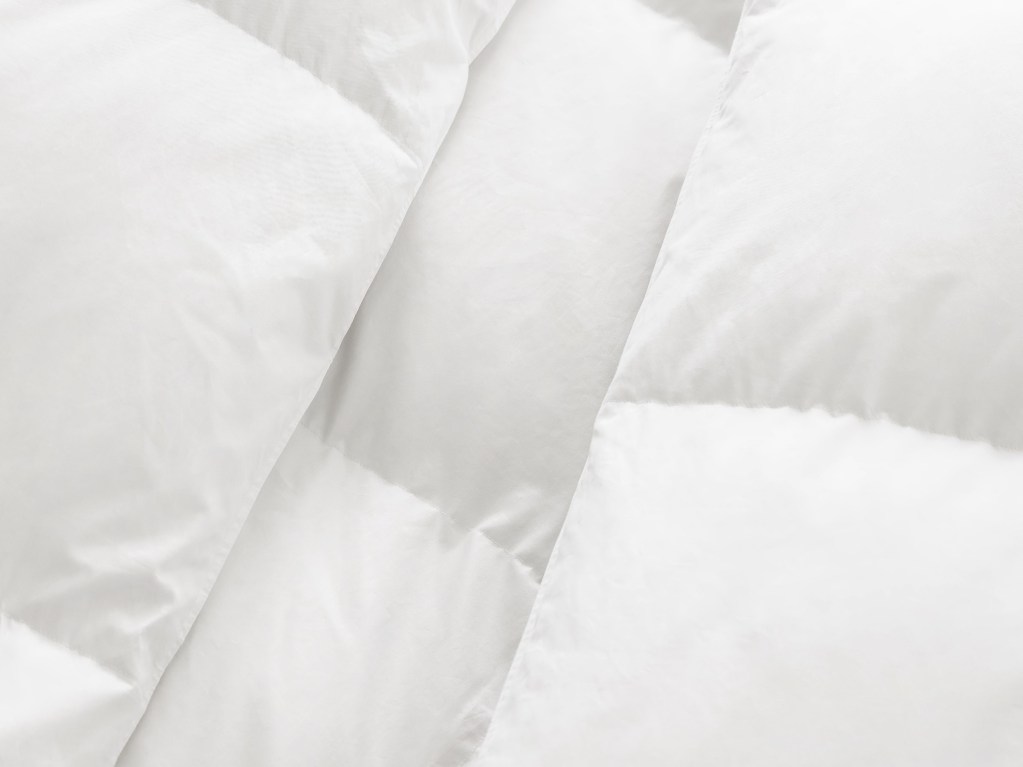 Pillows and duvets are phenomenal, but sometimes the mattress itself needs a little boost. Maybe yours is too firm, or you just want a soft layer between the mattress and your bedding? That's where mattress toppers come in handy.
The , for example, is filled with fluffy polyester and mimics the softness of down. With an outer shell of 300-thread-count cotton and elastic straps to secure it to the mattress and bed, you'll have plenty of softness underneath. It makes for a delightful gift to friends and family too, especially if you've ever heard them mention they don't like their mattress.
Get the coziest bed setup ever
While we have picked out some of our favorites, and some of the cozier options if we're being honest, Canadian Down & Feather has a ton of different variations to choose from. The mattress topper selected above is just one option, for example, and there are a few others. And let's not forget that so many of these items would make great gifts ahead of the holiday season. You should probably take a look for yourself.
Editors' Recommendations