Another great way to use this versatile container is to send warm meals with the kids to school. Heat the mac and cheese in the morning, store it in the insulated thermos, and it will still be creamy and hot by the time recess comes. Choose the best option for your needs with our curated selection.
Soup thermoses are a convenient way to transport hot soups and other beverages with you. Some of them allow you to keep them warm for up to a full day thanks to the advanced insulation and airtight sealing lid. Ideal for one-day trips, overnight-camping dinners, or leftovers.
Thermos Stainless King Food Jar
Best soup thermos overall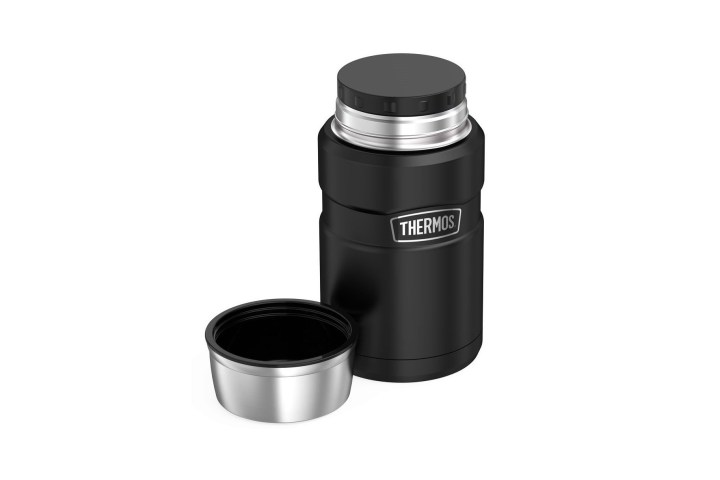 You don't get called the king for no reason. The Thermos Stainless King Food Jar is the Rolls-Royce of portable insulated containers. A wide mouth and double-steel layer make it easy to fill, eat out of it, and clean afterward. It features Thermos vacuum insulation technology for maximum temperature retention. Offers 14 hours of hot liquids and 24 for cold beverages.
DaCool Insulated Lunch Container
Best looking soup thermos
Send your kid to school with a homemade hot lunch that says "I love you" with the DaCool Insulated Lunch Container, a perfect soup thermos that can hold a variety of food options. The multilayer construction allows for perfect and safe temperatures both inside and outside the food chamber. Includes a foldable spoon that stores in an inner compartment. Vacuum-sealed lid can be used as a food tray, as well.
Energify Insulated Soup Thermos
Most reliable soup thermos
The commuter warriors who pride themselves on their frugal ways will love the reliable mess-free performance of the Energify Insulated Soup Thermos. Bring any soup, roast, or stew to work without worrying about a leaky container leaving a mess. This complete lunch-eating solution allows you to enjoy your homemade meals anywhere, anytime. Spoon included.
Take control of your diet and start cooking more at home. With one of our portable, insulated cups, you will be able to eat what you really want anywhere you need to. Free yourself from daily spending and say hello to fresh healthy living.
Editors' Recommendations