If you've been growing herbs in your kitchen (or garden), you've probably thought about all the possible ways you can dry them naturally, whilst maintaining their flavors and essential oils. Herb drying racks are the most portable and compact solution to this, as they help dry large quantities of herbs and flowers. They fit pretty much anywhere and help preserve your crops naturally, so you can enjoy them anytime.
If you find yourself with more herbs than time, remember you can always share them as thoughtful gifts to friends. Once you've dried the herbs on your rack, all you need is a mason jar and a pretty ribbon to make a gracious gesture that friends will appreciate. With the air-drying racks on our list, your trimmings stay protected as they naturally complete their dehydration process. Let's take a look at our favorites.
HYDGOOHO Herb Drying Rack
Best overall
Dry your herbs evenly, thoroughly, and quickly with the HYDGOOHO Herb Drying Rack. Featuring four drying layers of black mesh with green zippers, this spacious rack can save time by combining maximum ventilation with herb protection.
Growsun Herb Drying Rack
Best large herb drying rack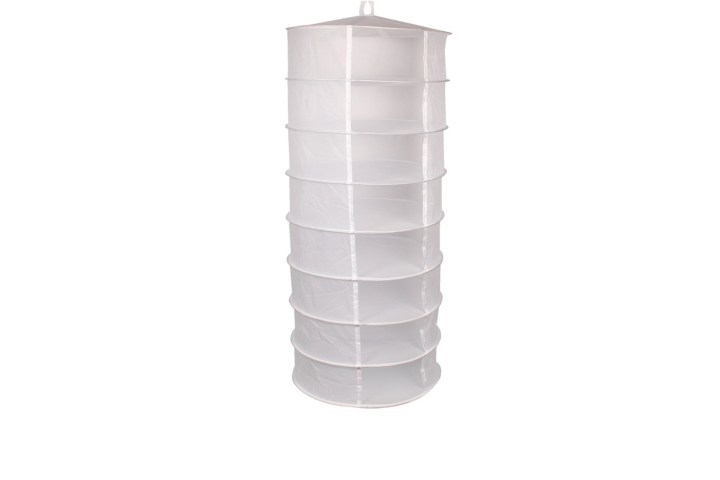 With eight layers of drying space, the Growsun Herb Drying Rack is a large hanging solution to dry considerable quantities of herbs and flowers. It is made from durable mesh and features a steel frame for support that can be folded and packed into a convenient carry bag. It's perfect for businesses and commercial herb production and features the same portability of smaller models.
iPower Herb Drying Rack
Best value herb drying rack
The iPower Herb Drying Net offers portability with versatility. It includes two stackable, independent sections that can be clipped together to provide four drying layers of breathable nylon mesh material. With topless tiers to promote greater ventilation, you never have to worry about your herbs rotting.
Air drying is an economical and space-saving method to dry your herbs naturally. With the items on our list, you can organically preserve the essential oils of your herbs and effortlessly conserve the beauty of your flowers without taking up much space. With the best air dryer rack, you can keep enjoying your herbs all year long.
Editors' Recommendations