If you need to transport ready-to-wear clothes from place to place, like personal stylists staging private shopping experiences in pop-up setups, these garment rack bags will provide a safe way to prevent damage during transportation and public exhibition. They look professional, sleek and are the best solution to keep your clothes organized and prevent wrinkling. Pick your favorite garment rack bag from our selected list.
Garment rack bags are an efficient and easy way to protect your clothes whether inside a closet or on a portable clothes rack. One of the greatest ways to use it is to place them in entryways to hold wet, muddy or heavy clothes. They also are excellent work tools for those providing wardrobe for theater, movies or TV. Take a look at our carefully vetted list with the very best options for you.
Zilink Large Garment Bags
Best overall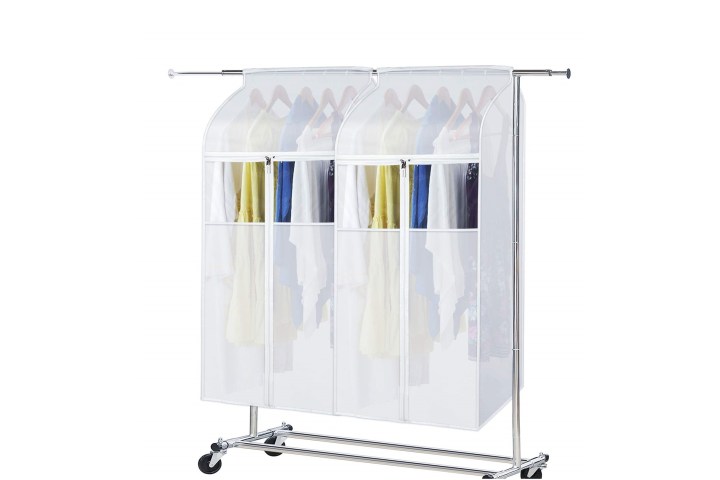 The Zilink Large Garment Bags are one of the most popular models. This pack of two has a durable and resistant enclosure that measures 43 inches tall, making sure you can fit dresses, coats and longer garments. Easy to install, it features Velcro and a dust-proof design, helping you store your clothes in perfect shape for a long time.
Whitmor Canvas Garment Rack Cover
Best canvas garment rack cover
If you are looking for a solution with a natural feel and specially designed for your tall rolling garment rack, the Whitmor Canvas Cover is an elegant proposal to elevate the look of your clothes rack. Dress up your storage so it can coexist with your decor or set up stylish pop-up stores on the weekends with this durable and stylish garment rack cover.
Ruibo Clear Garment Rack Cover
Best waterproof garment rack cover
Protect your clothes from water, moisture, and accidental spills with the Ruibo Clear Garment Rack, a waterproof garment rack cover that features heavy-duty construction for both indoor and outdoor use. This cover is commercial-quality and will keep your garments from any type of damage.
Although originally designed as temporary storage, garment racks have become very versatile solutions for many in the textile industry. For example, if you are a fashion designer selling custom designs online, having one of these rack covers will help you protect your finished garments. Pick your perfect match out of our curated selection to keep your clothes protected.
Editors' Recommendations