If you've not yet experienced the joy that is cooking with an air fryer, we beg of you to start now — and for good reason. There are big sales at Walmart right now (but act quick; sales end soon!) on two popular models and we're pretty sure you'll be hooked after your first experience. While we still prefer convection ovens over air fryers in general, an air fryer is an excellent option for small kitchens, small meals, or – this is a big one – feeding hungry kids quickly.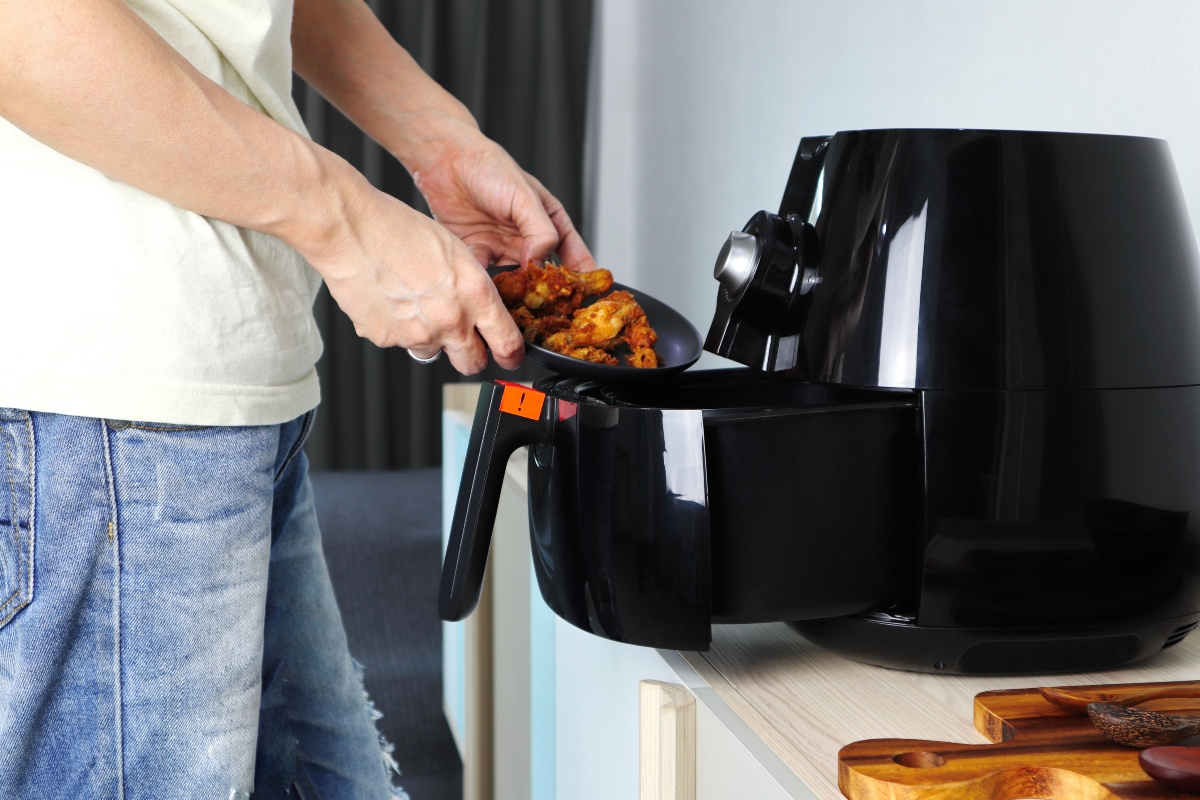 Chefman  TurboFry  Stainless Steel Air Fryer
We love everything about this air fryer. It looks sleek in any space, it's dishwasher safe, and it cooks food you'd normally eat fried in a much healthier way. This means way less mess and the ability to eat foods that would be swimming in oil in a way that gives you all the benefits of crispy, fried food (hello crunch). This air fryer is usually $99 but is now on sale for $69 and trust me when we tell you it's a steal. This model reheats food unlike anything a microwave could do and in way less time than the oven. It also perfectly cooks chicken wings, French fries, and broccoli like a champ.
Gourmia Digital 6 Qt. Air Fryer
Normally selling for $89, the Gourmia is on sale now for $59 — a remarkable price tag for an air fryer. This air fryer allows you to "roast, grill, broil, bake and fry without fatty oils," and that is no lie. We've broiled fish, grilled a turkey burger, and "fried" pigs in a blanket in a fraction of the time it would take using traditional methods. Everything comes out crisp, juicy, and hot (be careful of the hot). According to the description, its "Fry Force 360 Technology" allows users to cook with 80% less fat. It also comes with a recipe book of 70 different recipes that you can make.
Air fryers are ideal to make small meals, snacks, and more in a fraction of the time and considerably healthier than frying. There is little to no oil being used and these both crisp up vegetables to stir fry level. One of our team members says she cooks 75% of her daughter's food in one because, let's face it, kids are picky and sometimes the only thing that appeases them are Dyno Nuggets and pizza rolls. You can also heat up leftovers and they turn out exactly like you'd enjoyed them the day before. (Yes, we even mean pizza.)
Air fryers are also super easy to clean and you can set them to max crisp, air fry, or bake, similar temperatures to your oven but achieving the same result in half the time. Both models have LED displays so you (or your kids) can easily set the temperature and walk away. One thing to remember with air fryers though — don't walk away for too long. Items turn out best when you shake the basket so food cooks evenly. If you are in the market, remember this Walmart deal expires tomorrow, so check it out now.
Chefman  TurboFry  Stainless Steel Air Fryer
Gourmia Digital 6 Qt. Air Fryer
Editors' Recommendations