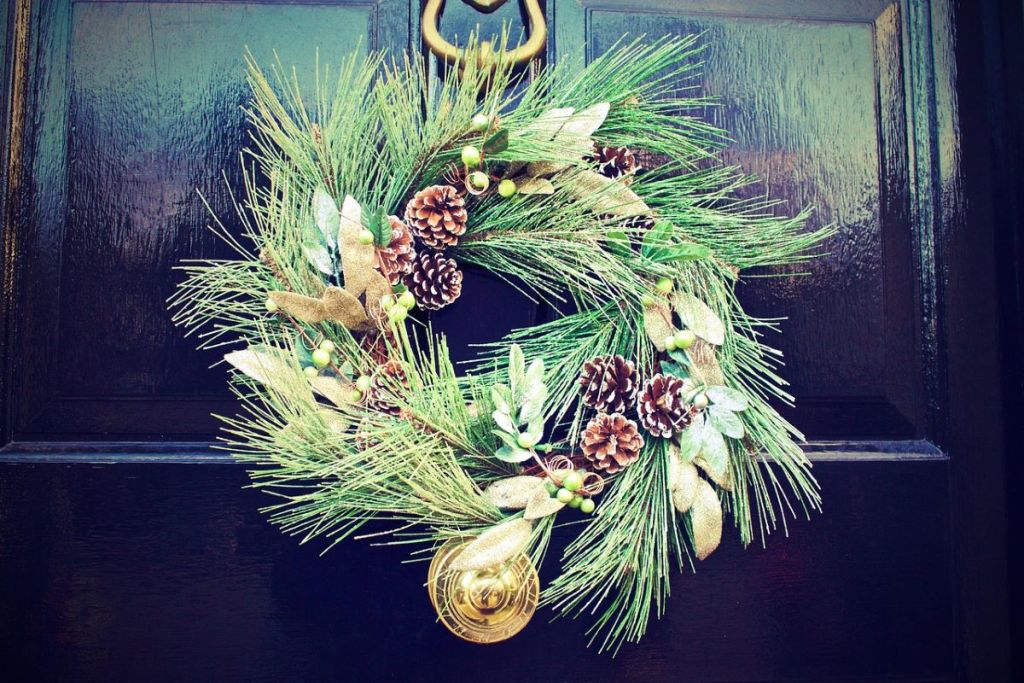 The holidays are coming and you may be starting to feel the spirit. But with holiday decor comes installing nails and screws that you'll have to have to repair in January. Or maybe your rental agreement forbids alterations to the drywall altogether. So how can you deck the halls without wrecking your walls? With alternative fasteners and creative display techniques, you can turn your home into the wonderland of your dreams without causing a holiday hangover. Follow along as we share our top tips and tricks to hang holiday decorations without nails.
Temporary adhesives
For anyone struggling to hang holiday decor, temporary adhesives may be the most versatile option in your toolbox. Durable, temporary adhesives, like 3M Command hooks, strips, and clips have been the go-to products for short-term displays for decades. They are easy to install on most surfaces, securely hold a decent amount of weight, come off cleanly, and are available in a variety of sizes and styles for both indoor and outdoor applications. With so many choices available, be sure to read labels and buy an appropriate type for your project.
Suction hooks
Like temporary adhesives, suction hooks are a quick and easy way to hang lighter pieces of holiday decor. Use them on windows or other impermeable surfaces such as tile or even the side of the fridge to hold wreaths and other holiday decorations.
Decorative hardware
Decorative, holiday-themed hangers offer another excellent solution to bypass nails. For door wreaths, try an over-the-door wreath hanger. For stockings, check out these chrome stocking holders. Are you managing door-mounted wreaths? Specially designed wreath hangers simply hook over the top of the door to hold the wreath securely in place without fasteners or adhesives. Be sure to choose the appropriate size for your door and wreath so it stays securely in place.
Ribbon, string, or wire ties
Attach wreaths and garlands over doors, beneath light fixtures, around columns, or on chair backs with either decorative or hidden ties. Use festive ribbon to tie greenery on indoor fixtures with bows. Garland ties are an easy-to-use, double-duty option for indoor decor. They're strong enough to hold your garland together, and they blend in to make the connected pieces look seamless. For outdoor decor, use strong plastic cable ties, garden twist ties, or floral wire for added strength and durability against the weather.
A monofilament fishing line is especially useful for hanging decor indoors since it becomes nearly invisible but holds a significant amount of weight. Use it to hang baubles from overhead light fixtures or tree branches.
Tension rods
Tension rods are for more than hanging curtains. Use them to support holiday decor in windows, doorways, and narrow passageways. Tension rods are convenient, temporary supports for stringing lights, hanging a few baubles, or displaying the mistletoe, all without using nails.
Other ways to hang holiday decorations without nails
Picture rail molding is a common fixture in older homes with plaster walls before the days of drywall. This type of crown molding supports specially designed hangers with adjustable-height hooks at the bottom to hold artwork at eye level. If your home has a picture rail, these hangers could make an excellent display tool for holiday decor.
A fireplace mantel often displays stockings, greenery, sculptures, religious elements, and other "tabletop" decor. The same is true of a sparsely populated bookcase or a wall shelf. No hooks, nails, or adhesives are needed.
Display larger pieces, such as framed artwork, on an entertainment center or credenza and simply lean them against the wall. If floor space allows, you can also use an easel to display any large, prominent pieces.
Sometimes only a nail will do
While there are many ways to hang holiday decor without nails, some situations, such as textured or resistant surfaces, heavy decor, or permanent display fixtures, call for nails, wall anchors, or masonry screws. These heavy-duty options are required when, for example, hanging pegboard, corkboard displays, or any mounting where the backing remains but the decor is changeable. When properly installed, permanent hardware can provide a secure connection without defacing the wall.
For solid brick walls, pre-drill into the mortar lines (never the brick) with a masonry drill bit and install masonry hardware such as Tapcon screws. Hollow walls, such as drywall, paneling, or concrete blocks, require wall anchors with the appropriate weight rating.
While there are certain situations that require traditional fasteners, it is possible to create a festive and unique holiday atmosphere without depending on any hardware.
Editors' Recommendations