When you welcome your first baby into the world, you start to notice all of the dangers lurking around in your home. According to the CDC, "Unintentional injuries… are the leading cause of morbidity and mortality among children in the United States." These injuries can be caused by falls, burns, or even the ingestion of harmful substances. Baby-proofing your house can go a long way in making your baby's surroundings safer while giving you some peace of mind. Here's what you need to know about baby-proofing your house.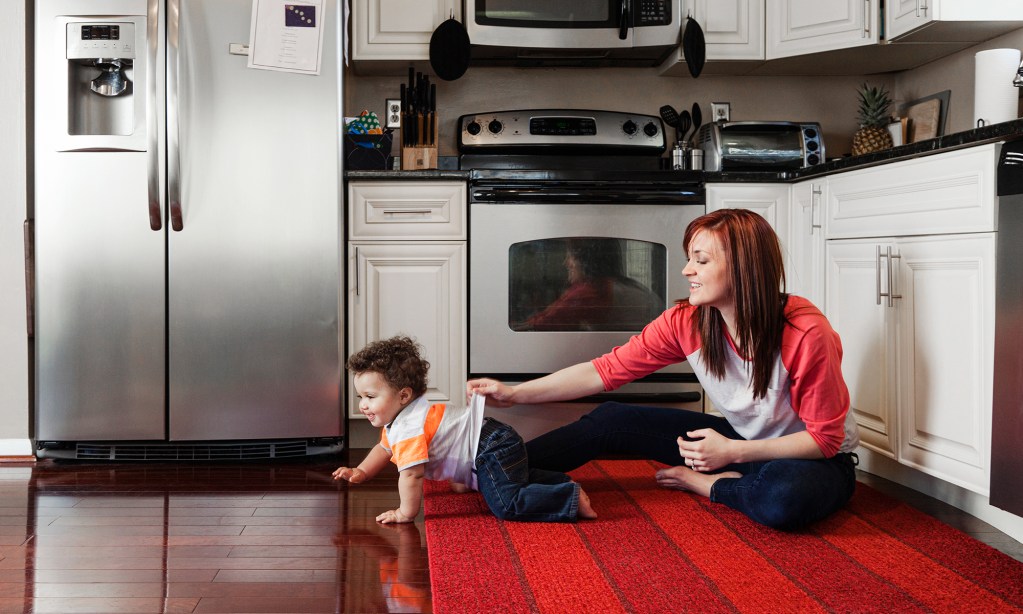 When should you start baby-proofing?
While you don't necessarily need to baby-proof your entire home while your child is a newborn, you shouldn't depend on having the time to baby-proof adequately when they become mobile, and your life becomes more hectic. It's best to start baby-proofing as early as possible so you can rest easy, knowing they'll be safe and protected when the time comes.
Baby-proofing the bedroom
According to the NCBI, Sudden Infant Death Syndrome (SIDS) is highly associated with sleep time, and the SIDS rate "currently stand(s) at 0.2-0.5 per 1,000 live births in most countries." While this isn't an overwhelming statistic, it's still important to take every precaution to create a sleeping environment that is safe and healthy for your baby.
Your baby should always sleep on their back in their own crib, and their bed should be equipped only with a fitted sheet. There should be no toys, blankets, pillows, or bumpers in the crib for the first year of their life, as these items pose a risk of suffocation. Be sure their bed is placed away from windows or other items that contain cords or strings.
Must-have baby-proofing products for a mobile baby
Once your little one starts scooting around, he'll be able to get into all sorts of things that will surprise you. This is why you'll want to be prepared and have the entire house baby-proofed before they're mobile. Here are some must-have baby-proofing products for any home.
Outlet covers
Use covers on all reachable outlets to prevent shocks. Standard outlet covers can get in the way when you want to plug something in, so be diligent and replace the cover immediately after using the outlet. There are outlet covers that slide open easily for adults, which may be a good option if you find that you need to remove and replace the outlet covers often.
Drawer and cabinet locks
Even if you remove hazardous or poisonous items from all of your lower cabinets and drawers, they still pose a threat to your baby as their little fingers can get pinched or slammed in them. Use drawer and cabinet locks to prevent them from opening them.
Baby gates
It's advised that you place baby gates at both the top and bottom of your stairs to prevent falls. The safest and sturdiest baby gates are ones that are installed on the wall itself. However, there are also portable gates that are handy for keeping your baby temporarily locked in a particular area.
Window stoppers and window guards
Particularly on upper-level windows, you need to have safety measures in place to prevent your baby from opening the window or even pushing through a screen and falling out. Window stoppers prevent the window from being opened beyond an inch or two, whereas window guards are placed on the entire window or screen to prevent it from popping out.
Stove knob covers
Those curious hands will definitely love to turn knobs, so covering up your stove knobs will be necessary to prevent burns and reduce fire risk.
Bath seat
You should never leave your baby in the bathtub alone for any length of time, but a bath seat can allow you to feel a bit safer, and you won't have to hold onto them every second.
Toilet seat lock
Not only is the toilet yucky and unsanitary, but it could also pose a drowning risk if your baby dives in headfirst. Keep the toilet closed and locked when it's not in use.
Non-slip bathroom mats
Be sure to put non-slip products in place both inside and outside of the tub to prevent slips and falls on those wet surfaces.
Products for making child-safe furniture
Some great options for making your hard furniture safer for your baby are bumpers that go on sharp corners, as well as furniture anchors to secure tall or heavy pieces to the wall and prevent them from tipping over onto your baby.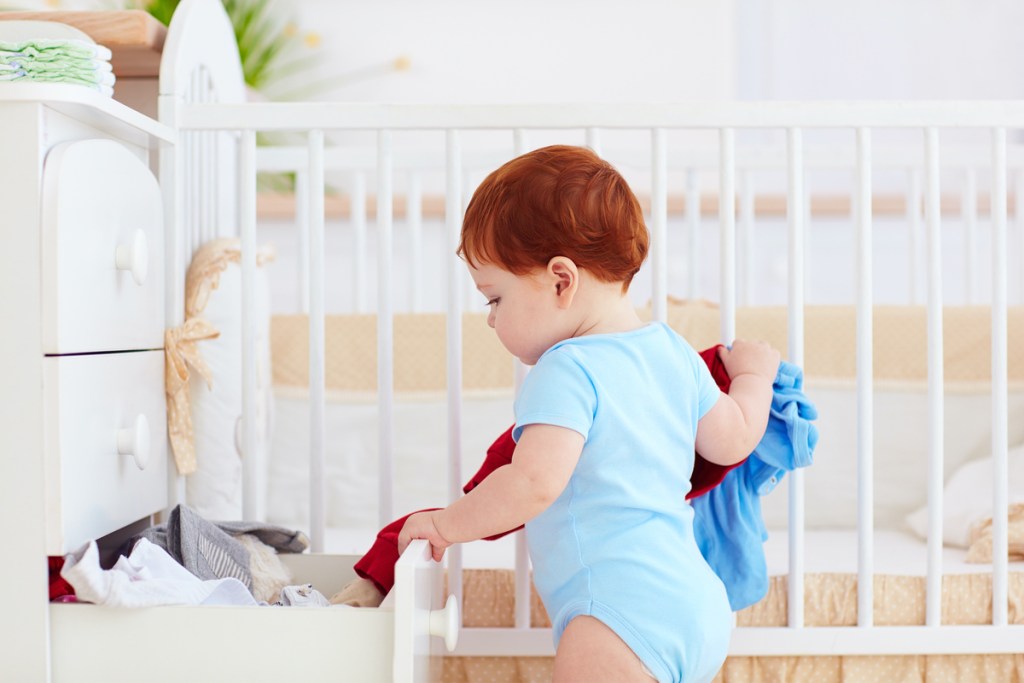 Additional baby-proofing tips and to-dos
Keep chemicals and medications high up and out of reach
Tie up strings on blinds so they are unreachable
Keep small objects locked away or out of reach
Keep pet dishes in an area that baby can't access
Keep glass items high up or locked away
Tie up, secure, or hide electrical cords
Keep your washer and dryer closed and locked at all times
Always use the security straps on your changing table
When your baby starts moving, it's a time of both wonder and terror. You're proud of your little one for all the growing they're doing, but you also see all the hazards that surround them in your home. Being on high alert with your child's safety is essential in keeping them from harm, but baby-proofing your home is vital. It may be time-consuming, but it's a necessary pain. You will rest easy in the end, knowing you've done everything you can to keep your little one safe.
Editors' Recommendations