This content was produced in partnership with Canadian Down.
It's wild to think about because it seems like the year blew by, but cold weather is on its way, so it's time to start prepping your home for winter. What do we mean, exactly? If you haven't already thought about it, it's time to start getting one of the most important areas of your abode ready: your bedroom. Where you might have had sheets and light blankets set out — unless you live where it's always cold — now's the time to start taking out those thick comforters and cozy pillows that will keep you warm through the winter.
To help get the blankets rolling, we put together this guide that will walk you through prepping your bed, touching on some of the most important things to swap out, like duvets, comforters, pillows, and beyond. Keep reading to see our recommendations!
1. Start with the mattress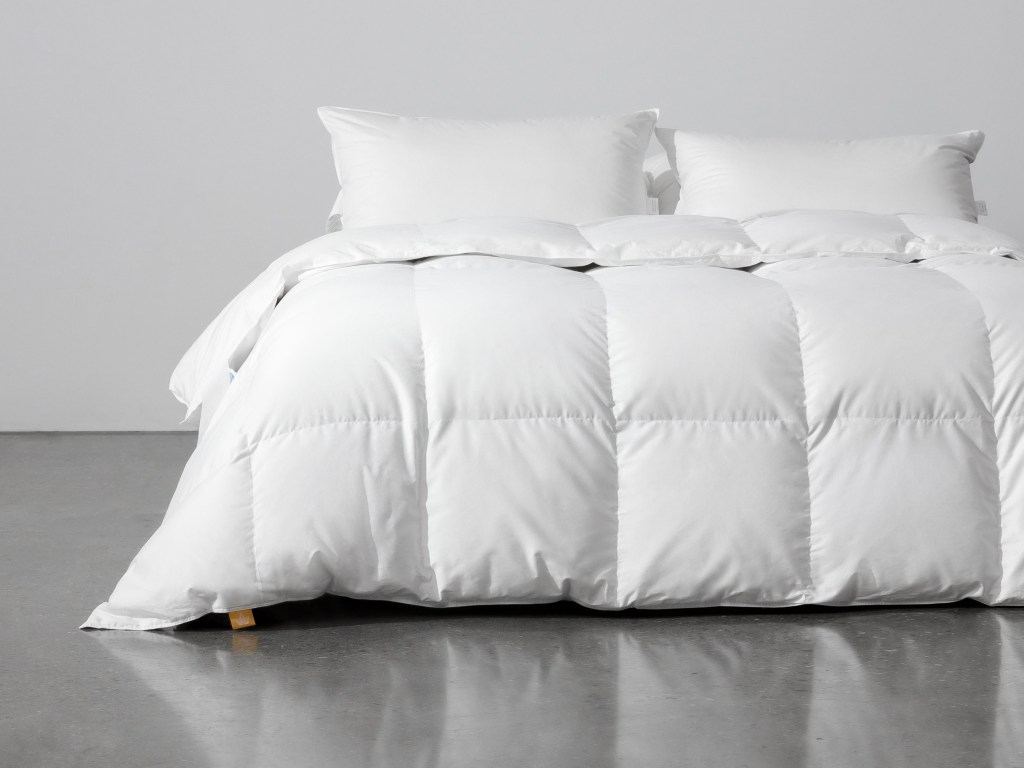 Before prepping the rest of your bed, start with the foundation or the mattress itself. Now's the perfect time to upgrade or swap for a new one, before there's snow and ice all over the ground. Sure, you can invest in a great set of sheets, blankets, and pillows, but that won't change the feel of the mattress. And you don't want to be transporting or dragging a big mattress inside when it's snowy out.
Do yourself — and your back — a favor, and upgrade if it's well past the time to do so! One of the best things about mattress shopping these days is that you can do it all online and have a new mattress shipped right to your home. Mattress-in-a-box providers offer an ultra-convenient option, and when the mattress arrives, all you have to do is unbox and unwrap it, and then let it expand overnight.
2. Consider a mattress topper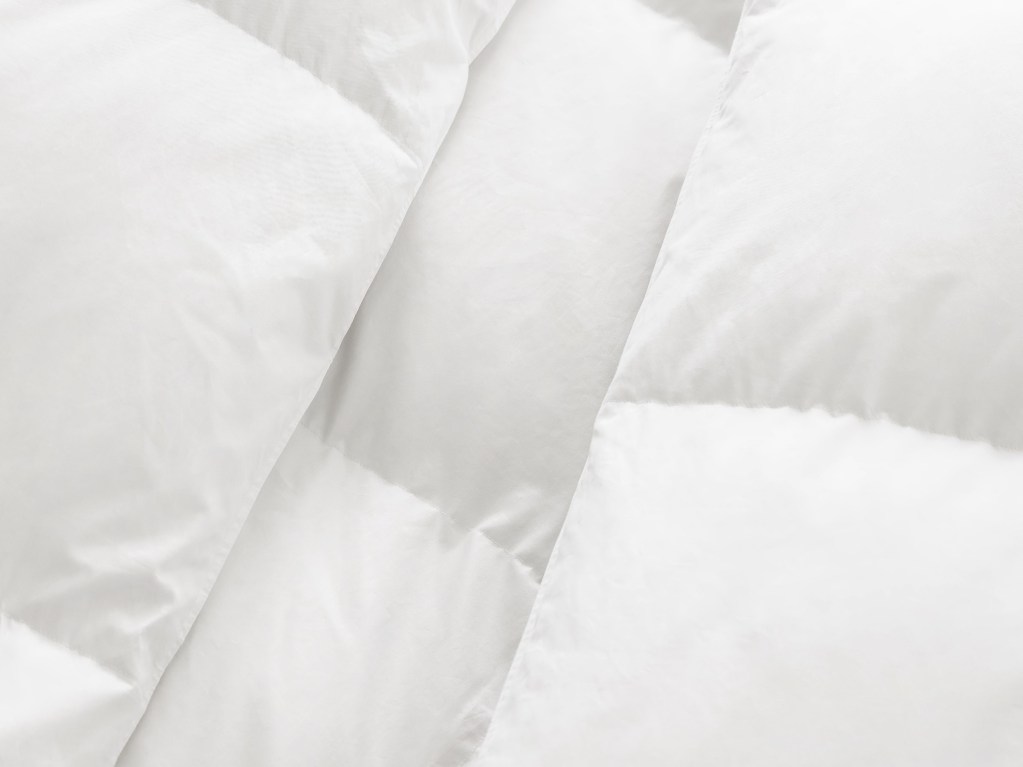 Mattress toppers strap to the top of your mattress for an added layer of comfort. They can go under the sheets, or even inside of the mattress protector if you use one. Feather-filled toppers are designed to add firmness and support to your mattress, especially if it's a bit too soft and sinky. We recommend looking for one with a down-top for something extra comfortable.
On the other hand, if your mattress is too firm and hard, a plush poly topper will add a soft, cloud-like layer to balance it out. Pro tip: you can also use mattress toppers to add that 5-star hotel feeling to a futon or sofa bed.
3. Get some new sheets
Higher-thread-count sheets are quite popular, but they're also one of the best ways to make your bed warmer and cozier. Egyptian cotton, for example, has heat-trapping properties that help keep the space underneath warmer, even in cold climates.
Of course, those higher thread counts also feel silky and smooth, and feel just as wonderful on your skin. So, now's the time to start looking for sheets that are both thicker and nicer! That way, when the cold does arrive, it can't nip at your heels under the blankets. The upcoming holiday sales are also a great time to get a fantastic deal on new sheets.
4. Grab a duvet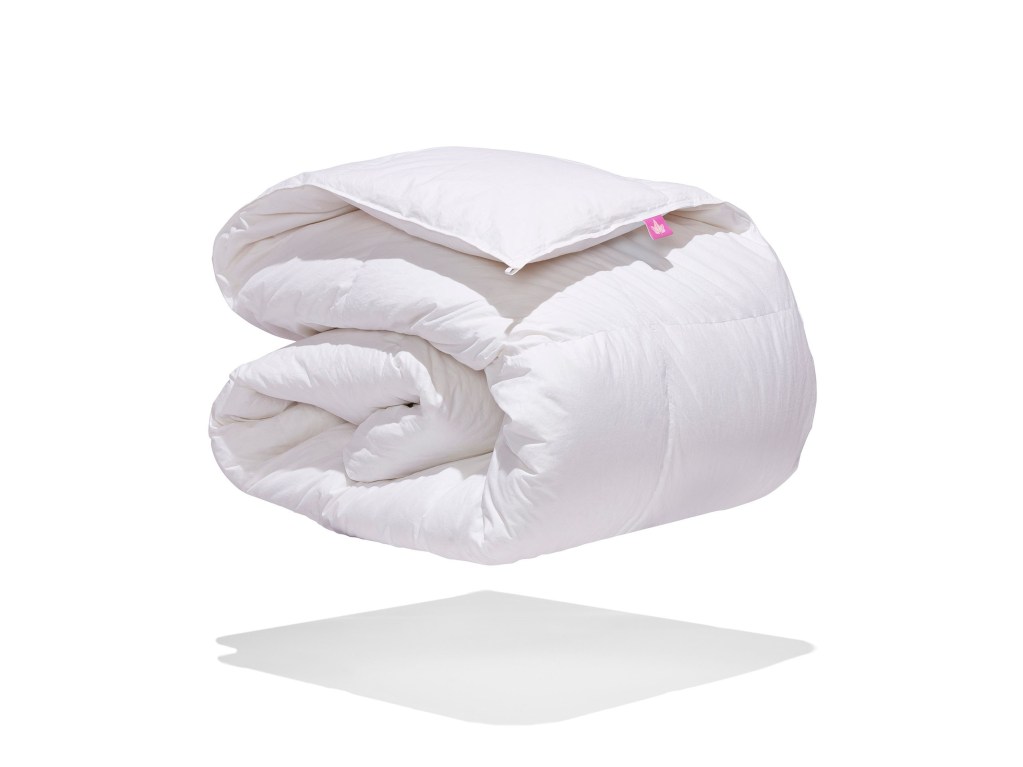 Choosing a down duvet over a comforter can be more of a personal preference, but they're lightweight despite being plush, warm, and luxurious. That is because down fill is super high performance and has the best insulating properties of all materials — natural or manmade. Just a little bit of fill goes a long way. Since they're lightweight, it means you can take them with you when you move to the couch, keeping you warm throughout the rest of your house too.
Canadian Down & Feather Company duvets are exceptional for this, with high thread counts, 100% cotton shells for breathability, and high performance filler like Goose Down, all while being hypo-allergenic. They come in several weights as well, but here you'd want the All-Season weight option that is suitable for cooler temperatures. Pro tip: using a warmer duvet allows you to turn the heat down in the winter, which is great for the environment and your wallet! There are several to choose from, but our top recommendation is the .
5. Match up your pillows
It also makes a lot of sense to upgrade your pillows. Finding the right type of support for your sleep style is great for your body and sleep quality. It's all about keeping the head, neck and spine evenly aligned. While everyone is different, here's a good rule of thumb: side sleepers tend to need the most support and should opt for a firm pillow. Front sleepers need the least support and should opt for a soft, flatter style pillow. Back sleepers and combination sleepers are in between and usually prefer moderately supportive pillows. Pro tip: using pillow protectors can greatly prolong the lifespan and freshness of your pillows!
An example of a firm pillow would be the , while a soft and plushy variant would be the . Both pillow types offer down-proof, breathable cotton shells, high quality hypoallergenic fill materials, and, best of all, a great night's sleep! You can always shop for other pillow types too.
A great night's sleep at a great price
So, let's recap. Getting your bed ready for winter and cold weather involves a lot more than you might expect. First, you'll want to upgrade your mattress. Then, you'll need to think about a cozy topper, some warm sheets, a lovely duvet, and, finally, your pillows.
You'll have to go elsewhere for the sheets, but Canadian Down is the spot for any stuffed articles you need, rather than linens and furniture. It is one of the better places to shop for the bedding options they do carry, and with the holidays right around the corner, you have some decent ways to save. In addition to regular promotions, Black Friday deals will be available from November 19 to 27, and Cyber Monday deals will be available from November 28 to 30. Whether you decide to wait until then or not, we still recommend taking a look now to find the right bedding for your home. Winter is coming — don't be left in the cold.