Cumbersome articles that are not used frequently don't need to take up precious space in your garage, storage unit, or basement. With an overhead storage unit, it's as easy as hanging them up until it's time to use them again.
Whether you need to hang heavy items or bulky objects, overhead storages are the best way to keep things tidy without using your limited floor space. These functional storage solutions also help protect items that could suffer water damage during floods or storms. Let's take a look at our favorites.
Fleximounts Overhead Garage Storage Rack
Best overall
The Fleximounts Overhead Garage Storage Rack is a protective storage unit that helps prevent water damage and provides useful storage space for your seasonal and unused objects. It securely holds your items up with long ceiling brackets thanks to its optimally designed structure that ensures safe ceiling storage.
HyLoft Overhead Storage System
Best value overhead storage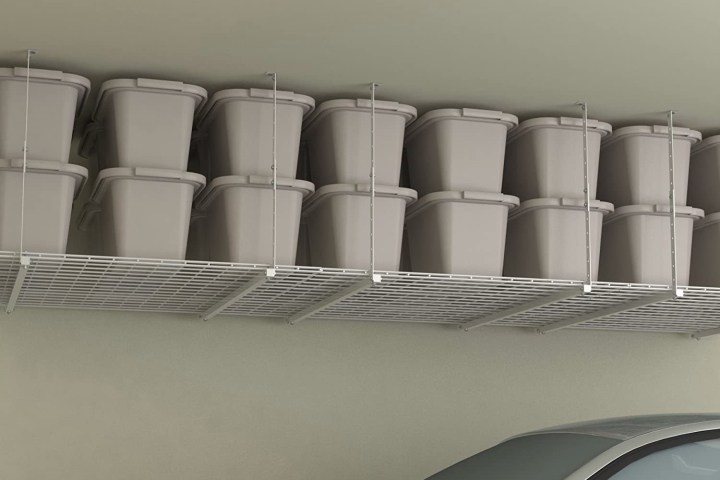 Value, functionality, and safety meet in the HyLoft Overhead Storage System. This unit can hold up to 250 pounds of evenly distributed weight with its sturdy steel construction of over 30 cubic feet. It allows you to adjust the height, to provide a customized solution to your home.
Racor Garage Ceiling Storage Rack Lift
Best lifting overhead storage
Reclaim your garage floor space with the adjustable Racor Garage Ceiling Storage Rack Lift. Built with nylon rings, this durable solution can mount to any ceiling and adjusts to angled constructions to provide efficient storage. The crank system in this storage rack allows you to lower and raise the shelf for maximum versatility.
Get resourceful with your storage space and make use of your ceiling to securely hold items overhead. With the products on our list, you can keep objects out of your way and safely hang from the ceiling where they are protected from water damage.
Editors' Recommendations